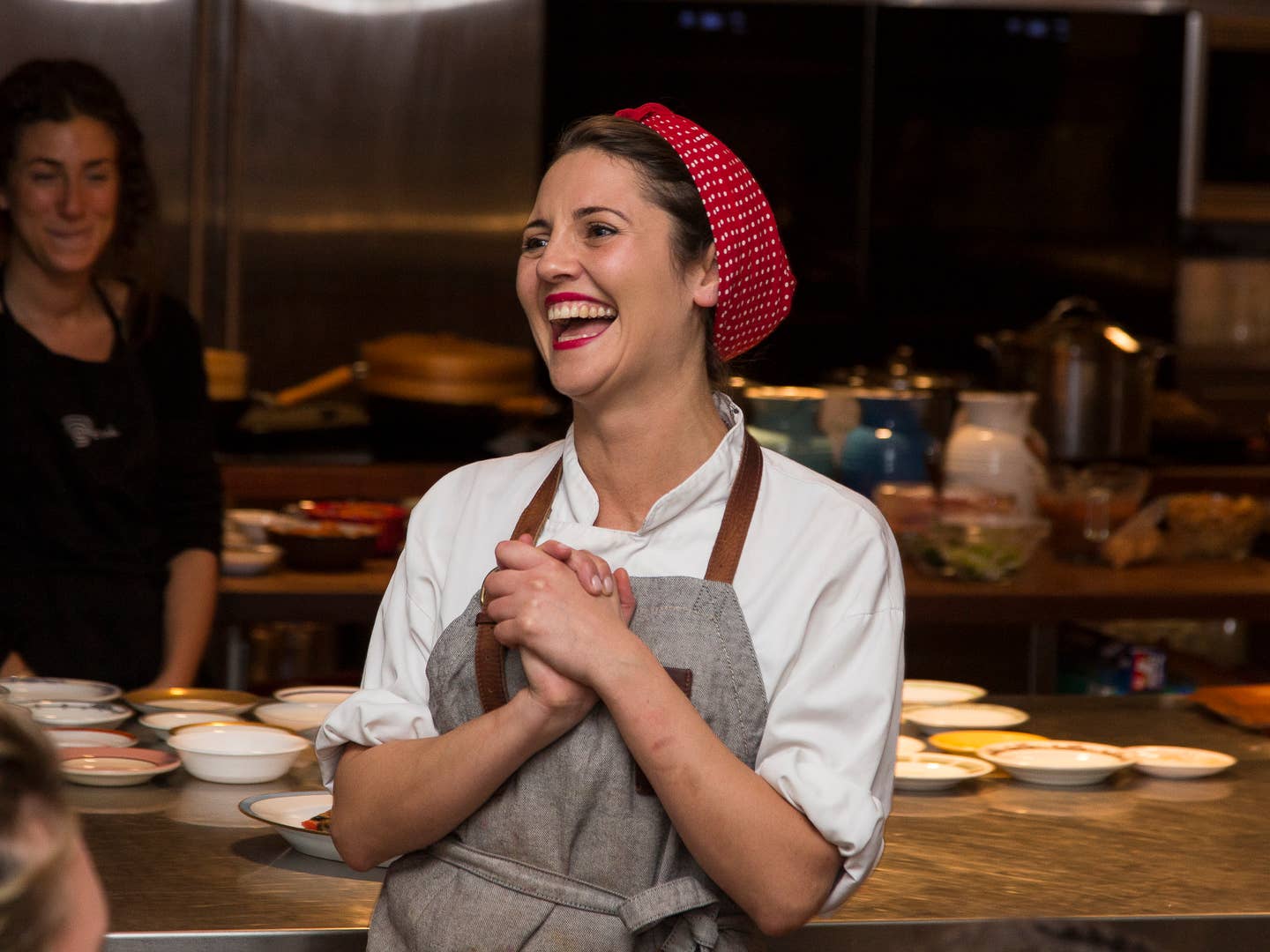 Culture
Give That Spare Chicken Fat Its Own Gravy Boat
A happy accident at a SAVEUR Supper has gifted us our new favorite table snack
Olia Hercules cooked dinner for us last night, which naturally means she started cooking last week. After all, it takes time to ferment whole cherry tomatoes in tomato pulp and salt until they develop a meaty twang and their innards turn almost fizzy. (The Bloody Marys she made with them came together far faster.)
While she's normally cooking and writing about Ukrainian food in London, Olia was in town to kick off the publication of her cookbook, Mamushka: Recipes from Ukraine and Eastern Europe, a gorgeous love letter to the food of her homeland that definitively proves there's more to the Ukraine than borscht and potato dumplings. "The way you carry traditions is by adapting them to the modern world," she says, which you get as soon as you taste her beets roasted with tamarind and Korean-style carrot salad (Ukraine is home to a substantial Korean population).
But one of the best tastes of the night was actually a happy accident: a pitcher of pan drippings from her buttery pan-fried poussin tabaka that hit the table, with a few inches of poultry fat bobbing on the surface.
Before we know it, we were free-pouring schmaltz over sourdough "smuggled in from London" like maple syrup over waffles. Salty, garlicky, herb-laced fat that seeps into porous bread, giving it savoriness and richness? Of course this is the right move. So why don't we do this all the time? Unless you're dining at an old lion like Sammy's Roumanian in New York, where chicken fat is poured from IHOP pitchers into tableside chopped liver, this is a pleasure most of us only think about, never act upon.
Pretty much every pan-sauce or gravy recipe that calls for pan-drippings includes a step where you skim off the fat. This is good for your sauce, and the smart recipes will at least advise you to save that fat for "another purpose," which is a nice way to scold you for wasting food while offering no practical advice for what to do with it.
We are now giving you some. Don't bother freezing that fat to forget about it in two weeks use it later. Get it in a pretty ramekin or gravy boat and put that sucker in the center of the table right now. Whether it's poured over bread or whatever side dish you've already planned, this is an old tradition we're ready to make all new.
Take a look at more snapshots from our SAVEUR supper with Olia.