Recipes
Georgian-Style Cornish Game Hen with Garlic Sauce (Tabaka da Niortskali)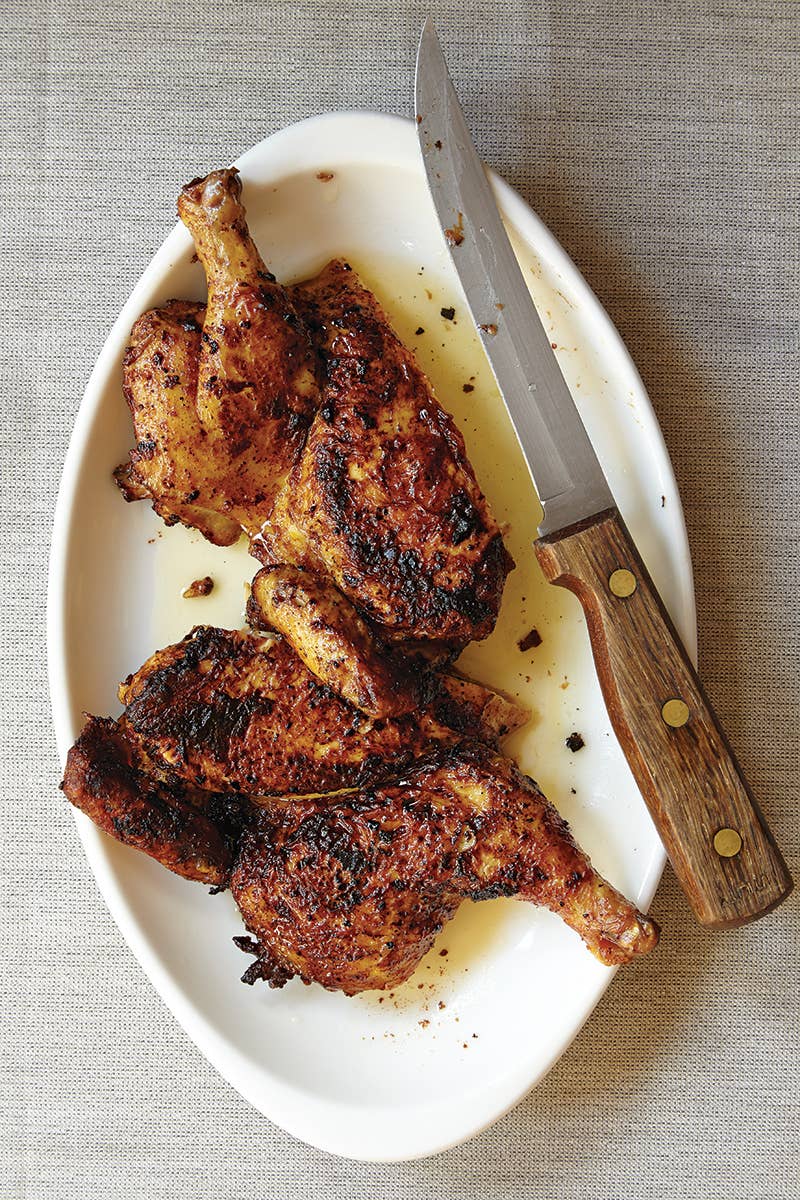 One of mankind's oldest crops, garlic has been prized for its medicinal and culinary uses for thousands of years. Originating in Central Asia, it has long been popular in the cuisine of Georgia, where it enhances dishes like this crisp-skinned hen. A whole bird—you can use a Cornish game hen or a small chicken—is rubbed with garlic paste, cooked under a weight in an iron skillet, and served in a pool of butter with a side of niortskali, a sauce of pan drippings fortified with raw garlic and cilantro. This recipe first appeared in our November 2014 issue with the story The Glories of Garlic.
Ingredients
1 (2-lb.) Cornish game hen, backbone removed
1 tsp. Cayenne
8 cloves garlic (2 mashed into a paste, 6 roughly chopped)
Kosher salt, to taste
10 tbsp. unsalted butter
1 1⁄4 cups chicken stock
2 tbsp. roughly chopped cilantro
Country bread, for serving (optional)
Instructions
Step 1
Place hen, breast side up, on a cutting board; tuck wings back. Using the heel of your hand, press down on breastbone to flatten the hen. Cover hen with a piece of plastic wrap and, using the flat side of a mallet, pound until uniformly flat. Transfer hen to a plate and rub both sides with cayenne, garlic paste, and salt; cover with plastic wrap and chill 1 hour.
Step 2
Melt 5 tbsp. butter in a 12" skillet over medium-high. Cook hen, skin side down, using a grill press or cast-iron skillet to weigh it down, until skin is browned and crisp, 5–7 minutes. Flip hen and replace weight. Reduce heat to medium-low; cook until hen is cooked through, 20–25 minutes. Flip hen and add remaining butter; cook, basting with butter, for 5 minutes. Transfer hen to a cutting board and let rest 10 minutes before carving.
Step 3
Pour pan juices into a bowl and keep warm. Add chopped garlic to skillet; cook until soft, 4–6 minutes. Add stock and salt; bring to a simmer. Cook until sauce is slightly reduced, about 15 minutes. Remove sauce from heat and stir in cilantro. Drizzle reserved pan juices over hen. Serve with garlic sauce on the side, and bread, if you like.