This Food Documentary Shows You the World in a New York Minute
Go watch One Minute Meal, a video series dedicated to the real hometown heroes of a city's food scene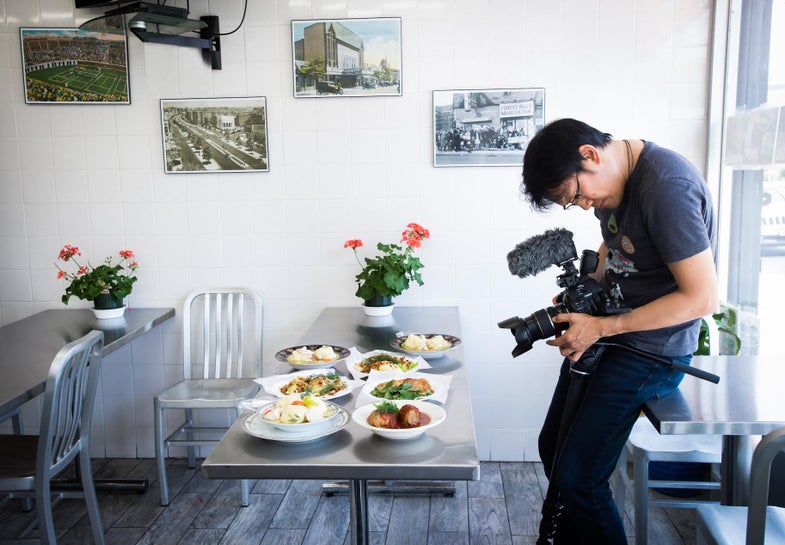 The art of the one-minute food video may be dominated by disembodied hands and graphic cheese pulls, but in one corner of the internet, filmmaker James Boo is using the medium to go much deeper. One Minute Meal is a documentary series chronicling the chefs, restaurateurs, chocolatiers, bakers, and bread-breakers that power New York City's diverse food scene, and it's just launched its third season.
(Full disclosure: Boo and I are pals and have edited each others' work at other publications.)
Each episode features the human face behind a vaunted New York business, using the subjects' earnest voiceovers to explore the essential roles food plays in our lives: building communities, rebuilding lost homes in new places, and strengthening connections to the past—all with plenty of real talk of the endless challenges of running a small business and remotely creative enterprise in today's New York.
The season debuted last night with a screening at the Museum of Food and Drink, followed by a panel discussion with some of the series' subjects: Lina Chavez of Mexican hot spot El Atoradero, Michael Rogak of the 71-year-old JoMart Chocolates, and Helen You of Dumpling Galaxy. (Fuller disclosure: You and I have written a cookbook together.) For such a diverse group (implicitly and explicitly, Boo has made diverse ethnic, gender, and geographic representation essential to the series), their remarks struck similar chords.
"How do you define success," Boo asked them. "If you work in the food business," Rogak replied, "and a customer tries something, then calls you or comes back to tell you that they loved it? Boom, there is just nothing like that."
Chavez agrees: "This is my dream, to make people happy with my food. Most restaurants do food for selling; I do food for eating." She and You mentioned they started their restaurants for similar reasons: they surveyed the city's offerings of Mexican and Chinese food respectively and found they lacked the genuine taste memories they grew up with. So they built them themselves.
Boo is partnering with borough-specific publications to release the new season. Starting this week, Edible Manhattan, Edible Brooklyn, Edible Queens, Edible Bronx, and SI Live will take turns dropping one video a day for 30 days. The episodes will also join previous seasons on the One Minute Meal website.
At the screening, Boo thanked the Museum of Food and Drink team for their open-mindedness about the program: "When you get into this kind of work, there's a lot of people who stand in your way because you're not a certain kind of person or you don't have certain papers or you don't have the right kind of name attached to yourself." He was talking about filmmaking, but the comments had an eery resonance for the kinds of small businesses he spotlights in One Minute Meal. Which may be why his subjects make sure to keep their goalposts personal as much (if not more) than financial.
"When I first started working for my father [at JoMart]," Rogak noted, "there would be times of the year when pecans would be too expensive, so for our items with pecans we'd have to switch to walnuts. I remember once going to a chocolate shop out of town during one of those times, and I couldn't believe it—they had pecans. Now, [part of] success for me is saying, if there's something I want for the shop, I can always get it."
That something also extends to other properties. Later this year, the three-generation family chocolate shop will be merging with new-school Brooklyn candy darlings Liddabit Sweets. The Liddabit team will gain a financial partner and a stable production space; Rogak will ensure that in a new era of craft everything, his grandfather's sweets will stay as relevant as ever.
Thumbnail image: Donnelly Marks