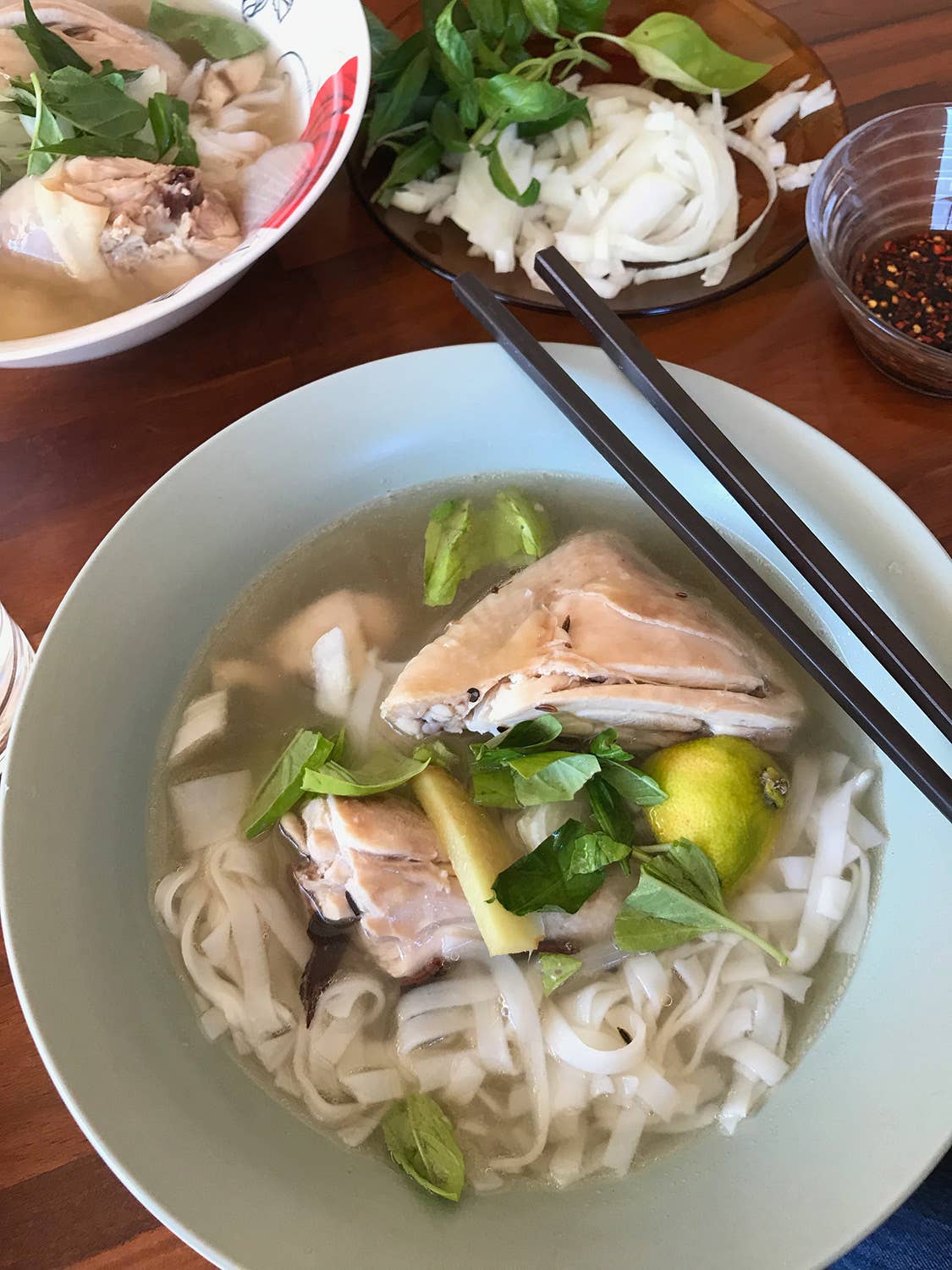 Travel
Pho, Far From Home
A Saigon native runs a bustling Vietnamese restaurant out of her house—in Sofia, Bulgaria
Kim Kim Dao shakes a small skillet filled with star anise, cloves, and cinnamon sticks over a stovetop burner, and her small, bright kitchen quickly fills with their fragrance. "The secret is the spices," she says. "Everything starts there."
Dao is making pho ga, the chicken noodle soup that she grew up eating in Saigon but is still a rarity in her newly adopted home of Sofia, Bulgaria. Some will be enjoyed for lunch today, and the rest will be offered for sale to a long list of Sofia residents—a customer base Dao has cultivated over the past year or so. What began as cooking homeland favorites for friends has blossomed into a booming home business, and she couldn't be more pleased about it.
"I like to share with people," she says. Dao adds freshly minced ginger as the intoxicating aromas intensify. Virtually every available moment of her weekends is spent cooking, a necessity given the demand for her food. "I began by cooking for a friend," she explains. "Then more friends, and then they suggested I start selling it."
It was advice well-taken. With more than two dozen steady customers and a waiting list beyond that, she is clearly succeeding. "I have a fan club now!" she declares. The response has been so positive that she began working with another Vietnamese expat, Quynh Tran. "We click very well," Dao says. "It would be very difficult without her. I count on her."
Dao moved to Sofia from Saigon almost two years ago. Sorely missing the foods from home, she began trying to cook her favorite recipes, a task that proved incredibly difficult at first. In Sofia—land of filled pastries and stuffed vegetables, chilled soups, and grilled skewered meats—ingredients like rice noodles, tamarind, and marinated soy beans are hard to come by, even in the country's capital. Dao opts to grow as much as possible herself, covering her small porch in clay pots, small trellises, and vessels for dozens of different herbs and vegetables. When I visit, the dark green leaves of rau ram (Vietnamese coriander) are soaking up the warm sun. Thai basil and cilantro plants line the bannister, and luffa gourds—of which Dao is particularly proud—climb one of the thick wooden dowels. Nearby, Sofia's biggest and busiest market, Zhenski Pazar ("The Women's Market"), offers the best chance of finding what else she needs.
Inside Sofia's stark, monochromatic buildings, the practice of cooks selling a vibrant array of foods from their homes is fairly common. Dao is careful to stay within the amounts legally allowed to be sold, but this limitation means less profit than she would like. (Each month she sees only 50 euros or so once all the expenses are accounted for.) The dishes she cooks distinguish her business from those of other home cooks in the city. "Most Bulgarians only know Asian cuisine from eating Chinese food," she says. "Those that do know Vietnamese cooking only know pho." While Dao's top seller is still the most well-known version of pho—the beef-and-scallion-loaded pho bo—she also offers many other dishes she has been eating since childhood, including bo bun (chilled rice noodles with stir-fried beef marinated with lemongrass), and goi cuon, a spring roll stuffed with vegetables and pork or prawns.
In the corner of the kitchen, a huge stockpot of thit kho tau (caramelized pork belly and eggs) is mellowing for an upcoming event. Traditionally served on the eve of Tết, the Vietnamese lunar new year, this pungent dish combines marinated pork belly and hard-boiled eggs in a dark, rich broth of fish-sauce-infused coconut water. Dao pierces the eggs to let the juices to soak in, and adds homemade caramel during cooking to sweeten the meat. She then serves the meal with rice.
After three hours of simmering, Dao's pot of pho ga is ready, and a group of diners has trickled in. She sets up dinner on a small table that rises only a few inches from the floor. The guests remove their shoes and take their place on ornate pillows surrounding the table. Dao ladles out broth atop bowls of chicken and rice noodles and brings them to the table along with a plate loaded with white onion, fresh herbs, sliced chiles, and lime wedges. Hands reach across the table, and the toppings criss-cross their way around until everyone's bowl has been customized to their liking.
My pho is bursting with flavors and textures: basil leaves float in the broth, releasing their herbaceous aroma upward. Raw onion and fresh jalapeño slices provide crunch, spiciness, and bite, and lime juice punches up the broth with acidity and sweetness. Dao encourages her guests to slurp the soup, which in Vietnamese culture, is a sign of enjoyment and considered a compliment. "When you eat my soup, you have to make a lot of noise," she laughs.
As her comfort and success as a host and public-facing cook continue to grow, Dao has her sights set on a new goal for the future. With the help of some interested local investors, she is hoping to open a Vietnamese restaurant somewhere in Sofia within the next year. Her plan is to offer three or four dishes a day with no set menu, letting seasonal availability of ingredients and personal inspiration lead the way. But for now, her home-kitchen ritual is working. "We smile. We're happy," she says. "And you leave with a taste of my Vietnamese culture."