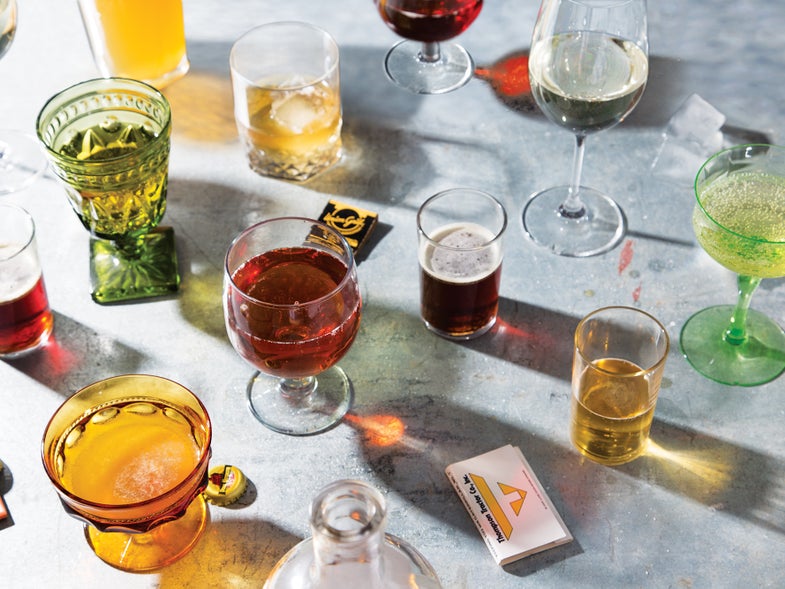 If you were drinking American whiskey in the late 1700s, chances are it was distilled in Western Pennsylvania. This is where, in 1791, citizens took up arms against a national alcohol tax imposed to reduce Revolutionary War debt, in what would eventually be called the Whiskey Rebellion.
So it's not a new development that Pittsburgh cares about its drinking. But these days, this almost-Midwestern, recently revitalized city has a far richer drinking culture than outsiders may expect from a town still best known for its long-gone steel mills.
A little about that history: German immigrants arriving in the 1800s found that the unique mineral composition of Pittsburgh's rivers was very similar to that of the water back home in Germany, which made the Deutchland neighborhood of the city's North Side a fitting place to open a number of German breweries and beer halls, a tradition that persists to the present.
Later, through the 19th and 20th century, a boom of bars and pubs emerged to cater to thirsty steel mill workers, often also serving Eastern European classics like pierogi, kielbasa, and sauerkraut. The network of bars that stemmed from this industrial past remains impressive; Pittsburgh has more bars per capita than any city in the U.S. (about 12 per every 10,000 residents).
Over the past 10 years, local demand, relatively gentle startup costs, and friendly updates to formerly restrictive state liquor laws have all led to a beer and spirits renaissance. And though these new tap rooms and distilleries are adorned with the now-aesthetically-all-but-required Edison bulbs, they make meaningful efforts to call back the city's storied drinking history.
One of the first distilleries to emerge from this reinaissance is Wigle Whiskey, named after the man, Peter Wigle, who sparked the Whiskey Rebellion. During Wigle's time, the area was known for a now-extinct "Monongahela Rye" white whiskey. The folks at Wigle took on the task of recreating that fiery drink, and have since forged ahead with other locally-inspired spirits. In the past two years alone, they've produced an impressive 36 different varieties of whiskey, gin, and rum.
Arsenal Cider stands out as another historically-inspired enterprise. Husband and wife Bill and Michelle Larkin, who lived across from an old Civil War-era weapons arsenal in the city's east side, started making bone-dry apple ciders out of their basement in 2010. Their tasting room (and former living room) is blanketed in vintage Civil War paraphernalia and history books; the brew taps are made of out old pistols. They started with styles ranging from sweet to dry, trying a variety of fruits (and even adding hops) along the way. Their tart, elegant ciders, and dedication to regional history, have been explosively popular across the city.
In 2012, after a change to the state law, distilleries were able to sell spirits on-site, and the number of spirit-tasting rooms grew. Maggie's Farm Rum opened their bar in 2014, becoming Pennsylvania's first rum distillery since before Prohibition. The owner, Tim Russell, says that the city's affable drinking culture has been a huge part of their success: "It is very supportive; so much so that I've had trouble keeping up with product demand. There is so much pride in the city."
Many of these producers are within short bar-crawling distance. In the Strip District alone, you can now find a winery, a 19th-century-church-turned-brewery, and even a kombucha bar housed inside a revitalized public market. Church Brew Works proudly displays its fermentation tanks on the church's former altar, and serves Eastern European fare like potato and cheese pierogi. The Red Star kombucha bar, in the Pittsburgh Public Market, is right next to a kielbasa stand, so you can bring your sausage to your bar stool.
And it looks like producers, along with dedicated drinkers, are only growing in number. "The more producers you have in concentrated area, the more you'll draw people into the craft scene as a whole," says Tim Gaber, owner and winemaker of Pittsburgh Winery. When visitors come to taste his dry Zinfandel and spicy Malbec, he is quick to recommend they visit other nearby producers, such as Wigle or Maggie's. He says that the community, and the city, are constantly developing new ways to bring beverage producers together around a shared passion for Pittsburgh.
How to Drink Pittsburgh
Stop at Arsenal Cider for a Civil War-inspired take on hard cider. Visitors can try tart fruit ciders, like raspberry or cranberry, or raspy, dry ciders like their flagship Fighting Elleck brew. If you're hungry, food trucks are often camped out in their backyard space.
Arsenal Cider House
300 39th Street
(412) 682-7699
For adventurous drinkers, try a flight of grappas at the new Grapperia bar in Lawrenceville. The bar's owner, Domenic Branduzzi, aims to share the underappreciated spirit with diners at his Italian restaurant housed in the same building. Don't miss their grappa cocktails—the Italian 75 made with prosecco and balsamic vinegar is particularly interesting.
Grapperia
3801 Butler Street
(412) 904-3907
A veteran of Pittsburgh craft brewing, East End Brewing is worth a visit. Their tap room is housed in a shared space with a local coffee roaster, and isn't much more than a warehouse, but they brew the city's most well-known IPAs.
East End Brewing
147 Julius Street
Penn Brewery, in Pittsburgh's Deutschland neighborhood, is housed in the original brew houses used over 200 years ago. From their beer garden, you can still see beer caves in the hillsides; brewers used these caves to store beer during the hot summer months. Stop by for Munich-style ales and German food.
Penn Brewery
800 Vinial Street
(412) 237-9400 x112
Maggie's Farm Rum bar and tasting room is located in a faded-blue warehouse in the city's industrial Strip District. They offer rum flights and seasonal cocktails, like Hot Buttered Rum and Painkillers.
Maggie's Farm Rum
3212A Smallman Street
(412) 709-6480
The city's urban winemaker at Pittsburgh Winery gets grapes from Sonoma, South American, and Napa to make bold and robust wines. Below the tasting room is a large event space, where local bands play on the weekends alongside barrels of aging wines.
Pittsburgh Winery
2815 Penn Avenue
(412) 566-1000
Red Star Kombucha now pours variety of their raw, unfiltered kombucha in the Pittsburgh Public Market. The most interesting include the hibiscus flower and ginger "Zingerbuch," and a barrel aged "CiderBuch."
Red Star Kombucha
2401 Penn Avenue
(412) 897-6943