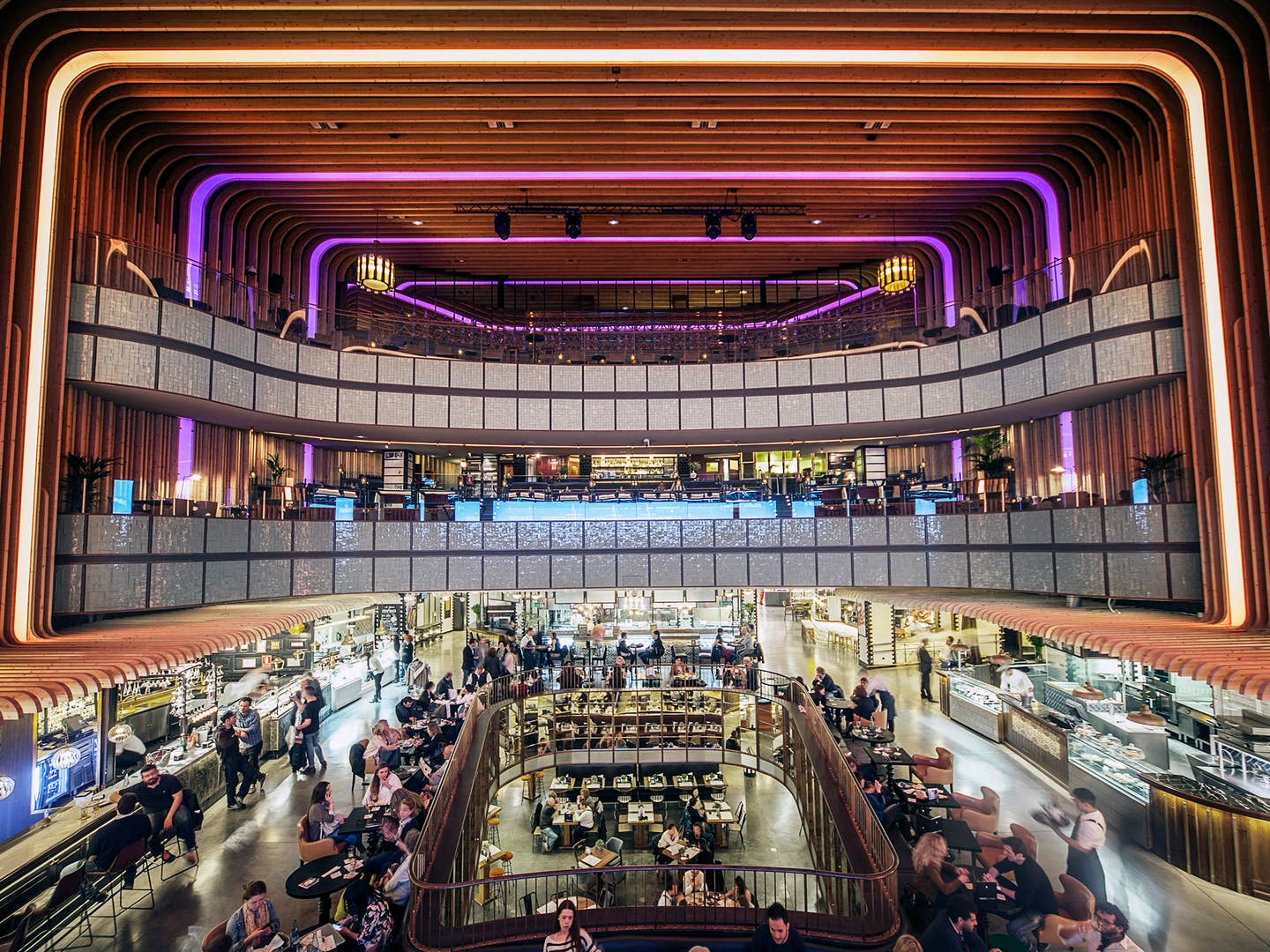 Travel
Madrid's New Food Destination is in a Former Movie Theater
Platea is now a glittering multi-level food court and dazzling nightlife destination
"Something is happening here."
This sign appeared three years ago at the entrance to Carlos III, an abandoned movie theater in Madrid's posh barrio Salamanca. Closed for almost 10 years, Carlos III was the neighborhood's cinema de toda la vida (of our entire lives), as one doorman put it. Since its inauguration in 1952 with the showing of Casbah, it had attracted both Madrileños and visitors with its spacious seating, a shopping gallery, and the famous Cleofás disco in the basement. When it shut its doors less than half-a-century after it opened, it left quite a vacuum in the community's cultural life.
Today—a 60 million euro investment and several years of renovations later—Carlos III is once again welcoming both locals and tourists. This time, though, it's doing it as Platea, a multi-level food market where vermouth is on-tap and the pintxo menus are endless.
Walk through the sliding glass doors into the area that would have housed the orchestra seating in the old theater and you'll be immersed in a spectacle of Coliseum proportions. Hostesses mill around in uniforms reminiscent of The Grand Budapest Hotel; food-court style tapa counters catch and reflect light creating a mirror-hall effect; and wooden beams soar all the way to the cupola and back. Although it's only 8:45 p.m. when I visit, an early meal time for Madrid, most of the tables are occupied. I find myself a seat at the bar, where I order a glass of vermouth—on-tap.
Effusive in its offerings, Platea beams indulgence. Its orchestra level, called the patio, features at least half a dozen different counters, each stocked with specialties such as pintxos, the Basque cousin of the Spanish tapas; banderias, assortments of bite-size nibbles on toothpicks; fish sliders; cheese and ham platters; a counter dedicated entirely to oysters, caviar, and octopus; and a fried food haven where deep-fried artichokes compete with even more deep-fried boquerones. To start, I buy a pintxo of tomato tartare with anchovies from a selection of over 15 at Pintxoteca Orkestra. The crunchy baguette, the sweet tomato, the salty fish—together, it's a dream. Next, I move over to Castizo, where they make my absolute favorite, berenjena con miel. Fried perfectly, the eggplant's natural tanginess highlighted by the honey, it pairs well with Rueda de Verdejo, the Spanish white wine.
By 9:30 p.m., the patio gets crowded and I move to the lower level, the former discotheque. Connected with the orchestra level via a large mirror-lined aperture, the downstairs has the same food-court feel but the offerings go international—Peruvian, Mexican, Japanese, or Italian. At Sinergias, I order huevos rotos con gulas al ajillo, fried eggs with imitation baby eels cooked in garlic. When the eggs arrive, I stick my fork directly into the yolk. Huevos rotos are meant to be 'broken' over whatever they happen to be served with so the yolk spreads through the gulas and the freshly fried potatoes; It seems like the most normal—and delicious—thing to do.
But Platea doesn't forget its dramatic past. On the weekends, it houses performances; tonight, it's aerial acrobatics. At 10, running half-an-hour late as is usual in Spain, an iron hook descends from the ceiling, and a young man in a bellboy-like uniform fits it with a red silk ribbon; a young woman, all in black, climbs onto a table right next to me. She wraps the silk around her hands and soars up through the aperture. We all crane our necks to watch her climb, contort, and drop, and Platea's three levels buzz with more life than they probably did during its cinematic past.
Three floors up, at Cocteleria, the former top amphitheater and current cocktail bar, the price of cocktails is almost twice the cost of them downstairs but I can watch the next aerial number without a cramp in my neck.
Platea
Calle de Goya, 5-7, 28001 Madrid, Spain
+34 915 77 00 25