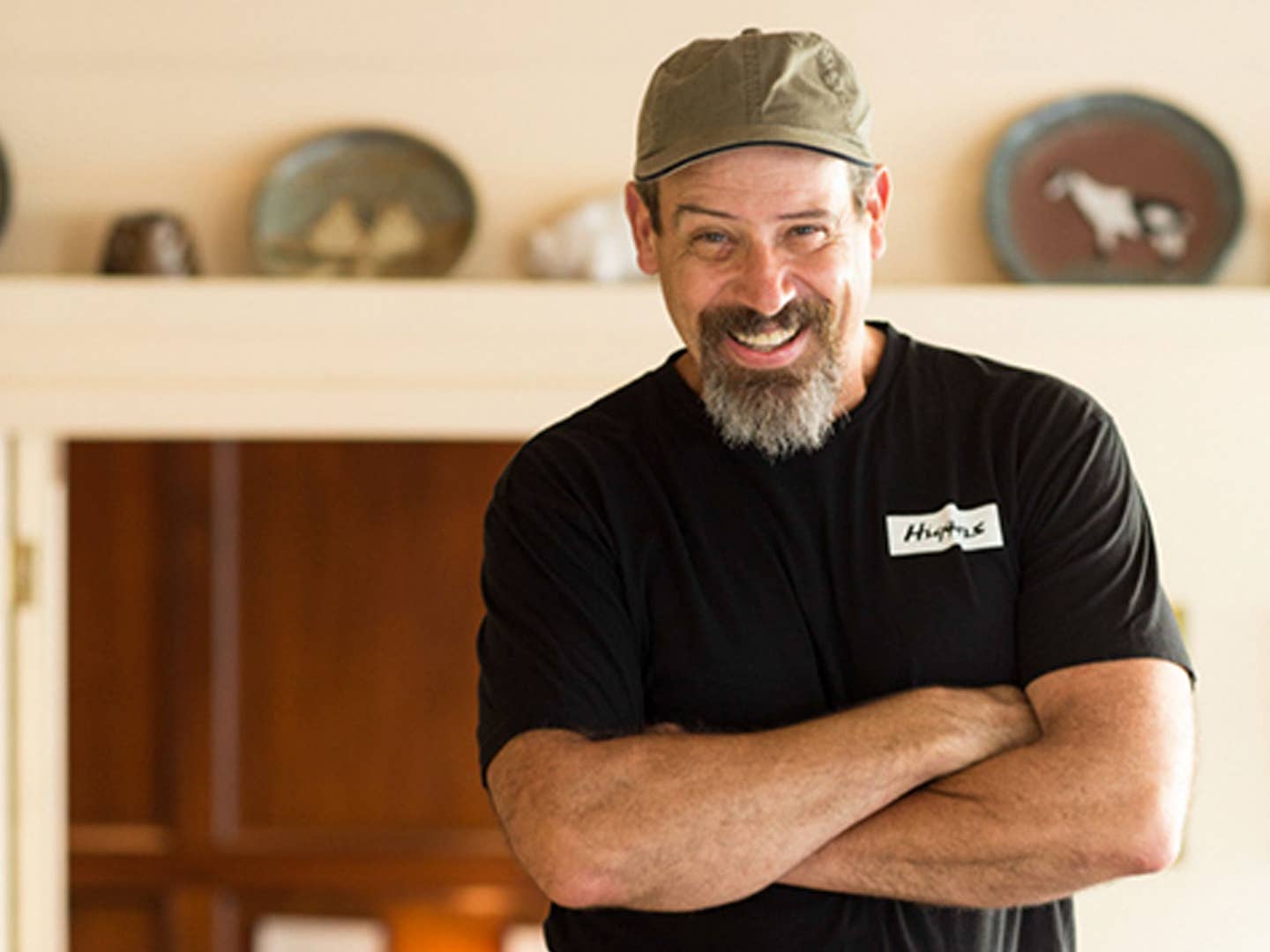 Travel
Chef Greg Higgins' Guide to Portland, OR's Best Beer, Breakfast, and Bar Food
The James Beard award-winning chef on his adopted city's restaurant scene
"There is an amazing diversity of ingredients here," Greg Higgins tells me about Portland, Oregon. Higgins grew up in a small town outside of Buffalo, New York, but he's called Portland home for over 30 years. He's been the chef/owner of Higgins Restaurant and Bar for more than 20 of those and he won the Best Chef: Northwest James Beard Award in 2002.
Higgins travels a lot. He had just got back from Paragor, France and he was starting to think about the menu for the James Beard Foundation Taste America dinner he's hosting on Friday with Stephanie Izard, Ken Forkish, and Marissa Burback. "Every time I come home I'm reminded of how much is here. There's just so much to choose from, especially if you're into gardening," he says. "It's nirvana."
Higgins' passion for quality local, and foraged ingredients didn't start in the last decade when the concept came in vogue. As a kid growing up in the 70s, Higgins took to the woods in his small town of Eden and dug around for mushrooms and other edibles. He was an avid fisherman from a young age and he fished for dinner in small streams there.
"Part of it was just being hungry," he says, recalling those early days and being raised with four siblings by a single parent—the Higgins house always had a garden from which food was pulled too. "And the other part is just the strange way my brain is wired." Higgins tells me has been obsessed for as long as he can remember with archeology and anthropology, and the fact that people have lived off the land for centuries fascinates him.
Higgins is a busy man. He tends his own garden on a half-acre plot not far from downtown Portland. "I cook at home more than I go out," he says. "Monday is pizza night." Those pizzas, and array of other foods, are cooked outside in a wood-burning brick oven, which he refers to as the backbone of the property. But Higgins does venture from home on occasion. And when he does, this is how he does it.
"You'll find a lot of mom and pop places on the outskirts," Higgins says. His preference is Nak Won, a Korean restaurant that serves rustic homestyle food like pork belly stir-fry, kimchi, and tofu and noodle dishes.
"There's a place out on the beach called Bell Buoy of Seaside. It's a retail fish market with great fish and chips. But they sell really fresh seafood and they smoke their own fish. It's on an estuary and we always go down there and load up on that smoked fish."
"There's a cafe at Cornell Farm that was built into an old farmhouse. There's a beautiful view of the coast range and you can see a ring of hills that separate Portland from the coast. It's a breakfast and lunch kind of place. The menu changes a lot but get anything that has eggs or baked goods. Sara Strong is a really great chef and baker."
"Astoundingly good craft beer is quintessentially Portland," Higgins says. There are more than 60 microbreweries in Portland, but Higgins' go-tos are Hair of the Dog and Ecliptic. "Hair of the Dog started the real movement and the specialty styles," Higgins tells me. Alan Sprints, the owner, is a former chef turned brewer, and he travels all over Europe and Asia for inspiration. "John's funny," Higgins says of John Harris, Ecliptic Brewing's owner. "His beers are great, and they're all named after celestial destinations."
For an izakaya-style meal, Higgins hits Yuzu. "The menu changes quite a bit, but it's always classic Japanese drinking food." Higgins always gets charred peppers and whatever shiso leaf prep there is that day.
"Behind the Museum Café is a great little place. Tomoe Horibuchi, the owner, makes everything herself; little bites like an izakaya in a really cool setting. There is crispy lotus root and salted plums rolled in sugar. But there are always more substantial savory things that always vary and are always perfectly cooked. It's a great place for tea too. Tomoe always uses the appropriate teaware, so whatever tea you select will be brewed to perfection. It's a hole in the wall, but once you find it you have to send people."