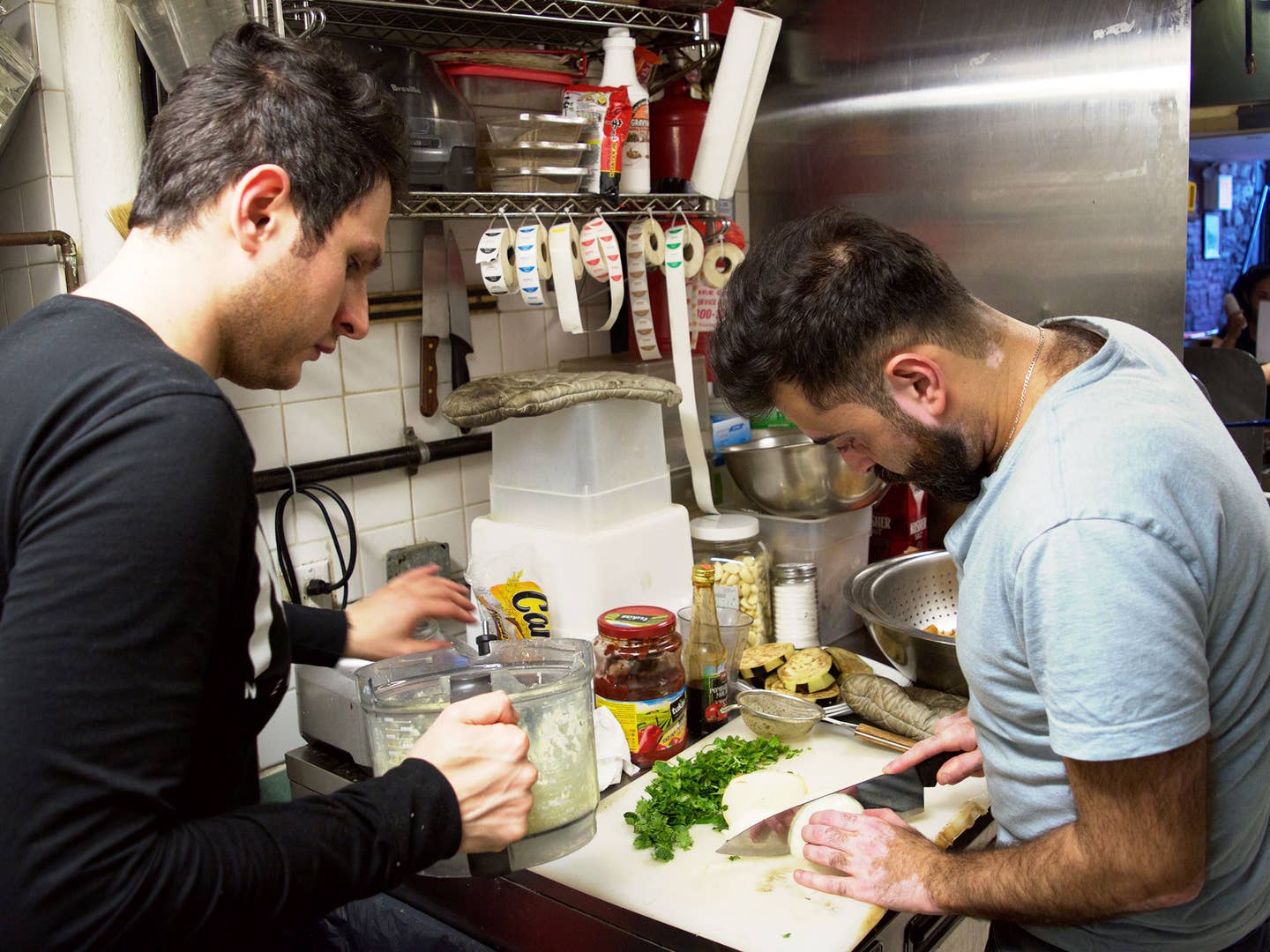 Culture
A New Refugee-Run Dinner Series is Helping Immigrants in New York Find Their Footing—and Share Their Stories
The Displaced Dinner Sessions shows the human side of the world's politically charged refugee crisis
On a recent Friday evening, Lutfi darted back and forth in a railroad kitchen while preparing a five-course meal. The young chef left flames in his path—literally, actually, when he forgot to turn off a burner. Bouncing from a pan of simmering potatoes with harissa sauce to a bowl of arugula salad, Lutfi (who requested SAVEUR not publish his full name to protect his identity) recalled the dishes of his childhood in Damascus, where his mother and grandmother plucked ingredients from the garden in their backyard.
This past April, the Palestinian restaurant Mazeish Grill in New York began hosting the Displaced Dinner Sessions, a an event series in which refugee chefs—professionals and amateurs alike—take over the kitchen for a night to host a meal celebrating their heritage. Nasser Jab, Mazeish's owner, and Jabber Al-Bihani, the founder of the food experiences platform Komeeda, conceptualized the project shortly after Donald Trump's victory in the presidential election, which has brought along a rising wave of Islampohobia across the U.S. To them, it is both a way to humanize foreigners who New Yorkers may have only heard about as abstractions in the news, as well as provide financial assistance to refugees struggling to get by in New York City.
"We've walked similar paths," said Jab of today's refugees He came to the United States from Ramallah, a city in the West Bank, as a student two weeks before 9/11. "Their present is my past," he added.
Lutfi is the Displaced Dinner's inaugural refugee chef, and like Jab, arrived in America during an intense period of Islamophobia. After being disowned by his family in 2005 for being openly gay, he moved to Bahrain. Over the next decade, he was arrested both in Bahrain and Dubai for his sexual orientation.
After returning to Syria in 2012, only to leave within two months after the civil war broke out, he settled in Egypt that year as a refugee. For the next four years, he lived there in constant fear until, after an arduous application process, the U.S. granted him refugee status in late 2016. He came to the United States this January, narrowly avoiding the repercussions of Trump's short-lived travel ban. Had Lutfi been scheduled to arrive 10 days later than he did, he likely would not have been able to complete his "landing," which had been scheduled by the International Organization for Migration. In short, he would have had to refile and wait for another date—the refugee-seeker's equivalent of missing the deadline for your taxes—making it almost certain then that he would not be here today.
Until this past April, Lutfi, a visual designer by trade, had zero professional experience in a kitchen, having only prepared meals for himself and friends at parties in Bahrain. But he was there to tell his story as much as cook, and the intimate group of 10 diners were there to listen.
"If they know you're gay, they'll kill you," Lutfi admitted about living in Egypt.
That spread of ten New Yorkers that Friday night included a Ted residency scholar, a lawyer, and a medical journalist sitting around a communal table in the restaurant's exposed brick dining room. Lutfi shared the highs and lows of time as a gay man in the Middle East.
The recipes, which he taught himself by recalling the tastes and smells of his mother's and grandmother's cooking back home in Damascus, included the bittersweet salatat jarjeer, a tangy arugula salad with onion; as well as Syrian-style kibbeh, ovoid balls of bulgur filled with ground lamb topped with tahini and red pepper sauce; and makloubeh, a casserole of topped with lamb, fried eggplant, and tzatziki. Diners didn't have to ask for seconds—Lutfi appeared to pile on any remaining courses whether or not his guests asked for them.
"He's always concerned that we'll run out of food," said Jab bearing an incredulous smile. "I have to explain to him not to cook so much because we wind up having to throw half of it out."
Al-Bihani explained that although these ticketed dinners don't provide refugees full-time employment, he believes they can provide a step stone in terms of helping the refugees find gainful employment in the long-run. Lutfi, who is cooking his fourth dinner in the series, is only the first of many: Jab says Mazeish will host a chef from Venezuela next.
"If [refugees] have the skillset to cook, they have this outlet and they're building confidence in themselves, the confidence to build a new dimension," said Al-Bihani. "These skillsets they find normal back home are super valuable. They can find cooking gigs, they could do private events, like catering. It helps just to know that you could."
Jab and Al-Bihani are not alone in this use of the kitchen as a gateway for refugees in search of a stable job. Eat Offbeat, a catering service based in Queens, New York, currently employs chefs who have fled conflict in Iraq, Nepal, and Eritrea to cook meals from their homeland; meanwhile, the Syracuse-based With Love operates as an incubator for refugees, in addition to immigrants and Americans, looking to open up their first restaurant.
"Aside from the fact we wanted to shed light on their stories, it was important for me to give them financial assistance," said Jab. He added that although organization like the International Rescue Committee are geared towards helping refugee resettle and find employment, "with that macro-level kind of work, there are people that fall into the cracks."
The Displaced Dinner concept is still in its early stages, but Jab said that he hopes to expand their project. Given their similar goals with Eat Offbeat, he said that they're looking to collaborate with a catering organization, as well as continue to host the Displaced Dinner sessions, both with Lutfi as well as other refugee chefs.
At the end of the meal, while the diners nibbled on baklava with sprinkles of Iranian pistachios, Lutfi concluded his tale with his current life in the United States. Having been here for only three months, many were curious about adapting to the American lifestyle and his goals for the future. As Jaber and Al-Bihani hoped, the Displaced Dinner sessions so far have given Lutfi as sense of acceptance and gusto to aim high in his new life.
"I want to be a big chef, go to school, take [cooking] classes," said Lutfi aspirationally. "My boyfriend is in Egypt right now, but I will bring him here when I get my Green Card."