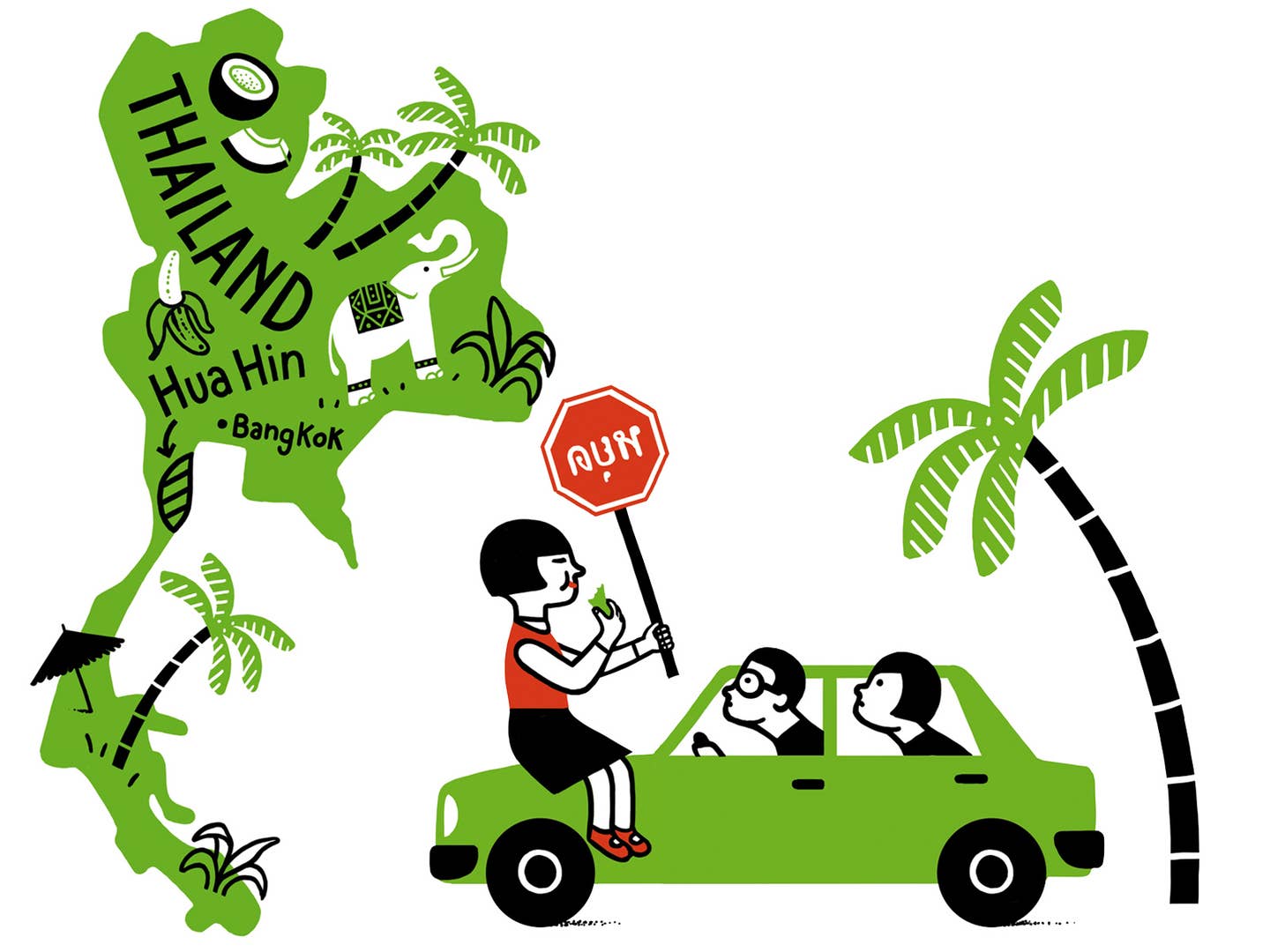 Travel
Roadside Food in Thailand
Long before she owned a driver's license or a restaurant, a food lover backseat-drove her way to Thailand's best roadside treats
From my school on Ploenchit Road, we headed west out of Bangkok, crossing the small canal that divides the old city from the newer part of town. As soon as I saw the bridge, I sat up from my slouch in anticipation, but to my astonishment, our car kept rolling along with traffic.
I had made this trip to Hua Hin, a small beach town a few hours southwest of Bangkok, every summer with my family. But this year, at age eight, I had been kept behind at boarding school for some bit of mischief that I can no longer remember, so I was getting a ride from family friends after my folks had already taken off.
"Wait, wait!" I cried out. "We must stop here!" I wanted—no, I needed—to get the fried bananas, kluay tod, sold a block beyond the bridge. Indulging me, they turned the car around. A vendor approached our window with two bags of freshly fried baby bananas, coated in a light batter of rice flour, sesame seeds, and dried coconut. I was quiet for a little while, just a little while, munching on that crisp, sweet fruit.
Leaving Bangkok behind, we entered the Chao Phraya river delta, where coconut and palm trees thrive. The area is famous for a special treat, khanom jaak, made with chunks of the nipa palm's translucent, jellylike fruit, freshly grated coconut, and sticky rice flour and sweetened with local palm sugar. Wrapped in long palm leaves, fragrant slabs of the chewy mixture are roasted over charcoal until caramelized. The best khanom jaak maker was just off the side of the road by the entrance to a small temple. And, of course, it was up to me to remind everyone in the car that we couldn't possibly pass it by.
On and on this went, with me pointing out places where we had to stop, until, finally, we reached the village in Phetchaburi Province, just a stone's throw from Hua Hin. It's a busy market town lined with shop houses selling the province's specialty, khanom mor gaeng, a sweet, eggy custard made with taro root (elsewhere it was made with mung bean and not quite as delicious). Again I asked them to stop the car. Resigned to their fate as prisoners to a ravenous, insatiable eight-year-old, my parents' friends pulled over.
They marched into the first shop, hoping to get this latest snack out of the way, since the normally three-hour trip had now taken more than five. But that particular shop was not the best one. The best one was two shops down on the left, I told them.
After devouring the creamy, sweet khanom mor gaeng, I had to buy one last thing. There was a pla muek yang cart just off to the right, before we got back into the car, where an old man grilled fresh squid on charcoal while a dirty dog, his fur all matted up, slept at his feet. I walked up and handed the man some money. He took it and quickly plucked a few squid from the charcoal, depositing them into a banana leaf cup. Then he reached into a ceramic jar and spooned a generous amount of sticky, garlicky, spicy, tangy sauce all over the squid, dumped a big handful of peanuts on top of everything, and added a few bits of cilantro. He handed me the banana leaf cup and a wooden stick for skewering the squid.
As I walked back to the car, my parents' friends looked over my newest acquisition. "Are these grilled squid the best ever, too?" they asked, exasperated. "No, not really," I replied. "It's my favorite thing to eat, but I can only buy it when my mother isn't looking. She thinks the dog is too dirty."