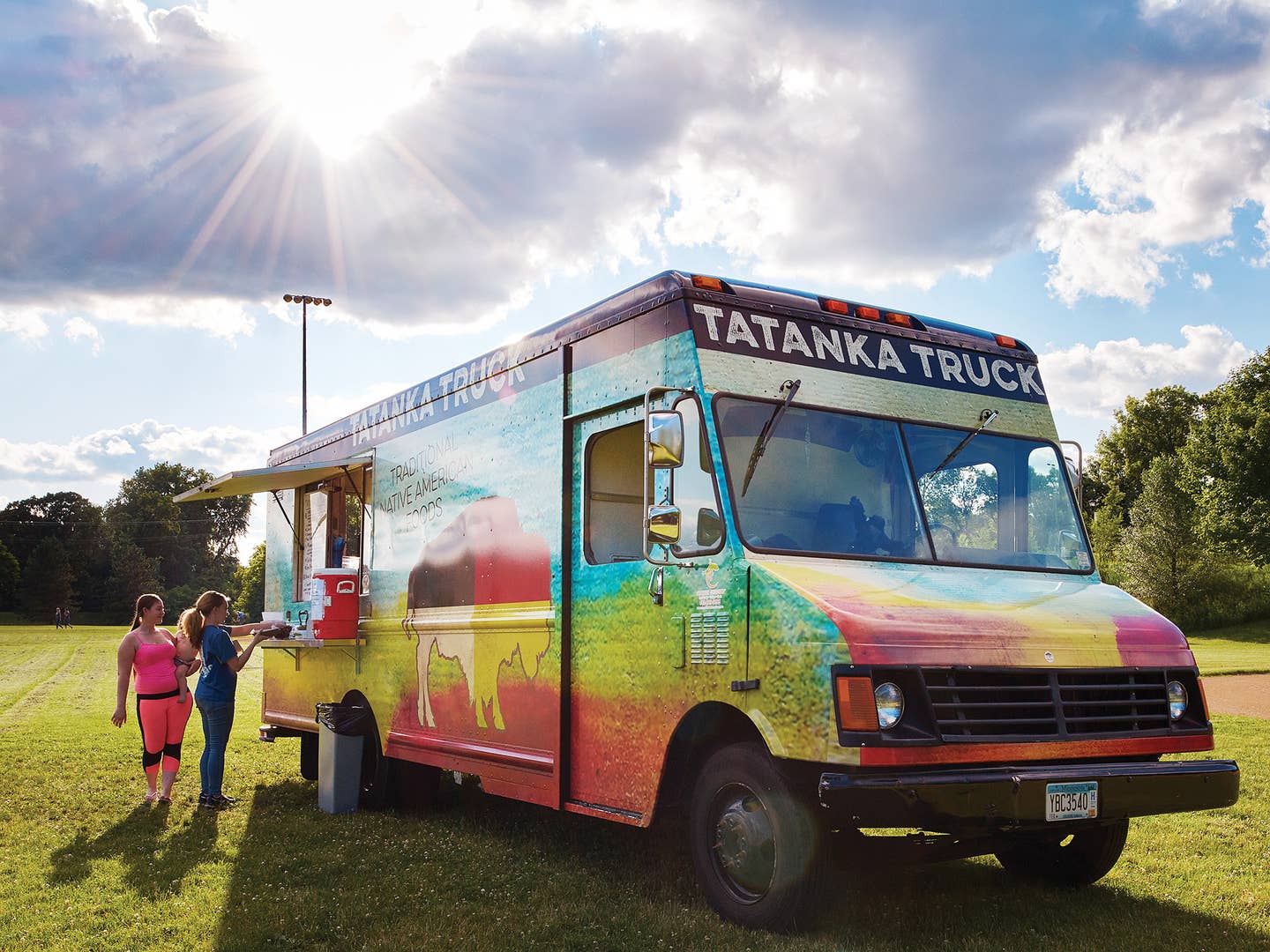 Travel
The Sioux Chef Spreading the Gospel of America's First Food
Sean Sherman tells the story of Native Americans through the food they ate and the ingredients and traditions that survive
You wouldn't believe how hard it has been to explain what indigenous food is," chef Sean Sherman tells me. "I've had the same conversation over and over. I have to go back to the beginning all the time."
For Sherman, a Sioux chef championing indigenous food, going back to the beginning means talking about the unbroken presence of Native people in the Americas, and the food systems that once nourished them. It means peeling back the layers of colonial foods that, over centuries, have coated indigenous diets—sugar, industrial meat, processed grains. It means finding a way to express these traditions in the context of modern urban dining in the restaurant he and his business and romantic partner Dana Thompson plan to open early next year.
The restaurant will be called Sioux Chef: An Indigenous Kitchen, and it won't serve salmon on a cedar plank or fry bread or macaroni. Sherman's more straightforward notion of indigenous comfort food includes dishes like smoked turkey soup with burnt sage, bison slow-cooked in spruce boughs, and a sunflower and hazelnut crisp. Using modern combinations and ancient ingredients and methods, he's after something simultaneously old, and yet new.
Sherman grinds cornmeal for flint corn cakes. He smokes trout and walleye. He pops heirloom corn. He avoids pork, chicken, and beef. No sugar or eggs. These American staples weren't historically available to indigenous tribes. Sherman's cooking is a reclamation of identity.
"That's amaranth," the chef says, pointing to a brown sorghum-looking weed in a ditch on the side of the road. We're driving south of the city toward Wozupi Tribal Gardens, a 16-acre farm that specializes in American heirloom fruits and vegetables. "Amaranth grows all around here." So does goosefoot. And sorrel. Not to mention berries, wild rice, squash, and corn.
Sherman grew up identifying plants. He lived on the Pine Ridge Reservation in South Dakota until moving west to Spearfish when he was 13. He worked in restaurants to help support his family and for the U.S. Forest Service in the Black Hills as a field surveyor sampling and memorizing the canon of Dakota flora.
Angelica Adams, Wozupi's program coordinator, greets us. Established in 2010, the farm grows and sells an incredible array of organic, indigenous plants and products—some of America's oldest. Cherokee beans. Potawatomi lima. Oneida corn. Arikara yellow squash. Hidatsa shield beans. Lakota squash. Gete-okosimaan (Ojibwe for "old-time squash"). Maple sugar and syrup. Honey. Chokecherries. Wild plums. Apples. Apricots. Tomatoes. And Juneberries. Dark, tart, and plump, the ten pints of Juneberries that Adams brought out for Sherman were the most I'd ever seen in one place. And the first bite transported me back to the ditches of northern Minnesota, grasshoppers clacking in the grass, where my brother and I sought them as kids.
For those of us who grew up with them, these flavors evoke nostalgia. For many others, they will be new and unfamiliar. Tatanka Truck, a Native American food truck on whose opening menu Sherman consulted, has become a point of first encounter for the wider Minneapolis community. Here, the menu includes things like manoomin (wild rice) salad, sumac popcorn, and cedar-maple iced tea, all simple in preparation but surprising to many in their seeming foreignness. Owned and operated by the Little Earth Housing Authority, the first and only urban Indian housing project, Tatanka is—like Sherman's projects—adamantly indigenous and inherently political.
All over the country, Indian communities that were forcefully divorced from their traditional foodways have suffered from poverty, colonialism, and a lack of fresh food for the better part of a century. In the Plains in the late 1800s, the U.S. Army hunted tens of millions of bison to the point of extinction, specifically to defeat the region's tribes. In the Northwest, salmon were diminished because of man-made dams along the rivers. In Minnesota, cultivated cranberry marshes and rice beds were maliciously drowned to free up land for logging, forcing Indians to relocate to the White Earth Reservation. By killing the food—from coast to coast—the government defeated Native Americans.
And in turn, these tribes became dependent on the government for cheap, rationed foods—macaroni, white rice, lard, flour, bacon. Over time, diabetes, obesity, heart disease, and cancer, afflictions previously absent from Indian life, came to plague reservations. When Sherman prepares bison, turkey, walleye, pike, squash, and hominy for a chronically malnourished community—returning to the earth and, in doing so, eschewing the system—it's something of a revolution.
Sherman preps most of his meals for pop-ups, catered events, and food summits at the Little Earth kitchen, which has exposed its diverse population of reservation residents and city dwellers to his food. Many have expressed a feeling of connecting to it on a primal level. Sherman's food gets at the private worry of all modern Indians—that our story is one defined by loss: loss of land, loss of culture, loss of a way of life. And yet we remain. We exist as modern Americans and Indians, but how much is left? How authentic, really, are we? At what point do we cease being Indians, and become people simply descended from Indians?
Sherman's food suggests that all is not lost. In fact, it says much remains. It's around us—the amaranth on the side of the road, the berries and fruit growing over our head. Of course, ingredients alone don't make a cuisine, much less a political statement. Rather, Sherman and Thompson's intentional approach is a reminder to focus on the richness of our surroundings and the earth from which we came.
So often, when Sherman introduces the idea of Native American food to a crowd, someone asks: "There's Native American food?" He smiles and nods. His food is an answer to that question: It and we have always been here.
Correction, September 13th, 2016: An earlier version of this story incorrectly identified Angelica Adams as a Mdewakanton tribal member and the founder Wozupi. We've updated the story to reflect her position at Wozupi.