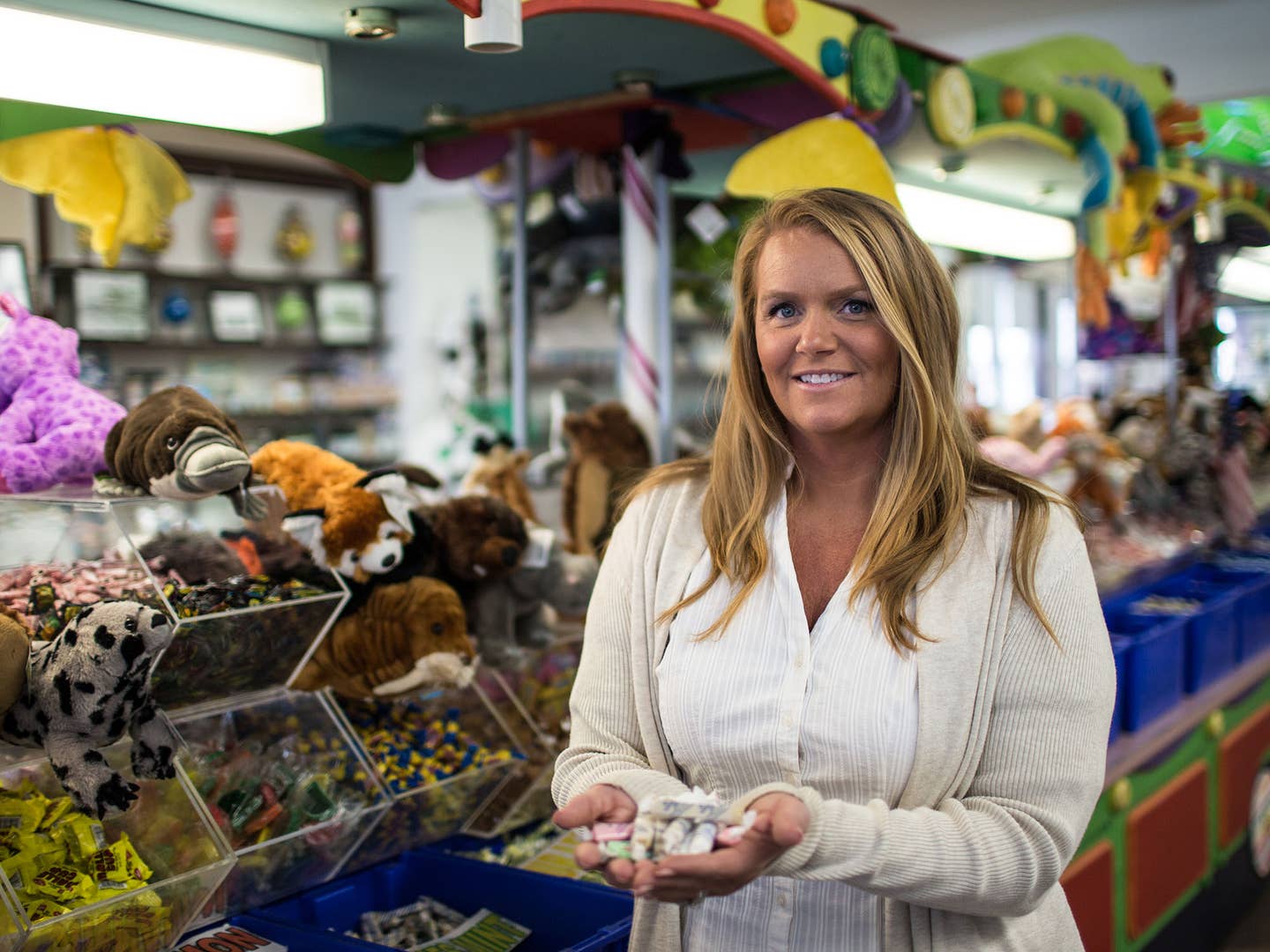 Travel
The Woman Who's Dedicated Over 20 Years of Her Life to Jersey Salt Water Taffy
Holly Kisby got her first job at Shriver's Salt Water Taffy and Fudge on the Ocean City boardwalk 23 years ago—and never left
Before Holly Kisby started her first job at Shriver's Salt Water Taffy and Fudge when she was just 14, one of their empty one-pound taffy boxes served as her childhood colored pencils container. For summer car trips to the Shore, her grandmother needed a way to keep all the pencils from rolling around her backseat and floor, and with an empty box of taffy on hand, it was an obvious choice. On the drive back home to West Depford, the car would be full of more boxes—these, instead, would be packed to the brim with a rainbow-colored assortment of wax paper-wrapped candies.
Talk to other people who grew up near the Shore and they probably have similar Shriver's stories. A fixture in Ocean City, New Jersey, since 1898, the storefront has been churning out taffy, fudge, and chocolate longer than any other business on the boardwalk. It's currently owned by Meryl and Blue Vangelov—Meryl being the great granddaughter of the family who purchased the business from the Shrivers in 1959—but Kisby, with 20-plus years at Shriver's, has been there longer than anyone else. In a family-run business that's not her own, she's not related by blood, but she is by a passion for chewy, sugary taffy—which, sugar goes into your bloodstream, so basically the same.
"It was never my goal to work there forever," she says. "But it just kept seeming right."
Even more than hot dogs, water ices, or funnel cake, salt water taffy is pure Jersey cuisine. Though the exact origin of the chewy sweet candy is contested, most historians believe that a man by the name of David Bradley began stretching it in Atlantic City in the 1880s, just a decade after the boardwalk was built. The whole salt water part involves a story about his store getting flooded, and him joking that his taffy was now "salt water taffy," but that's all myth.
But what's not a myth is the Garden State's love for the candy. Back in the 1880s, when the Shore was hot and air conditioning was sparse, ice cream melted quickly; taffy did not. Between Shriver's, and sister taffy companies Fralinger's and James, beachgoers have been getting the candy stuck in their teeth for more than a century. And if you ask Kisby, taffy isn't going anywhere.
"Everyone knows someone who's been coming here for taffy for forever," Kisby says of Shriver's. But not everyone has dedicated more than half their life to the boardwalk staple.
Now the general manager at Shriver's, Kisby started in the packing department after her parents bought a Shore house and told her that she needed to help make money. Her dad had worked there when he was in college, so after she suggested it, she went in and was hired on the spot. And she loved it. Through the years, she worked the storefront, learned how to make taffy and run the machines in her twenties, then moved back to the office and worked with the mail, and just over seven years ago began her current role. If you want to know the store regulars, Kisby will know their names; if you shoot Shriver's a Facebook message or email, she'll be the one to answer you. She doesn't have any biological kids, but she thinks of Shriver's as her own.
"I come to work, I take care of it, I feed it, I watch it grow," she says. "This is my baby."
And every day at 9 a.m., Kisby is there—it's not a long walk from her home just two blocks away. At the height of the season, which spans Memorial Day through August, the staff churns out 2,300 pounds of taffy a day—that's nearly 100,000 pieces of taffy. In the off-season, that number drops down to a meager 42,000 pieces (or 1,000 pounds a day). With chocolate accounting for nearly one-third of the candies, the rest of the taffy turns into 60-plus other flavors, including everything from trendy sea salt caramel to unpopular-but-classic (and delicious) molasses-mint. If you've ever gotten a peanut butter taffy that tasted richer than normal, you may have gotten one from Kisby's batch.
"You're supposed to put in one-and-a-half scoops of peanut butter, but I always put in two full scoops instead," she says.
Because while she's the general manager, she still operates the 50-year-old machines, works the cash register, and packs boxes. "We're a small staff, so everybody does everything," she says. Lately, she's been thinking about her next flavors—honey-lemon and honey-mint have been on her mind. After a bout of sickness this past winter, during which she was sucking on cough drops, she couldn't help but think those would make good taffy flavors.
She knew it was possible they'd flop like some of their past ones—apricot, rum, and Champagne came to mind—but one of her favorite things about working at Shriver's is getting to play around with the flavors. Even if a flavor doesn't sell so well that season, it's no big deal. If there's anything that Kisby has learned through the years, it's that taffy's here to stay.
"We have so many kids that come in for taffy with their parents—it's always going to be relevant because of the history behind it," she says. "I don't think there's something on the boardwalk that will topple taffy.