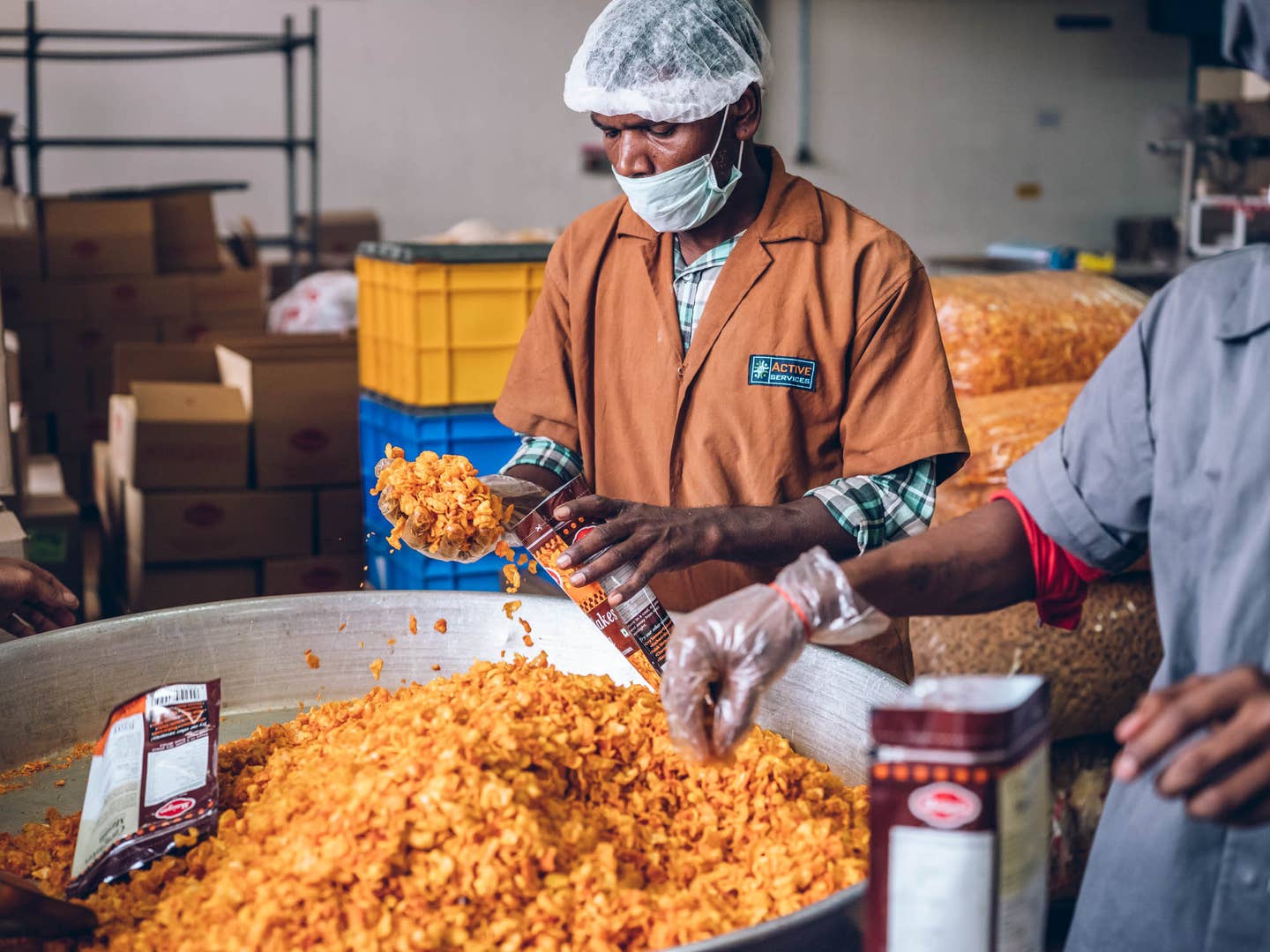 Travel
The Man Behind India's Favorite Snack Foods
Almost in his 70s, Sadananda Maiya has spent his life revolutionizing instant meals. Now he's ready to do it again
Three years ago, I packed my suitcases to move to Colombo, Sri Lanka as an Indian expatriate. In addition to the glossy silk saris and the gold jewelry I had been given for my wedding, I packed several small, sealed packets that carried their own significant emotional heft. I had tucked away small batches of milagai podi—"gunpowder," a searing South Indian blend of roasted and powdered lentils and spices known as to mix with rice or sprinkle over buttered bread, along with plastic bottles of ghee and a few kilograms of fine coffee powder. Like Indian migrants through the ages, I had a contingency plan for homesickness—and it included condiments and ready-to-eat meals by Maiyas. The food company, the brainchild of Dr. Parampalli Sadananda Maiya, is widely credited with pioneering Indian ready-to-eat food. Earlier generations would have relied on powders, pastes and spice blends made at home to recreate regional Indian food, I simply picked them off the shelf at my neighborhood supermarket. In large part, I had Maiya to thank. For nearly 50 years, he has combined a deep knowledge of food with an equally adept understanding of technology to significantly impact the way in which Indian food is prepared, consumed and transported. He has achieved this by creating shelf-stable and instant versions of age-old recipes, giving them national—and international—prominence.
Maiya is based in Bengaluru, the capital of the southern Indian state of Karnataka. When we met, it didn't take long to discern that the portly and bespectacled man in his late 60s is passionate about science. He slips the word 'technology' into nearly every sentence. He talks about machines with the fondness and familiarity that one would reserve for friends. He has a patient, professorial air when he breaks down complex scientific ideas into easy-to-understand nuggets. And his eyes gleam at the mention of nanotechnology, which he uses in a bewildering range of food products, from coffee to curd rice.
Yet while his enthusiasm for engineering is plainly obvious, Maiya has found an unusual application for it over the last four decades. As the founder of MTR Foods, a company specializing in powdered spice mixes, instant and ready-to-eat Indian meals, Maiya can claim credit for inspiring a revolution in the way a generation of Indians ate and travelled, by offering them easier access to foods that were difficult to prepare and all but impossible to find in most parts of the world.
In 2007, a long-standing family dispute over Maiya's use of the MTR trademark and damages claimed by his extended family forced him to sell the company to the Norwegian conglomerate, Orkla, for $100 million in 2007. Instead of resting on his laurels, however, he founded a new company, Maiyas Foods, that applies the MTR formula to a more diverse selection of regional snacks, instant foods, and beverages.
The headquarters of the Maiyas brand is already a local landmark in Jayanagar, a tree-shaded neighborhood that has resisted the gentrification of the rest of the city. On a weekday morning, it was bustling with customers lining up for coffee in the lower level of the three-story building, which serves both as a restaurant and the retail outlet for the brand's range of baked and packaged goods. A stickler for punctuality, Maiya arrives at 9 a.m. every day and spends half an hour doing the rounds of the restaurant and kitchen. While his son, Sudarshan, handles the day-to-day running of the six branches of the restaurant, it's clear that Maiya enjoys spending time in the store, introducing customers—many of whom he has known since his early MTR days—to his innovations.
On the day I visited, two staff members were handing out shot glasses of tomato rasam, made using the brand's newly introduced 'instant rasam cubes'. Rasam is a South Indian classic—a thin, spicy soup with the tartness of tomato or tamarind, and fragrance and heat from powdered spices. Many South Indian families are proprietorial about their rasam recipes, closely guarding their favored proportion of spices. Using nanotechnology, Maiya has dehydrated and compressed all the individual elements of this dish into rasam cubes—they simply need to be dissolved in the specified quantity of boiling water.
Having grown up watching my mother and grandmothers make fresh rasam every day, I—like many other customers who are offered a taste—hesitate momentarily. But goaded by Maiya's infectious enthusiasm, I take a sip. The flavors—refreshingly sour, with a gentle underpinning of spice—are accurate enough to make me nostalgic for my childhood. I begin to understand why Maiya is often credited for giving South Indian cuisine the national—and global—exposure that it had never previously enjoyed.
Eclipsed by the wheat-and-dairy-heavy cuisine of North India, which is what reductively passes for 'Indian food' in most restaurants—in India and overseas—the nuances of South Indian cuisine have always been a bit of a local secret. But the powdered spice mixes and instant foods that Maiya pioneered when he was at MTR helped to change that.
"In particular, not-so-universally known South Indian foods got a tremendous showcase thanks to MTR," said Kaveri Ponnappa, a Bengaluru-based food writer and author. She used the example of MTR's puliogare (or tamarind rice) powder—a complex blend of tamarind extract, roasted lentils, peanuts and spices, used to make a tangy rice dish that is popular in most of South India. "It became a familiar fixture in the kitchens of people who had a limited view of South Indian food."
If Maiya had had his way, he may never have even dabbled in food. As a 22-year-old engineering graduate, he was offered a prestigious scholarship to pursue advanced studies in Germany. "But I couldn't go because [my family] thought I wouldn't come back," he chuckled. In some ways, his initiation into the food business was predetermined by his family. In 1924, his father Parampalli Yajnanarayana Maiya started a small vegetarian eatery in Bengaluru called Brahmanara Coffee Club with two of his brothers. In the early days, the menu was restricted to coffee and a few South Indian snacks like idlis, spongy, steamed cakes made of rice and lentils. The restaurant was a hit and relocated in 1950 into a much larger space, renamed Mavalli Tiffin Rooms—MTR for short. The restaurant remains a Bengaluru institution. It was in the MTR kitchen that Maiya received hands-on training in the grueling business of running a commercial kitchen. "I spent the first two years in the kitchen, just like any other staff member," he told me. Yajnanarayana Maiya is credited for creating the rava idli, a variation of the traditional idli, made of rava, or semolina, and sour yogurt in place of the usual rice and black gram. It was a creative workaround to deal with the shortage of rice due to the Second World War. As he animatedly explained the interaction between acidic and alkaline ingredients that makes rava idlis spongy (even though the batter is not fermented), Maiya quietly marveled at his father's foresight. "He had studied only till the fourth grade, and had no knowledge of chemistry, but he taught [our staff] how to make technology-oriented products," Maiya said. "I don't know how he knew all these things." Maiya's own creativity was put to the test a few decades later. In 1975, India's Prime Minister Indira Gandhi declared an Emergency—a 21-month period during which political and civil freedoms were severely curtailed. During this time, the government also imposed restrictions on the serving size and prices of dishes sold in restaurants. While other eateries coped by adjusting the quality of their ingredients to match government rates, MTR refused to compromise. "For 16 days in May 1976, we ran the restaurant with their rate and our quality," said Maiya. "We were the only restaurant that was fighting with the government at that time." Eventually, Maiya and his cousin Harishchandra Maiya, co-owners of the restaurant, decided to shut it down temporarily, while continuing to pay their forty staff members.
The forced closure was a blessing in disguise. Making the most of the time on his hands, Maiya started a department store on the restaurant premises. Eventually, he began manufacturing instant snack mixes, or a base of dry ingredients that could be combined with other add-ons to make South Indian snacks like rava idli and upma (a savory breakfast dish made of semolina and vegetables, also known as khara bhath). The upma mix, for instance, had roasted and seasoned semolina that simply needed to be cooked briefly with hot water and a little oil to make the rich breakfast dish. "It was the first time in India that [someone] had come up with snack mixes," said Maiya. "We created that entire category at that time."
Following his successful experiment, Maiya continued to build on the niche he had found, adding more instant mixes and spice blends to the fold. In 1996, he broke away from the restaurant business to launch MTR Foods. Around this time, he also began experimenting with ready-to-eat food—initially for purely selfish reasons. A strict vegetarian who didn't even eat eggs, Maiya found himself woefully short of eating options on his work trips.
His story is one that many Indians would relate to. "In 1996, when I had gone to a village called Padova in Italy for training, the owner of the pasta plant I was visiting said I could choose whatever I wanted from the restaurant. I couldn't decide on anything. He asked me what I would eat, and I told him what I would not—meat or eggs. Finally, he said, 'We only have grass.' On that day, I decided that we had to do something, because there were a lot of others like me."
The availability of ready-to-eat food with familiar Indian flavors that you could simply snip open, heat and eat, emboldened a generation of Indians who may have been hemmed in by their dietary proscriptions. "My husband's colleagues all travelled with packets of MTR Foods in their luggage, whether they were visiting us on work or on holiday," recalled Ponnappa, the writer, who lived in London in the late '80s and '90s. "They seemed to instill a kind of confidence."
While Maiya initially specialized in South Indian cuisine, his repertoire gradually expanded to also include North Indian classics like chana masala, rajma chawal (a home-style Punjabi dish of kidney beans and rice) and dal makhani (or buttery, slow-cooked black dal). In time, MTR became a byword for failsafe, home-style Indian food that appealed equally to busy mothers, students living away from home for the first time and expatriates longing for familiarity. "I took MTR's rava idli mix with me when I was living in the United States, Zimbabwe and Zambia," recalled my uncle Sanjay Rao Chaganti, "It brought home the bacon several times over, and I still look forward to it even in Chennai."
In 2007, in the span of a few months, Maiya was forced to make the decision to sell the company. The deal was an extremely profitable one—American spice giant McCormick lost a bidding war to Orkla—but Maiya has a hint of regret in his voice as he tells me that people still call him assuming that he is associated with MTR. During the hour-long drive to the new Maiyas factory on Kanakapura Road, in the outskirts of Bengaluru, he reflected on the sale of MTR. "It was very painful," he said, candidly. "I didn't sleep for almost four months." With characteristic energy and optimism, Maiya used the break from work to embark on a research doctorate—his third—from Columbia University in 2010. His research focused on using nanotechnology to make food with curcumin, the powerful antioxidant that is a major component of turmeric. In 2012, after his non-compete agreement with MTR Foods had ended, Maiya began working on his most ambitious project so far. Spread out across 20 acres, with neatly manicured lawns and flowerbeds, the Maiyas factory is the culmination of one of his long-held dreams. The organized factory floor hums with the quiet efficiency of machines, which perform a boggling array of normally labor-intensive functions. I watch mesmerized as one machine stretches molten sugar syrup into glossy, golden-brown ropes that will later be mixed with sugar, gram flour, and ghee to make soan papdi, a sweet with a delicate, flaky texture. Other machines sift impurities out of spices, sterilize frozen food, deep fry savory snacks and package them. Maiya looks most at home walking among these machines, wearing his scientist's white lab coat. "This was my dream when I was at MTR," he says, with visible pride. But five years on, he concedes that marketing and distribution still remain a challenge, especially given the network and reach of market leaders like MTR. Last year, the company received a shot in the arm in the form of a $30 million private equity investment. Having relied on word of mouth publicity thus far, it is only in recent months that the company has begun marketing its portfolio, including the rasam cubes, packaged curd vada (lentil fritters soaked in spiced yogurt), and canned sugarcane juice, a tropical drink that has never been packaged successfully because of its extremely limited shelf life.
Although the company still needs greater visibility before it can compete with the forerunners of the highly competitive ready-to-eat segment, Maiya is not unduly worried. "Growing the Maiyas brand name is a commercial thing that my son will look after," he says. But underneath a veneer of contentment, he bristles with restlessness to keep pushing on. "I have done this for fifty years, and it is enough," he says. "But whatever I have started, I must complete."
A few weeks after I return home to Colombo from Bengaluru, I find myself ravenous at lunchtime and too busy to cook. I look around in my pantry, and find a cup of Maiyas ragi ambli, a rustic, finger millet porridge rarely served in restaurants. I don't need to make any effort to enjoy this ready-to-eat ambli: it comes neatly packaged and sealed in a plastic cup. Salty and spicy, with the aroma of asafoetida and the earthy graininess of roasted and ground millet, it instantly connects me to India, and its diverse and intense flavors.