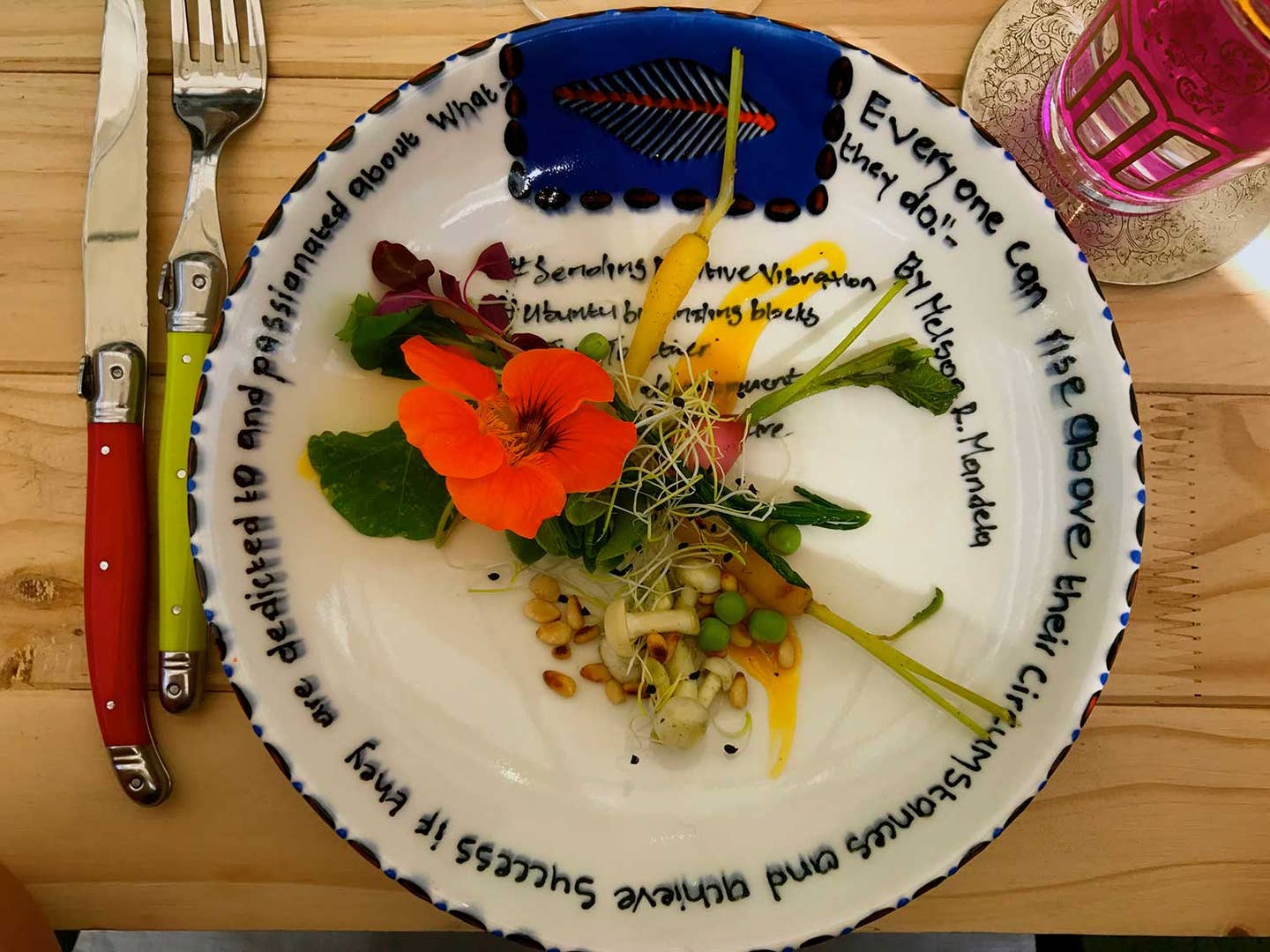 Travel
This Chef is Returning to Her Roots—Literally—With Her South African Restaurant
At 4Roomed in Khayelitsha, chef Abigail Mbalo-Mokoena's menu is the start of a story
The seemingly endless sprawl of corrugated metal shacks along the highway outside Cape Town is an incongruous destination for a gourmet tasting menu, and it's hard not to feel a vague sense of discomfort navigating the streets of Khayelitsha, the largest township in the Cape Town area.
South Africa's townships are living remnants of apartheid; they're the slums into which non-whites were once segregated. Although the Group Areas Act, which relegated South Africa's black, Indian, and other mixed-ethnic populations to live within these cut-off communities, was abolished in 1991, Khayelitsha continues to have some of the most crowded and impoverished living conditions in the nation.
But people come here for 4Roomed eKasi Culture, a backyard fine dining restaurant helmed by Abigail Mbalo-Mokoena, a former top six contestant on MasterChef South Africa.
Mbalo-Mokoena's five-course menu is born of her childhood here, starting with the restaurant's name. 4Roomed refers to traditional four-room township bungalows typically shared by extended families. "I'm not saying a four-room house like four bedrooms," says Mbalo-Mokoena, "it was four rooms. At night every room was a bedroom: the kitchen, the lounge. I thought it was normal because we had so much joy. All the cousins, aunts, everyone living in the same household." Then there are Mbalo-Mokoena's dishes, modern interpretations of the traditional foods she ate growing up.
"I grew up in apartheid," says Mbalo-Mokoena, now 41. "In the 80s, things were very rough on the streets. But if you came into our house, you would never know." Likewise, while half of the population of Khayelitsha falls into Cape Town's poorest income quintile, the small, tidy house and lovingly-tended backyard at Mbalo-Mokoena's restaurant belies my expectations for what I'd find inside Khayelitsha. There are whitewashed walls, plants potted in crates hand-painted in shades of teal and violet, vintage Coke bottles filled with wild blooms, and a long, blonde wood table that fills most of the space, set with custom-made napkins embroidered with the words "Taking you down memory lane." The vintage Bedford truck that she and her husband first started operating out of in 2014 is parked out front.
More than a list of dishes, Mbalo-Mokoena's menu is the start of a story; as she serves our meal, Mbalo-Mokoena flits in and out of the kitchen, explaining the names she's given each course. "Native Yards Backyards" is a polenta-like pudding topped with slow-roasted tomato sauce, mixed mushrooms and microherbs picked from the planters around us. It's also a reference to the backyard vegetable gardens that used to be a key source of nutrition in township diets; once common, these gardens are a tradition that has been lost among younger generations. "Thsisanyama", a Zulu word for "burnt meat", is local slang for barbeque; Mbalo-Mokoena grills beef, sausages, lamb, and chicken—caught free-roaming on the township streets—out in front of her house and serves it with homemade chakalaka, a spicy vegetable relish that has been a staple here for generations. Dessert, "The Milk Man", is a common fermented-milk cheese called amasi. Infused with lemon verbena, Mbalo-Mokoena makes the cheese herself and serves it with fresh fruit and baby toffee apples, a cheeky nod to a burnt sugar mishap that got her eliminated from MasterChef.
"We're not flying our flag so high with our own cuisine," Mbalo-Mokoena laments. "We don't bring it as a unifying thing [between South Africa's people]." As one example, she cites pap, a maize-based meal that makes an appearance in several courses: with butternut squash, nutmeg, and truffle oil in Native Yards, in spinach croquettes, simmered with coconut cream into thick crumbles and served with citrus and cilantro and rich tomato sauce. But while it was ubiquitous growing up, Mbalo-Mokoena says didn't realize how common it is outside of townships too. "Pap is a staple you find in South Africa. I wanted to say this township but I've been corrected by Afrikaans [white South Africans of Dutch origin]. Every South African eats pap."
But while promoting cultural cohesion through food is one stated goal, Mbalo-Mokoena's ambitions run deeper. A dental hygienist for 17 years, she and her educated, upwardly-mobile peers typically fled the township where they grew up once they became adults. But after MasterChef, she returned to Khayelitsha to open her business and to live there. "By moving out of the townships when we got our qualifications and our degrees, we were actually depriving the economy. The kids had no one to look up to," she says.
Improving food security is another driving force. While most diners come from outside Khayelitsha, Mbalo-Mokoena's food truck and a second, more casual takeaway restaurant, Mphako/Padkos/Mofao, offer healthy, affordable food for locals. She also works with Harvest of Hope, a community gardening project, to buy township-grown organic vegetables for the restaurant and promote the forgotten gardening skills that once supplied a steady source of fresh produce to the townships.
"Growing up you had everything in the backyard garden," she says. "Every house had a fruit tree. If you go now, you won't hardly spot a fruit tree." But as they say, it starts with a seed. "If you dream about something and say it or write it down, then it happens. Before we did this, we talked it about all the time. I have small [note]books, notes on my computer, my phone. I hope we're just the beginning."