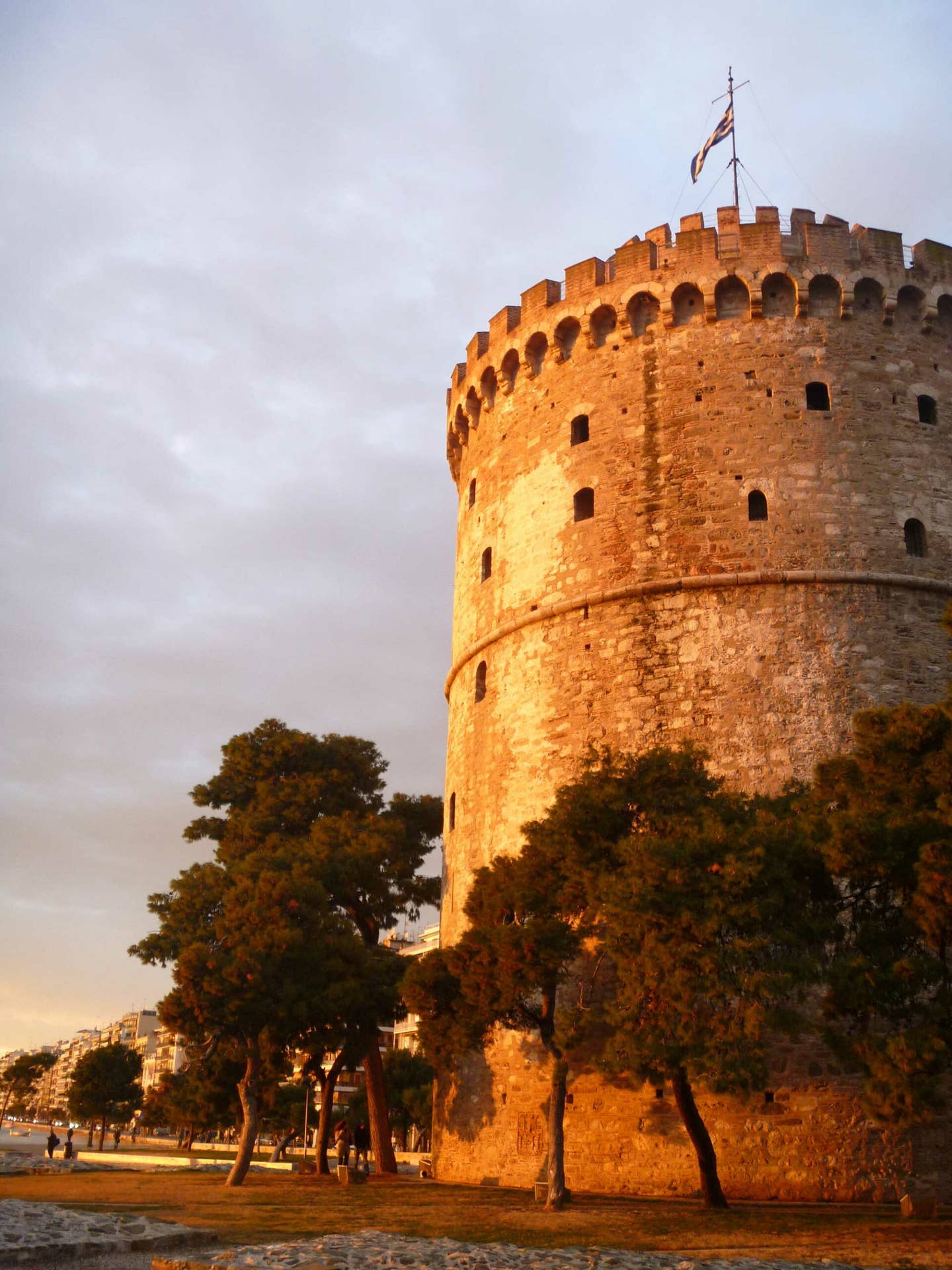 Travel
5 Essential Greek Snacks to Try in Thessaloniki
How to eat around the clock in Greece's second city
If you're going to Greece, there are many reasons to put Thessaloniki on your itinerary. It's right on the sea, it's less tourist-trodden than Athens, and it has a fascinating history. Then of course there's the food.
Thessaloniki's reputation as a food destination has soared in recent years, with boundary-pushing restaurants that are redefining the meaning of Greek cuisine. If you're looking for traditional Greek food, you can find that everywhere too—there are still plenty of tavernas that serve up excellent plates of moussaka and horiatiki.
But for me, Thessaloniki's real charm is the endless bounty of snacks—a souvlaki to munch on while on your way to the corner cafe for a strong Greek coffee and a bit of cake. Here's how to snack around the clock.
This gem is right in Valaoritou, one of Thessaloniki's popular bar districts. It's open from 1 p.m. to 5:30 in the morning, so that should tell you the clientele it typically attracts. But the thing is, this isn't like Dominos or New York's dollar slice joints, that are open for the same kind of business. This is real pizza. The dough is made by hand and cooked in a wood-burning oven, and the crust is perfectly crispy and thin. There are truffles and tomatoes and cheeses and mushrooms and all kinds of toppings. There are even sweet options, like a giant chocolate calzone.
Vilara 2, Thessaloniki 54625
If there's one thing you can find everywhere—really, everywhere—in downtown Thessaloniki, it's dessert. Cakes and pastries are everywhere, and you can eat them any time of day. Really. But if you want to get away from the chain shops (which, admittedly, do have better desserts than you might expect), head to Sugar Angel. It sits on a quiet street only a few blocks from Thessaloniki's paralia, and when the weather is nice, you can grab a table on the street. There are plenty of cake options, from cheesecake to lemon cake, and they'll all go perfectly with a coffee.
Lassani 1, Thessaloniki 54622
One of the Greek things that is hardest to replicate, even in New York, is good feta. It's not that I haven't tried, but unless you're willing to splurge, it's often just plain bad. "Cheese ninja" Liz Thorpe has even written about this problem: "Sadly, much of the 'feta' you'll find in supermarkets is cow's milk, precrumbled, and tastes akin to salty dust." She's right. So when I came across this feta bar in Thessaloniki, I immediately cleared all my plans to take myself on a cheese-eating date.
And cheese-eat I did. I ordered the "variety of feta bites," along with a few extras that I thought sounded interesting. And, for some reason, I topped that off with prosciutto. I was perhaps a little too ambitious, but as I made my way through block after block of the good stuff, I was completely fine with my decision and the ensuing digestive discomfort. If feta isn't really your thing, don't let that deter you - they have soft goat cheeses, semi-hard and hard cheeses, and plenty of Greek specialties like kefalotyri, kasseri, and graviera.
Pavlou Mela 14, Thessaloniki 54622
If you go to Thessaloniki during its film festivals, there's a good chance you'll be in the Olympion, a theater that sits on Aristotle Square across the street from the sea. The Olympion cafe is also home to one of the best (and most elaborate) cups of hot chocolate you can find in the city. The cafe looks out over the square, and it's the best way to spend a cold winter evening in the city. But if melty gooey chocolate in a mug isn't your thing, there are plenty of other drinks to sip on.
Aristotle Square 10, Thessaloniki 54623
The first time I ate at Delicatessen, I was nursing an ouzo-induced hangover, and it was raining. It's the kind of place you could walk right past if you don't know to look for it—there's no indoor seating, just a series of tables outside under umbrellas. The inside has just enough room for a line that forms a sort of U. You walk up to the register, and after ordering, turn back around, parallel with the incoming customers. The wood-paneled walls are almost totally coated in photos and newspaper clippings.
I used to see people I knew there all the time. It was just one of those places that you find yourself when you're hungry and/or hungover (making it an awkward place to occasionally run into your students). My first visit there, I made the somewhat unorthodox decision to get a pita with haloumi, mushrooms, and everything else they had piled on top. The first bite caused nearly everything to fall out the sides and onto my tray, but it didn't matter. It was delicious. I went back and ordered one with chicken. Then I got a third one for the road. You'll likely do the same.
John Kouskoura 7, Thessaloniki 54622