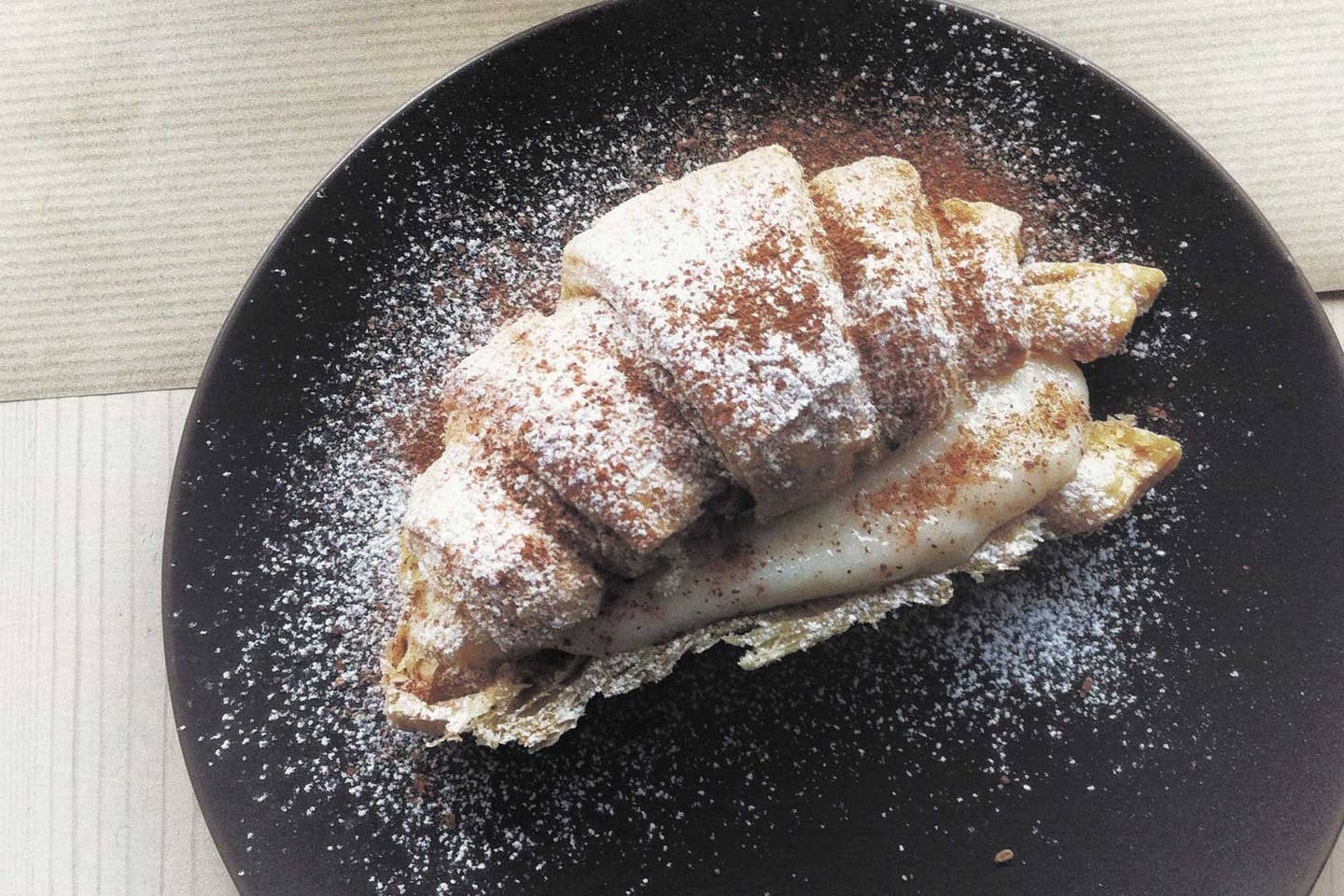 Travel
Inside the Buttery Pastry Mashup That's Rewriting the Rules of Greek Dessert
In Greece, where food often clings close to tradition, the emergence of a mashup dessert isn't just another bakery playing to a viral trend; it's a genuine window into a fast-changing food culture
The rest of the world is finally catching on to what Greeks have always known: Athens may be the country's capital, but Thessaloniki is where you go to eat. That's no small feat in a country that's remained painstakingly true to its traditions for centuries; over in Thessaloniki, there's room to breathe, and restaurants such as Ergon and Pizza Poselli are allowing the country's cuisine to develop beyond the constraints of tradition.
Estrella is another one of these restaurants. It sits catty-corner to the beautiful Agia Sofia, whose history can be traced back to 795 A.D. And it sells a wildly popular pastry you won't find anywhere else: bougatsan, a hybrid of a croissant and the traditional Thessaloniki bougatsa. It is a flaky croissant sliced in half, oozing creamy custard from all sides. It's delicious, but also a buttery bellwether. Viral-engineered hybrid foods might be commonplace elsewhere in the world, but in tradition-bound Greece, where some recipes are viewed as immutable, the bougatsan is a sign of the value of change.
Chef and author Diane Kochilas describes the original bougatsa pastry as "a hand-held phyllo pie made with very thin, very elastic and buttery phyllo that is wrapped and re-wrapped around spinach, cheese or custard." Estrella's version transforms it from a self-contained pie to an oozing, single-serve dessert, but the original bougatsa has been part of Greece's culinary repertoire for almost 100 years, the result of cultural diffusion from the many groups that have traveled through the region. Kochilas explains, "[Thessaloniki] is a multi-cultural city where the earthy foods of northern Greek farmland co-mingle with the influences of the Greeks of Asia Minor." Refugees from the Ottoman Empire settled in northern Greece in 1922, and as Kochilas says, "[Northern Greek] cuisine is rich with all the spices of the East, and it's an urban cuisine, sophisticated, rich, sometimes influenced by French affectations. Many of the dishes we know as Greek classics came to Greece with them, i.e. moussaka and, yes, bougatsa."
But while the bougatsa can be traced back to some of Greece's earliest residents, the bougatsan was born through social media only two years ago, thanks to chef and food blogger Dimitris Koparanis. He posted a photo of his first bougatsan to Instagram and it became an immediate hit. "I think it had something like 100 likes in the first 30 minutes," says Koparanis. Koparanis found instant Instagram fame, an unusual feat in a country where food doesn't always gain social media recognition, but he didn't know how to push the pastry further—making one is a different story from baking enough for a restaurant. "The problem was that I didn't have the actual product," said Koparanis. So Estrella started by selling 40 pieces every Sunday, with lines around the block. In the last two years, they've sold over 35,000 pastries.
The rest of the food on Estrella's menu also veers drastically away from horiatiki and souvlaki. In addition to gooey crusty breakfast foods, Koparanis has come up with a breakfast pizza, a colorful mix of egg, bread, and beetroot sauce. But while it looks nothing like the typical salad and meat combination you find in most Greek restaurants, you can still find traditional local ingredients put to work in new aways. They use Koulori, a Greek bread ring resembling Turkish simit, a Gruyère-like cheese from Naxos, and honey from nearby Chalkidiki. Kochilas believes staying true to these original ingredients is part of the process of reinventing Greek food. "Presentation changes, food lightens up, new ingredients are woven into classic dishes. All that works, in my humble opinion, if the soul of a dish stays intact." This reinvention has proved so successful that Estrella recently opened another restaurant in Athens.
The restaurant itself is different from the typical tavernas found on Thessaloniki's narrow side streets. A muralist painted the inside, and owner Kostas Kapetanakis says they occasionally had DJs that would play for diners. And it's packed with young people, even early on a weekday. They stand over their tables, taking photos with their phones. I hear some discussing the meal, bringing up a word that is new to some Greek diners: "Is it lunch?" "Breakfast?" "No, it's brunch."