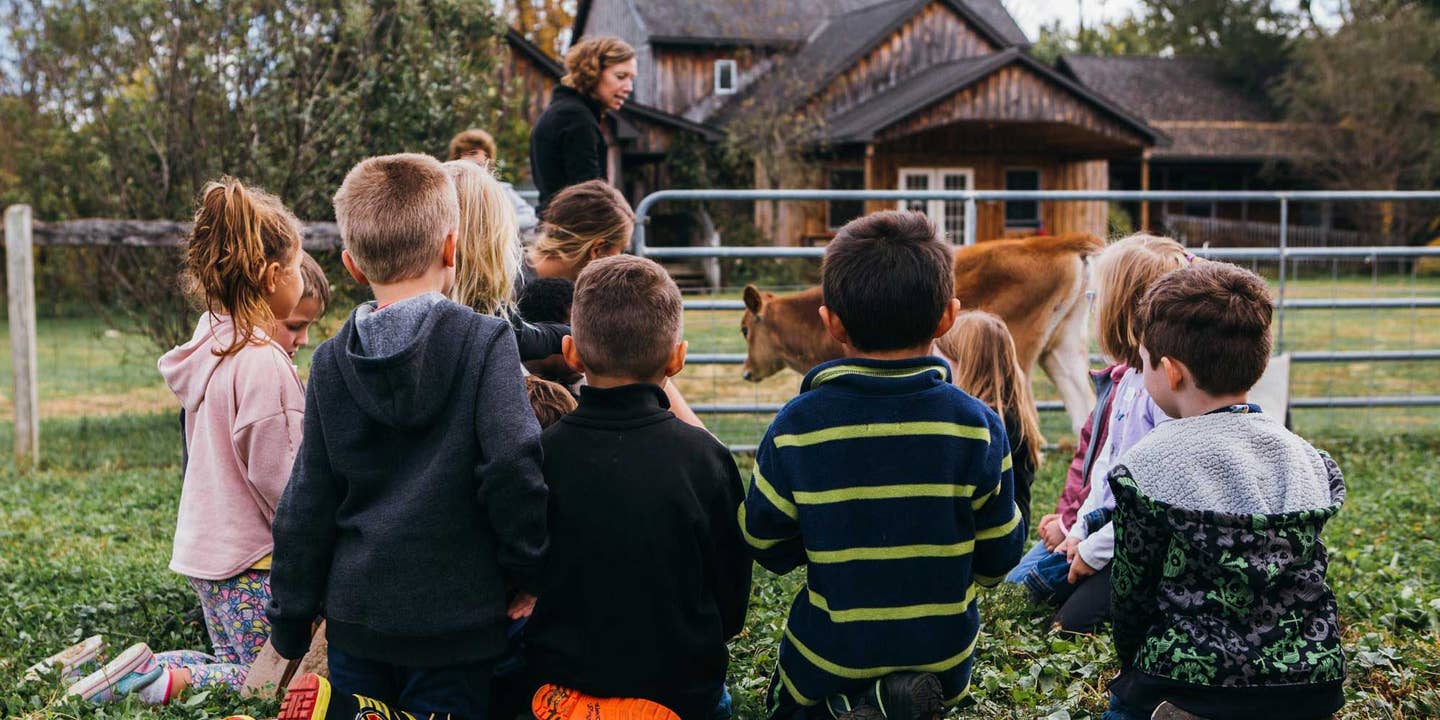 Travel
This Independent Agriculture Education Program Needs Your Help to Survive
The self-taught Catholic Sisters of Sprout Creek Farm are battling mega farms and corporate agriculture with education and empathy—and they need our help
Sister Margo Morris pulled up to the entrance of Poughkeepsie's Sprout Creek Farm ten minutes ago, but we're still sitting in her cabernet-colored car. Her eyes crease behind her lightning blue glasses as she laughs and regales me with stories from the farm's humble beginnings, like the time one of their very first goats went into labor. "We had one arm open to a book, and the other literally inside a goat, trying to fish out her baby," she says. "That's really how we began!" 35 years ago, while teaching at the Convent of the Sacred Heart, she and fellow Sister Sue Rogers hatched their plan for an educational agriculture facility—though they had zero farm-hand experience between the two of them. "It was almost as if we had acute myopia," Sister Morris recalls with a laugh, "the operation was so bootstrap, but we just kept thinking, 'Oh this is great!'"
The Sisters received the blessing of the school board, but no financial backing. They were resilient, though, endlessly motivated by a concerning trend at the time: Society was changing, and the popularity of fast food and instant meals was skyrocketing. Children were spending more time indoors in front of the TV, and less time outside learning. It seemed that "the natural idealism that occurs in kids was being eclipsed," Sister Morris said, "so we began thinking about a total environment that could allow them to utilize their natural ingenuity and innate ability—without the nuns telling the students what the objectives were."
Today, a school bus crunches over the gravel driveway and comes to a stop. Kids race off it, and their excited chatter fades as they make a beeline for the old renovated barn, refurbished with materials salvaged from the local trash pickup. After decades of effort, Sprout Creek Farm is at now an award-winning cheese producer and a fully functioning farm, summer camp, and classroom. The farm is 200 acres of rolling green, marshy waterways, student residences, a milking parlor, creamery, kitchen, and shop. When you survey its sprawling glory, it's hard to imagine that Sprout Creek could be struggling to stay afloat.
Unfortunately, the optics of this "bootstrap operation" meant that the Sisters' operation has never quite been taken seriously. "People either thought we were cute, which bugged the hell out of us," she says with retrospective exasperation, "or they were really happy with what their kids were learning, but didn't know what to do with it." From the beginning they were operating in an agricultural period dominated by mega-farms, which inevitably produced a shift in the way family farmers were perceived. It wasn't until after outbreaks of E. coli and salmonella became more prevalent in 2006 that everyone started thinking more critically about the where and how of food. "It took us 28 years to become relevant, but we always knew that what we were doing was re-dignifying the art, science, and effort of agriculture." It is this empathetic approach to farming that seems to define the ethos of Sprout Creek Farm, and the educational experience they offer to their students. "When you are constantly dealing with plants and animals as your partners, not pets, caring for them becomes paramount," Margo says, "and where agribusiness went awry is when people began thinking of plants and animals simply as commodities."
While Sprout Creek has made great gains from its humble beginnings, finding harmony between the Sisters' original objective as an educational facility and their goal of functioning as a financially independent small business will always be the farm's greatest challenge. Their expanding operations over the years has allowed them to close the gaps in the educational experience; chicken coops, a vegetable patch, a pen for goats and turkeys, and a closer alignment with school curriculums has helped the farm create more practical and relevant exercises. The farm still isn't subsidized by any local, county, state, or federal funds however, and with the array of tasks that need to be addressed in their integrated and highly diversified environment, the result is in an unfortunate (and inevitable) decrease in efficiency and focus. Their tenacity and passion to forge ahead is apparent, but as Margo says, "in many ways, we are still a bootstrap operation."
In four hours of conversation with Margo, I get the sense that she is laser-focused on making the farm's immediate survival her number one goal. They've brought on CIA-trained executive chef Mark Fredette to develop their adult-oriented experiences with culinary classes, on-site meals, catering, and prepared foods. She talks a lot about finding a new wholesaler for their cheese, finding someone to field requests from students and schools to guarantee income in future months, and finding ways to alleviate how much some team members have on their plate.
When I ask her how those things can be facilitated, she is at a loss, just for a moment. Then she tells me that when the farm became operational in Poughkeepsie, the first students they taught came from a local teacher who simply knocked on their door asking for help. It's that sense of community, critical to the farm's existence from the very beginning, that will carry the farm on to greener, more sustainable pastures.
If you'd like to volunteer or send your classroom to Sprout Creek Farm, email margo@sproutcreekfarm.org. If you'd like to make a donation to support the operation, visit sproutcreekfarm.org/support.