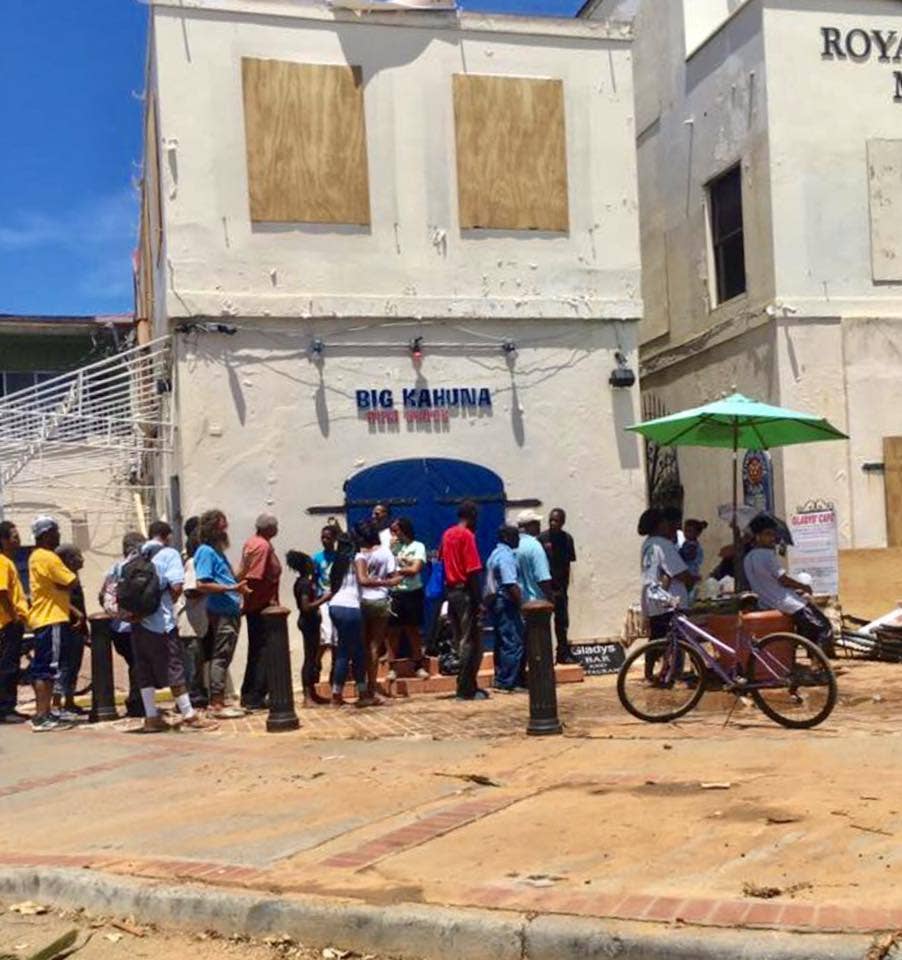 Culture
The St. Thomas Restaurant Community is Feeding the Island's Hurricane Recovery
The U.S. Virgin Island was devastated by Irma and Maria, but food businesses are coming together
It's Gladys Isles' birthday, and she's worried that the barrels shipped to St. Thomas won't make it. "We have kids toys, backpacks, shoes, candy, cookies in these barrels, but they can't be delivered until the rain stops," she says.
The barrels are from the mainland United States, part of a donation drive for children on the island, and they've been held since the rain started three days ago. On a typical day, Isles is worried about the deliveries of fresh fish, fruit, and dry goods to her small restaurant, Gladys Cafe, and what time cruise ships are bringing hungry tourists into port. That routine has been completely upended since Hurricanes Maria and Irma barreled through the Caribbean and battered St. Thomas, destroying vegetation, downing phone lines, and leaving most of the island without power.
Food businesses on St. Thomas are trying to put their kitchens and their lives back together after two of the strongest hurricanes ever recorded hit the island. The United States Virgin Islands, three islands 100 miles east of Puerto Rico, are home to 102,000 people; 50,000 of them live on St. Thomas, where 85% of residents are still without electricity, and aid from government agencies has been slow to come in, if at all, residents say. Nearly 3 million tourists visit the islands every year; now islanders are relying on one another for meals, supplies, and plain company while the community rebuilds.
Terri and Kevin Brown are co-owners of Frenchtown Brewery on St. Thomas, and have been living out of their brewery since their house was destroyed by Hurricane Irma. They haven't been able to brew in over a month, but are hopeful to get up and running once their power is back. "We've been relying on each other a lot," Terri Brown says. "We've been getting together for meals with the chefs and business owners in Frenchtown and it's nice. You can ask each other 'how was your horrible day today'?"
Before the storm, Brown and her husband's Frenchie Farmhouse Saison and Hop Valley IPA could be found at five restaurants and most of the major hotels on the island. The Browns were planning to increase production and expand with a new location. "We had just signed the lease on a second building," Brown explains. "but new building was completely flattened in the storm."
This time of year, the island is usually preparing for an influx of tourists as fall trails into winter, but many hotels on the island have yet to repair the damage that have left their rooms uninhabitable. The bump in tourists hasn't come yet.
"The hotels are still closed and we don't know when they're going to open back up," Isles says. Food businesses are waiting anxiously. Tourism accounts for 60% of the island's gross domestic product, and many business rely on the busy season for the majority of their sales. "We're taking it one day at a time," Isles continues. Cruise ships are set to start visiting the island again on November 11th, and the airport is open for a few commercial flights per day.
On an island that's only 32 square miles, the restaurant community is already close, but the storms have brought everyone even closer together, Brown explains. "All of the restaurateurs get along just fine but now everyone is just so helpful." She notes how their neighbor is running a generator to power their home, and has turned it into a makeshift charging station for locals to use. "People are walking four miles or so to charge their phones." And for the past few weeks, Brown and her husband have been supplying breakfasts for the local community.
Isles' restaurant sustained "a lot of water damage," but she was able to cook for the community using a generator after Hurricane Maria. "We gave 3,000 plates of free food away," she says. "We wanted to keep going and to give away more but we ran out of gas so we had to stop." Recently she's been able to get more cooking gas and has been open for breakfast and lunch, inviting her front-of-house staff to come and work for a few shifts a week. "I'm just happy to be open and ready for my customers." Lines at the grocery store are long, and many stores can't take credit cards because connectivity is spotty; restaurants like hers are filling a crucial gap.
Bryan Lewis, chef and owner of Twisted Cork in Frenchtown, considers himself lucky as well. His restaurant was left intact by the storms, but he lost a storage unit's worth of equipment, and a garden that supplied some of the herbs and produce for his menus. He can cover the expenses of running his business right now, but says that he'll probably have to apply for assistance "once more bills come in."
"I feel lucky because I didn't lose as much as other people, but everyone on this island lost something," he says. Before he could get back into the kitchen, Lewis and his neighbors cleared doorways, driveways, and roads in the neighborhood. He explains that the community has been working hand in hand to try to get back "to some sense of normalcy."
"People are working together as a community, and it's helped me out a lot." His neighbor is letting him use wifi, and he's letting them use his ice machine. "Everybody is just trying to help everybody."