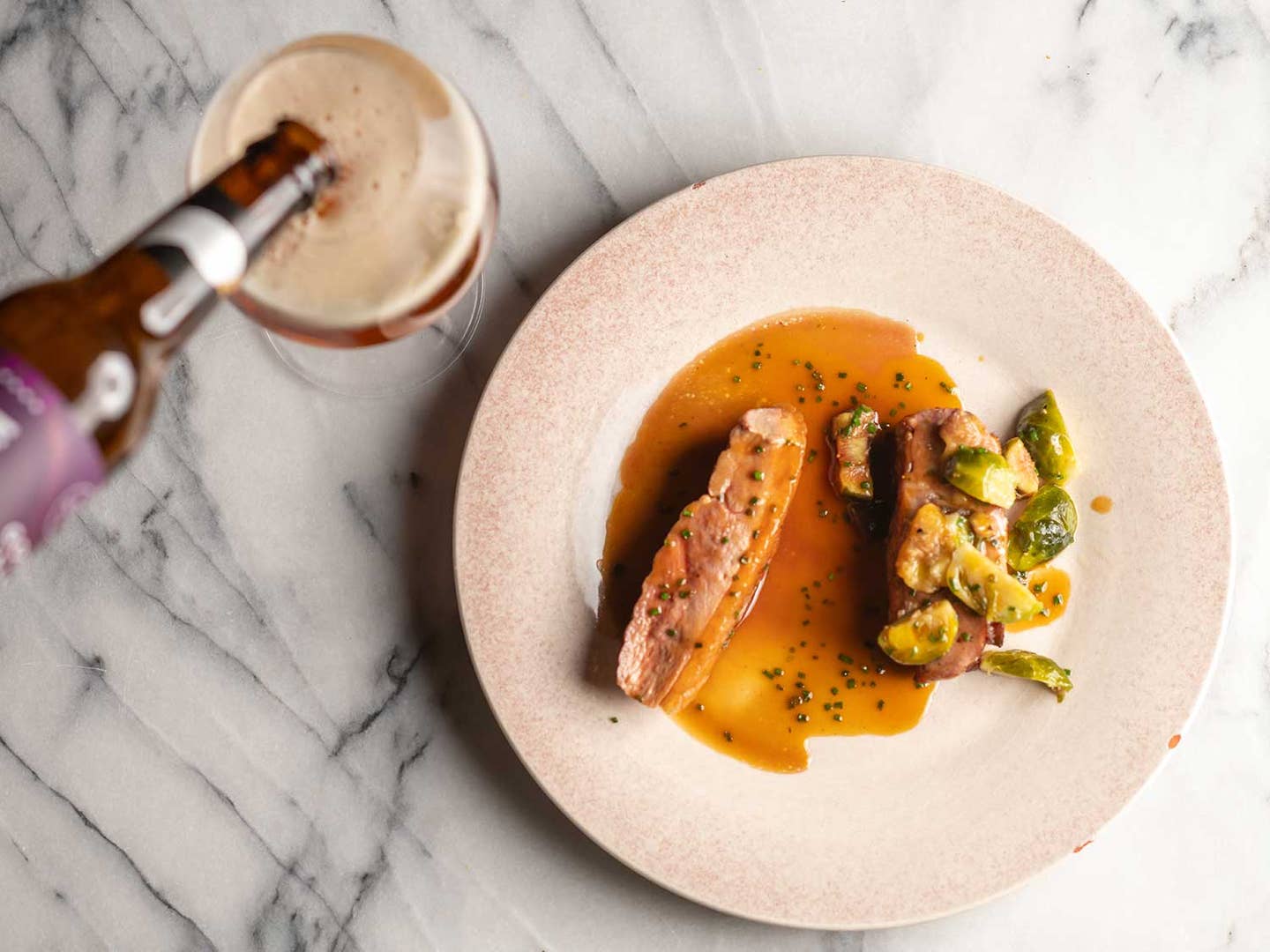 Culture
A Fermentation Feast in the Saveur Test Kitchen
A night of rare beers and funk-forward bites with Olmsted's Greg Baxtrom and Goose Island
The fermentation station has become a staple in professional kitchens all over the world. More and more chefs are making use of the process—not only to preserve certain ingredients but to experiment with flavors on their menu. "It's finding ways to make unique things that you can have on your menu that other people may not necessarily have," said Chef Greg Baxtrom of Olmsted and Maison Yaki. But one corner of the food and beverage industry has long been reaping the benefits from the technique—breweries. That's why Baxtrom, a born-and-raised Chicagoan, was the perfect chef to team up with the Chicago-based brewers of Goose Island for a beer-paired fermentation feast at the SAVEUR Test Kitchen.
The dinner kicked off with guests clinging and sipping glasses of a variation of Goose Island's signature sparkling Belgian-style farmhouse ale, Sofie, which has a lightness and freshness akin to Champagne. The Sofie Paradisi is a Belgian-style Saison that gets its citrus notes not from the usual hand-zested orange peel in the original Sofies, but from grapefruit. This paired easily with the passed snacks, such as the Goose Island beer-battered squash rings with a furikake seasoning, the neo-fjordic oysters topped with a red onion mignonette and fermented beets, and chicken-fried trumpet mushrooms with Olmsted's house-fermented aji dulce hot sauce.
For the first proper course, the Olmsted team brought miniature loaves of their fresh-baked emmer wheat sourdough bread and garlic-chive butter. It was served alongside radicchio salad with a preserved lemon ranch dressing, made from lacto-fermented lemons preserved with salt and sugar. To drink, Goose Island poured Sofie La Mure, a rare Sofie variant with blackberry juice for a pinkish hue and fruit-forward taste.
The final savory course saw two takes on duck: a roasted breast and a leg "mortadella." A black garlic-lentil jus lifted the dish, which was paired with a glass of Goose Island's Matilda, made with wild yeast strain called Brettanomyces, and is inspired by Belgian brewery Orval.
Finally, for dessert: Baxtrom's sweet brioche doughnuts in kefir caramel sauce. Goose Island brought out their new 2019 Bourbon County Stout for the occasion, which was aged in a mix of Heaven Hill, Buffalo Trace, and Wild Turkey bourbon barrels. It's a bittersweet beer with a rich and thick mouthfeel, and tastes of deep flavorful notes of chocolate, vanilla, caramel, and even a little bit of musky leather and tobacco.
Goose Island educator Mike Smith ended the night with a toast, inviting the guests to come over to Chicago for a drink on him. "Scout's honor! Just ask for Mike Smith, you will get a real person," he joked. "We're super excited to be a part of this dinner. Hopefully, we can do this again." Baxtrom suggested, "Let's do it in Chicago!" Smith agreed.