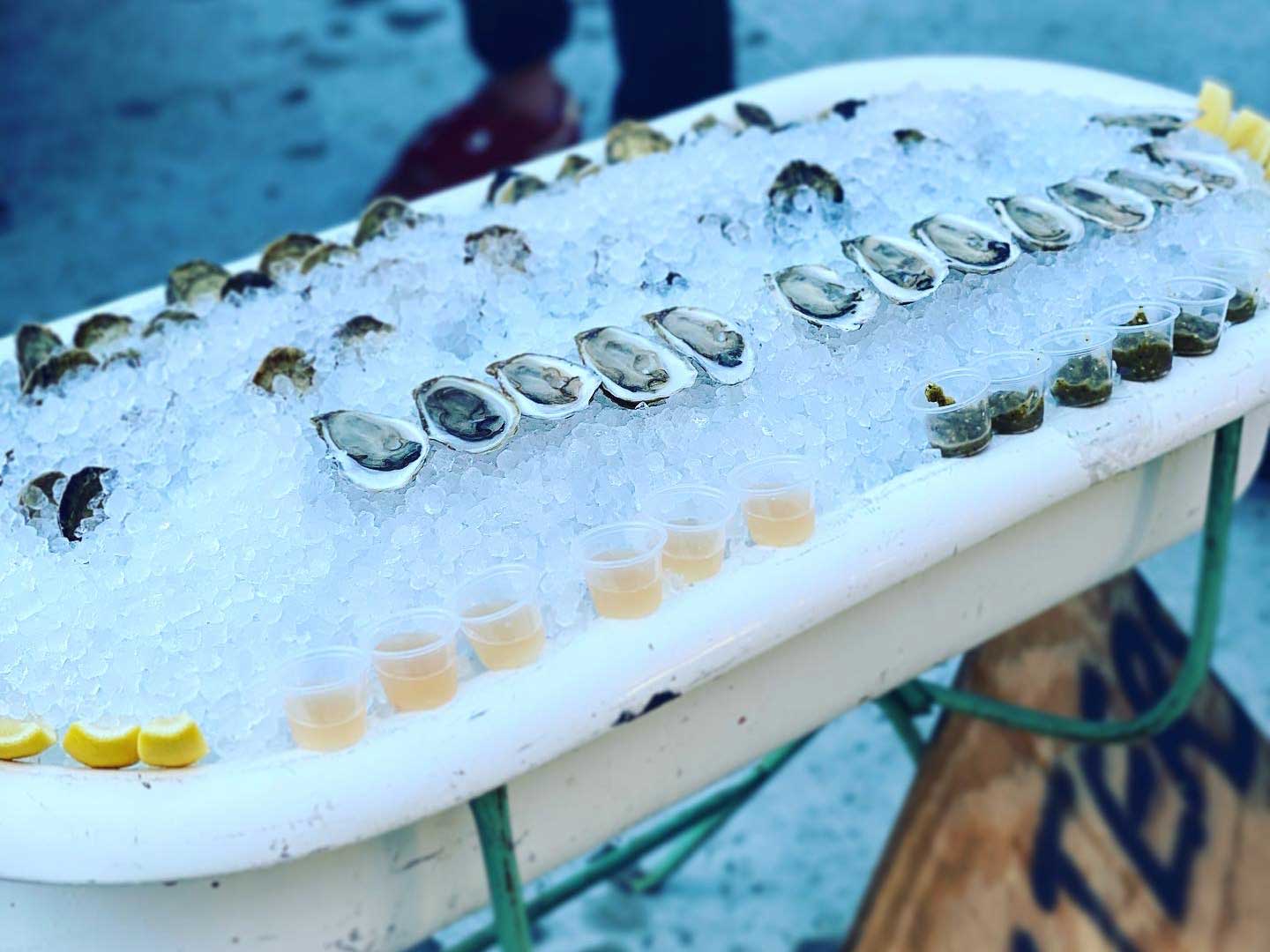 Travel
Best Thing I Ate This Month: Bar George's Raw Oysters with Jalapeño Mignonette
Two intrepid restaurant pros and their ad hoc oyster mobiles are bringing the bivalves—and joy—to Charleston.
A monthly column celebrating some of the best bites the country has to offer, Best Thing I Ate This Month celebrates American cuisine. Delve into cookbooks, home kitchens, diners, and fine-dining: The United States are delicious, and this is a reminder of the good food right down the street—or on your very own stove.
A few months into the long slog that was 2020, I realized that there was a specific restaurant delicacy I missed most of all—raw oysters. I'm a food and travel writer and host of The Southern Fork podcast, and where I live, Charleston, South Carolina, has a bustling oyster culture: oyster roasts in backyards, oyster farming in brackish water, ice cold bivalves served raw on towers and plates. I'd spent much of the first week in March of 2020 slurping down as many as I could at Charleston Wine + Food, not realizing that all those articles I was planning and all those travel itineraries I was building would never come to be.
Oysters are celebratory. For a dinner that promises to be the breadth of an evening, I love a plate of oysters to begin. I'm selective about where I eat them, and what varieties are my favorites. On the best plates, each shell is presented like a floral arrangement, with shells as flower petals nestled on pellet ice surrounding a pistil of accoutrements, and I keep a mental check of salinity, size, and perfect clean shuck with every slurp. It's a scientific approach to a sultry ritual, served alongside a glass of dry white wine that, if I'm lucky, exhibits notes of oyster shell. The buzz of a restaurant filling up around me swirls with the names: Blue Point, Capers Blades, Sea Cups, and Olde Salts, and it's at that moment that I know the evening is about to get good.
That just doesn't happen with my self-shucked oysters on the half-shell home experience on a tucked-in Saturday night. Although oyster selects are more available for home purchase, I don't want them. Oysters are best shared with a friend. It seems odd to eat them alone, in my clog slippers, while my dog wonders if she should beg for them. So my shucking knife has stayed in the drawer. I decided to wait until I could enjoy them at a restaurant table once again.
I had my chance this month at Bar George in Charleston, a funky outpost of good eating and drinking in the Riverland Terrace neighborhood whose planned opening in Spring of 2020 at the height of pandemic uncertainty was undeniably muted. At the helm is Alex Lira, formerly of Bar Normandy, and one of the most inventive and respected chefs in the city—he also currently heads up Estadio downtown. Bar George's menu is eclectic, serving everything from bivalves and South American flavors to a snappy hot dog memorial for his Uncle George, the bar's namesake. Here, oysters sourced from small farms by Island Creek Oysters are expertly shucked and presented with a "dealer's choice" mignonette, like the bright, slightly spicy jalapeno mignonette on my visit, light years ahead of clumsy red wine vinegar/shallot or even onion styles I see all too often. The vegetal green of a seeded jalapeno "fruit" and delicate yuzu juice suited these extra briny Saquish oysters with just the right balance. It was bliss.
Oysters are integral to Bar George, and not just because there's an oyster bar tucked into a corner. This summer, when the restaurant's partners closed the doors as COVID-19 cases spiked in the city, Lira and barman Joey Goetz took oysters on the road. The pair hoisted a 1940s Hungarian baby tub into the back of Lira's 1982 Dodge Rampage, filled it with ice and oysters, and started an Instagram account for the newly anointed Car George. For the first few runs, Lira sat in the back, steadying the tub as Goetz drove slowly through the residential neighborhood, offering impromptu driveway shucking parties on live oak-lined streets dappled with summer sun. It was grassroots, it was gutsy, it was genius.
"It's always been about so much more than money," Lira explains. "It was about staying relevant, and injecting a flicker of positivity in an industry riddled with misery."
Soon the impromptu "ice cream truck approach" gave way to requests to schedule driveway parties, and when some of those requests were further afield than Riverland Terrace, Lira doubted the Rampage could tackle the big bridges to sea islands such as Seabrook or Sullivans. So they invested in an additional vehicle, a 1978 Ford Ranchero, and Goetz and Lira dubbed the truck duo "Danny Devito" and "Arnold Schwarzenegger" in homage to the movie Twins. Celebrities including Gail Simmons and Danny McBride hosted driveway oyster parties, along with plenty of other folks just looking for a sliver of joy in a freshly shucked oyster, socially-distant style. The whimsy of a Bar George experience (pinball machines, granny-chic wallpaper, and mezcal cocktails et al.) somehow translated to the driveways of folks who were looking for silver linings this summer. And that gave Bar George a silver lining too—the twin trucks kept the scrappy spot financially viable and will remain a catering element of the restaurant moving forward.
But despite the fun, carnival vibe of the whole thing (down to Lira's jaunty sailor cap), it's more than just a good time. On the day I enjoyed my long-awaited plate, I shared them with one of my favorite folks in the world. It was celebratory, and as oysters always promise, the beginning of something good.