Recipes
Jalapeño Mignonette
Bright yuzu, green chiles, and champagne vinegar are the star flavors in this fresh and spicy take on the classic oyster condiment, from Charleston's Bar George.
Serves

makes approximately 1 cup mignonette enough for 4 dozen oysters

Cook

1 day 20 minutes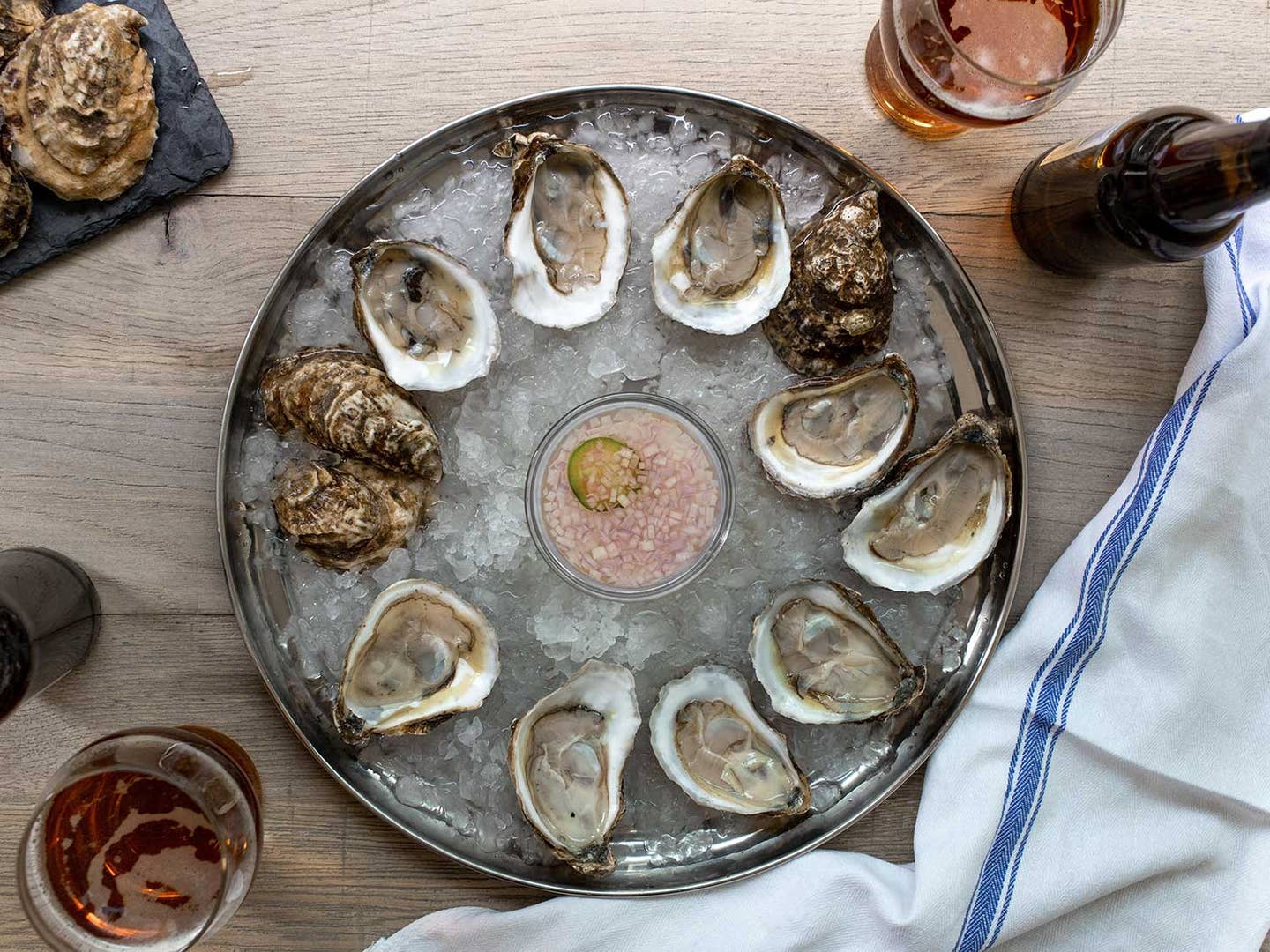 This mignonette is surprisingly delicious, a delicate green and spicy accoutrement in a world of too-often sloppy red wine vinegar offerings. Expect nothing less from Charleston chef Alex Lira, whose approach to cooking focuses on revelry and fun (he's fond of sporting a vintage sailor cap while shucking oysters, for example) without sacrificing execution.
True to Lira's eclectic fashion, this preparation begins with a cold pickle brine. It is poured over seeded jalapeño rings and then strained—the slices provide more surface area for flavor extraction, while the brine mellows the pepper's heat. This recipe makes a bit more pickling liquid than is required for the mignonette, but the brine keeps well in the refrigerator and can be used in vinaigrettes, cold salads (such as a crisp slaw from whatever brassicas you have on hand), and of course, for pickling other vegetables.
Ingredients
For the pickling liquid:
1 cup champagne vinegar
1 cup white wine vinegar
1⁄2 cup dry white wine
3 Tbsp. sugar
1 1⁄2 Tbsp. kosher salt
1⁄4 tsp. coriander
1⁄4 tsp. fennel seeds
1⁄4 tsp. yellow or brown mustard seeds
1⁄4 sprig of thyme
For the mignonette:
1 large jalapeño, thinly sliced into rings, seeds removed, (about ½ cup)
3⁄4 cup pickling liquid
3⁄4 cup yuzu juice
1 medium shallot, finely chopped (about ½ cup)
Instructions
Step 1
Make the pickling liquid: In a medium pot, whisk together the champagne vinegar, white wine vinegar, wine, sugar, salt, coriander, fennel seeds, mustard seeds, and thyme. Bring to a simmer over medium heat while stirring to dissolve the sugar and salt, about 2 minutes. Remove from the heat, transfer to a non-reactive container, cover, and refrigerate until completely chilled.
Step 2
Make the mignonette: In a second, small non-reactive container, add the jalapeño slices and just enough pickling liquid to cover (reserve the remaining brine for another use). Cover and refrigerate for 24 hours.
Step 3
When you are ready to serve the mignonette, strain the jalapeño pickling liquid into a large, liquid measuring cup, reserving the jalapeños for garnish. Stir in an equal volume of yuzu juice, followed by the shallots. Transfer to a shallow bowl and serve with chilled shellfish, such as oysters, with the reserved jalapeño slices on the side.