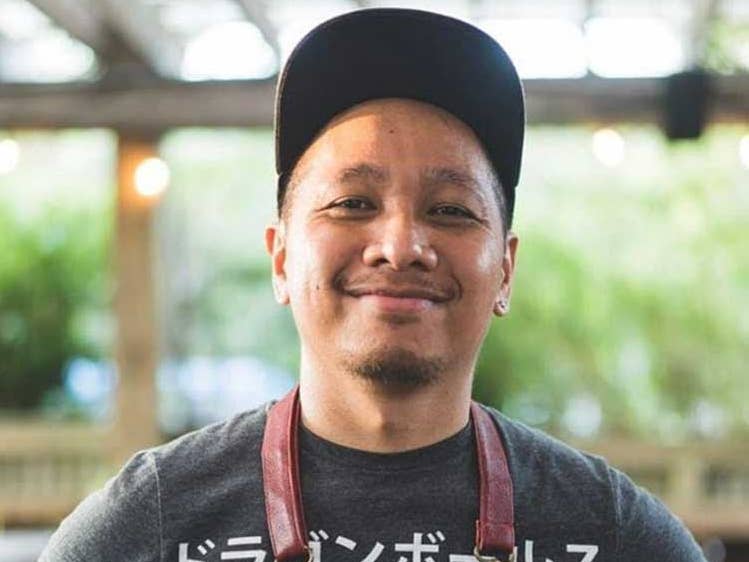 Culture
Nurse-Turned-Chef Nikko Cagalanan is Showing Charleston, South Carolina What Filipino Food Should Taste Like
After trading in his scrubs for an apron, this self-taught chef is serving new takes on his grandma's old recipes at his popular food stall.
Nikko Cagalanan never really cooked much growing up in the Philippines—his grandmother was the one who made all of the family's meals. But after the nurse emigrated to the United States with his American wife in 2011, he found himself missing the flavors of home. So Cagalanan began watching YouTube videos and reading cookbooks devoted to Fillipino cuisine. By the time his wife's career brought the couple to South Carolina seven years later, the erstwhile chef had retired his scrubs and logged time in several Massachusetts restaurants. After sliding into the DMs of prominent Charleston chefs, Cagalanan found his way into the city's culinary scene and launched a pop-up series named Mansueta's Filipino Food (after his grandmother). Now, with a permanent stall at Workshop, a local food hall, Mansueta's has become a cult favorite around town. As part of our "Beyond Borders" series, a collaboration with the Charleston Wine & Food Festival, we spoke with Cagalanan about how he brings a taste of his childhood to the South.
"I missed my grandma's cooking, so I started learning how to make Filipino food myself."
I was born and raised in the Philippines. That's where I met my wife, a U.S. citizen—I was in nursing school and she was doing her doctorate in forest conservation in Negros Occidental, the provience where I lived. Once I graduated in 2011, we moved to Boston, and I got a job in a nursing home. Three years later, we moved to Miami for my wife's work. My nursing licenses didn't transfer, so I spent a lot of time watching Filipino cooking videos on YouTube. And Gordon Ramsey. Lots of Gordon Ramsey. We were in Miami for less than a year before moving back to New England in 2014, and that's when I started working at Little Donkey, in Cambridge, Massachusetts—my first kitchen job.
"For me, cooking is so comfortable and easy."
"There was a time when I did both jobs: the nursing home from 7:00 a.m. to 3:00 p.m. and restaurant work from 3:00 p.m. to 11:00 p.m. Eventually, I had to weigh my options and pick one. I feel more at home in the kitchen."
"To get work, I direct messaged chefs on Instagram, offering up free labor."
We landed in South Carolina in 2018, when my wife got a job as a geography professor at Coastal Carolina University, near Myrtle Beach. I wanted to see what the food scene in Charleston was all about, so I started messaging chefs on Instagram to find a foothold. Chef Sean Brock replied almost immediately: "Come on over!'" He introduced me to others, like Vinson Petrillo of Zero Restaurant + Bar. That same year, I started doing the Mansueta's pop-ups at local breweries, which led to my opening a permanent stall of the same name at Workshop, a Charleston food hall, in November, 2019.
"I identify 100 percent as a Filipino chef."
I want to represent the food of my home country here in Charleston. I want to show Charleston that Filipino food is really good, and make it as popular here as it is in other American cities, like New York, Los Angeles, and Boston.
"Adobo is important to all of the Philippines: every island, every city, and every household has its own take."
When my grandmother was alive, she would make adobo for the whole family. I make mine with her recipe, which, like every Filipino recipe, starts with onion, garlic, and ginger. Then the pork is braised for three hours and finished with coconut milk. It's simultaneously savory, velvety and creamy. It reminds me of home—it's a comfort food for me.