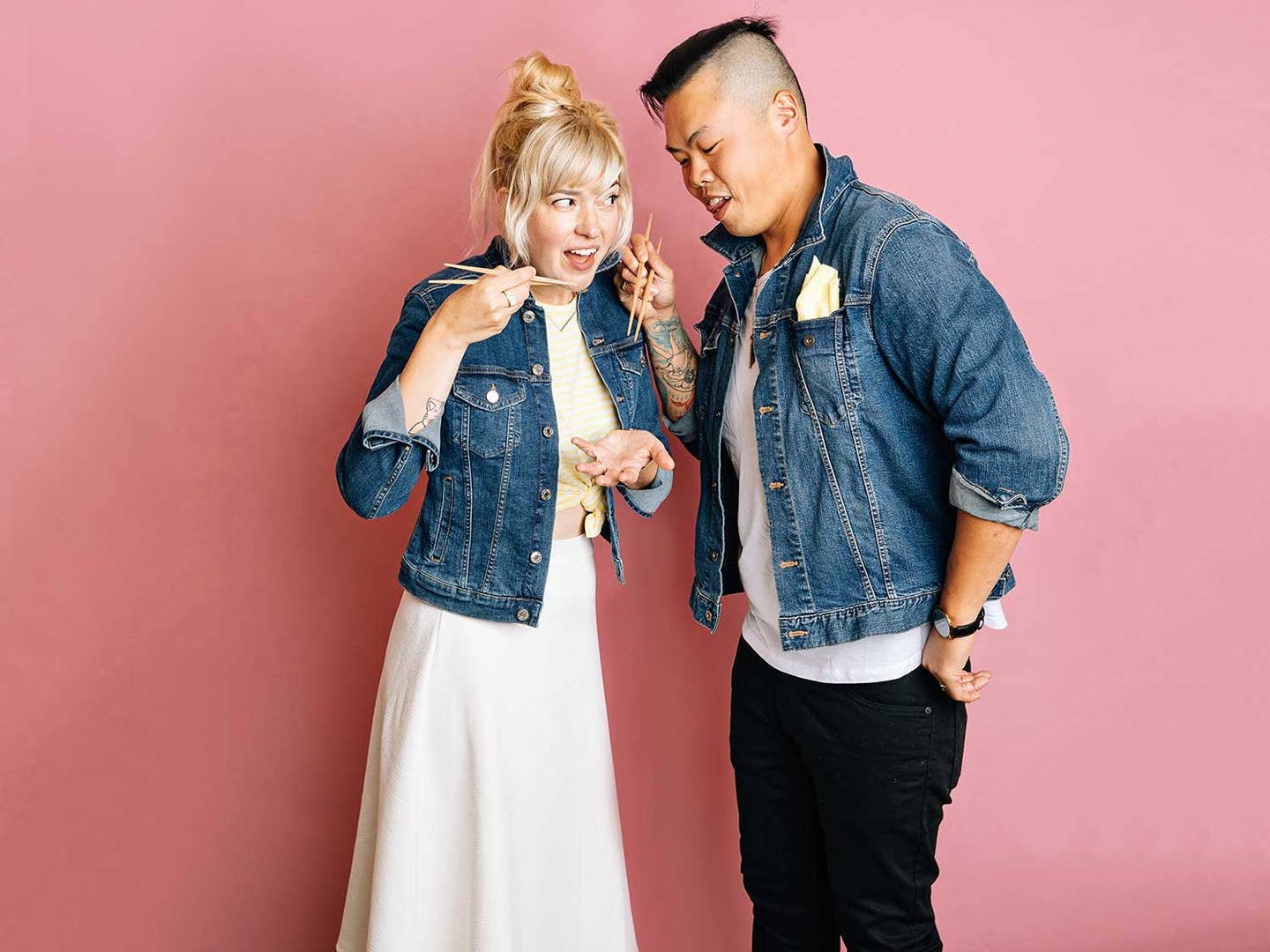 Culture
A Kid From Queens Is Cooking Some of the Most Interesting Chinese Food in Charleston, South Carolina
Born in Beijing and raised in NYC, Chef Shuai Wang is having a lot of fun redefining his childhood cuisine at Jackrabbit Filly.
After nearly a decade in New York City, cooking at Japanese bars called izakayas, Shuai Wang was tired. So in 2014, when a friend asked if he and his wife, Corrie, wanted to move to Charleston and help open a restaurant, the couple went for it. That project never panned out, so the Wangs decided to do their own thing. Within a year, they were peddling funky, Lowlands-influenced Japanese dishes all around town from their food truck, Short Grain. The endeavor earned Shuai plenty of accolades, including James Beard Rising Star Chef of the Year 2017 Semifinalist, and whetted Charleston's appetite for more of his creations. At the end of last year, he and Corrie opened Jackrabbit Filly, a #newchineseamerican restaurant (as they label it on Instagram) that puts a modern—and Southern—spin on Shuai's favorite childhood meals. As part of our "Beyond Borders" series, a collaboration with the Charleston Wine & Food Festival, he details his path from Beijing kid to New York chef to satisfied Southerner.
"I got into cooking for all the wrong reasons."
I started studying architecture and taking lots of art classes at the Art Institute of New York City, but I was a terrible student, so that didn't work out. To make up credits, I enrolled in the school's culinary program—I'd been assigned to read Kitchen Confidential back in high school, and Anthony Bourdain had made the restaurant lifestyle seem appealing: sex, drugs and rock 'n roll. Awesome. But once I began culinary school at AiNYC, I really fell in love with all of it. Every part of it.
"New York wasn't the place for me to grow old."
I was born in Beijing and moved to Queens in 1996, when I was 9 years old. I've spent most of my life in NYC, but after seven years cooking there, I was burned out and wanted something new. I checked out Portland, Maine, and Nashville, but then fell in love with Charleston and moved there with my wife in 2014. The weather is beautiful, the city is beautiful, and the people are so nice. Nicer than New Yorkers.
"I'm trying to introduce people to the food I grew up on."
My grandma played a big role in raising me and made most of my meals—humble and simple meals, always delicious and comforting—so I'm heavily inspired by Beijing home cooking. My New York background has also influenced me. There's lots of Latin American food in NYC, so one of the dishes on my menu right now is "mapo verde." It's like mapo tofu but with salsa verde.
"I'm very proud of my heritage, but the South molded me into the chef I am today."
When I first started culinary school, I knew I wanted to open a comfort-food restaurant. It wasn't until I got to Charleston that I decided I wanted to celebrate my Chinese heritage. Now my food is based on my mom and grandma's recipes, and is heavily influenced by what's locally caught and grown. Asian ingredients down here are amazing, from sorghum to bok choy. Charleston's also a huge rice growing region, which I didn't even think about before I came. It feels like home when all those things are available.
"Madras curry powder was the best thing I'd never had before."
Singapore-style anything is one of my favorite dishes because I love curry, especially the Madras type curry that's popular in the region. My first time having Madras curry powder was at a hole-in-the-wall place in Flushing, Queens. That flavor profile stayed with me—it hits all the notes: spicy and sweet, pork and seafood. I make my Singapore fried rice using jasmine, scarlet, and black rices. And instead of dressing it with classic curry powder, I use a buttermilk curry aioli on top. Madras, of course. Buttermilk is everything down here. This dish is a true celebration of my culture and the South.