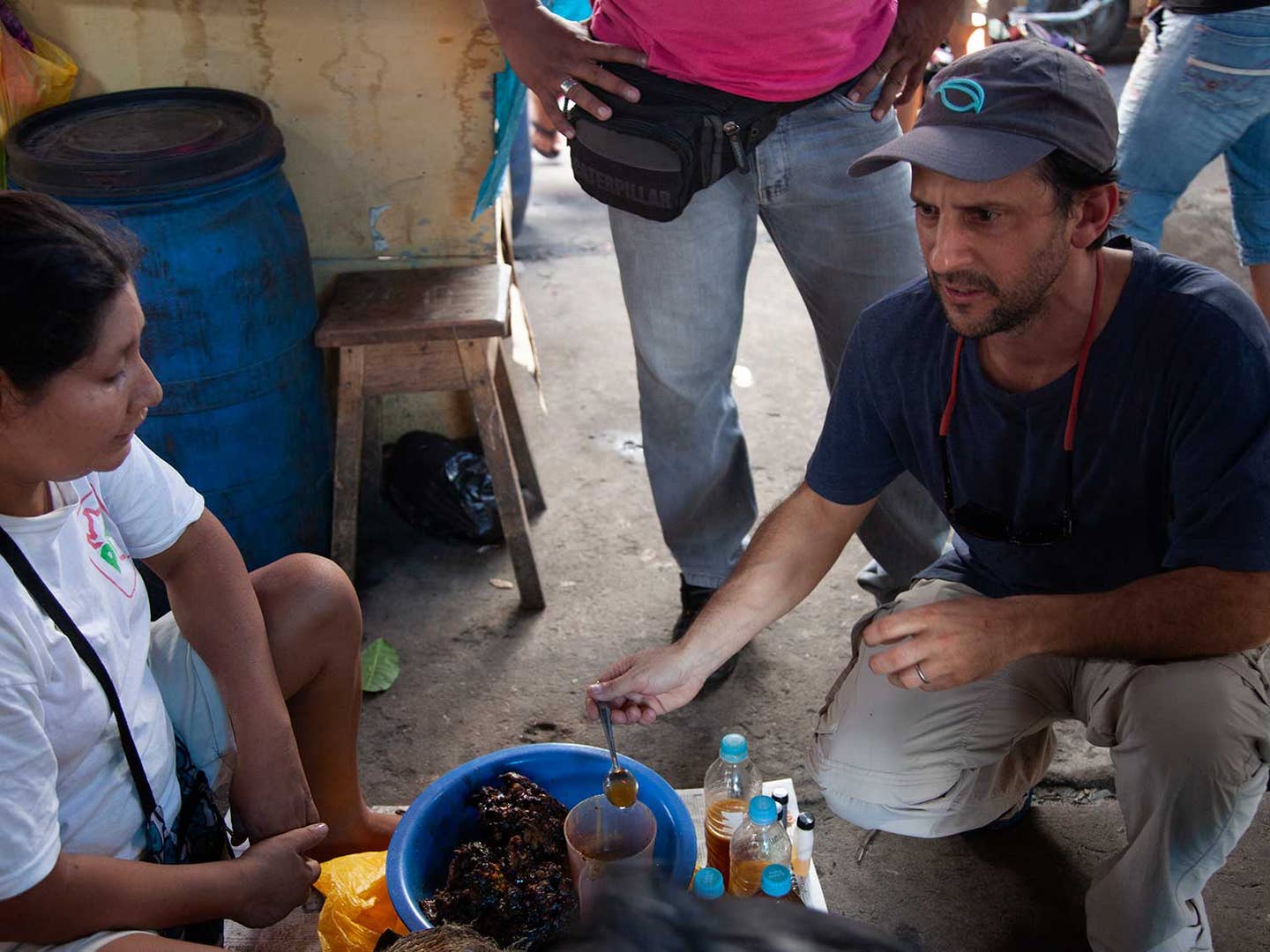 Culture
How One Peruvian Chef Is Preserving Amazonian Food Traditions
Pedro Miguel Schiaffino's NGO, Despensa Amazónica, has been a catalyst for promoting environmental and economic sustainability in the Amazon.
"I couldn't believe they were able to create such a complex flavor from such common ingredients," the chef Pedro Miguel Schiaffino said of tucupi negro, a condiment used by indigenous groups throughout the Amazon.
In 2013, Schiaffino was visiting the Bora and Huitoto village of Pucaurquillo, where he noticed local women cooking down tucupi—a fermented, yellow liquid extracted from grated yuca root—into the thick black sauce. Flavored with piquant Amazonian chiles, nutty macambo seeds, and meaty leafcutter ants, the liquid achieves smoky, salty, and acidic qualities. He would later learn that the resulting tucupi negro is often swirled into soups and other sauces or used as a flavor enhancer for meats and fish. While the community didn't think it had any commercial value, Schiaffino suspected otherwise.
The chef started buying the sauce to use at his own restaurants, Malabar and ámaZ. He added it to mustard and used it as a glaze for grilled fish. He even presented it to guests at the table so they could drizzle the potent condiment over their food themselves. His initial purchases alone were enough to significantly improve Pucaurquillo's economy in a way that the community's small handicraft business never could.
Ten years earlier, after a decade of working in high-end restaurants in Peru and later in Italy, the graduate of New York's Culinary Institute of America decided it was time to go home. So Schiaffino returned to his native country with the goal of better understanding the indigenous foods of his homeland. He traveled to the Amazon River port city of Iquitos, a trip which would open his eyes to the jungle's culinary potential. Since then, through his restaurants in Lima, the kitchens aboard Aqua Expeditions river cruises, and his cookbooks and television appearances, Schiaffino has become Peru's best-known promoter of Amazonian ingredients.
Yet, even for him, sustainably sourcing many of those ingredients, while both maintaining quality and ensuring that indigenous producers are paid fairly, has been a struggle. For this reason, he teamed up with a friend and collaborator, writer Andrea Ortiz de Zevallos, to launch their own nongovernmental organization, Despensa Amazónica. With support and guidance from other like-minded NGOs, Despensa Amazónica grew out of a desire to help the women of Pucaurquillo improve their production capabilities as well as their working conditions while expanding their market.
"Initially, we just wanted to get the tucupi to restaurants," Schiaffino said, "but we quickly realized that through tucupi, we could help the community recover Bora and Huitoto cooking while [also] empowering them financially."
Simple investments showed immediate results. First, Despensa Amazónica provided the women with mechanized yuca graters (powered by pequi pequi canoe motors), speeding up production and lessening some of the more strenuous labor involved. Then, the organization helped set up formal sanitation protocols, allowing the villagers to sell the tucupi negro commercially. Eventually, the NGO even hired a designer to create sleek packaging for a retail version of the sauce.
Meanwhile, Schiaffino personally encouraged other Peruvian chefs and home cooks to experiment with it, first through direct phone calls and eventually through more organized marketing campaigns like Lima's "Tucupi Month." As demand increased, the business expanded to include women from neighboring villages. With this increased financial stability, those communities have been able to resist environmentally destructive forces, such as the logging industry, that are constant threats to their ancestral lands.
Encouraged by the success of the pilot project, Schiaffino has been on the lookout for other ways Despensa Amazónica can help promote the environmental and economic sustainability of the Amazon through its gastronomic culture. In 2017, the organization began coordinating new channels for connecting sustainable paiche fishermen in the Pacaya Samiria National Reserve with chefs in Lima's top restaurants. This has resulted in higher earnings for participating fishermen, more responsibly regulated fisheries, and, finally, access to whole fresh paiche (rather than just the fillets) for Lima restaurants.
In 2020, the chef began working with an Awajún community in the Amazonas province to commercialize an ají pepper smoked salt, which will soon be available for sale in Peruvian gourmet stores alongside the tucupi. Along the Marañon River, the organization is also working with native groups to produce upe, a nutritious corn and peanut drink, which will be used at Schiaffino's restaurants and eventually distributed to rural communities through a government-run school food program.
Individually, the impact of these projects may seem small, particularly within the vastness of the Peruvian Amazon. But the chef has no intention of scaling up. "We believe that generating value through gastronomy can have a positive impact," he says. "These are small actions that make big changes." Instead, through Despensa Amazónica, Schiaffino hopes to create a physical center of gastronomic research, along with an ecosystem of small gastronomy projects that both celebrate and preserve the region's flora and fauna—and with them, Amazonian culture.
To support Despensa Amazónica, you can purchase the organization's products and support the restaurants that use them in Lima.