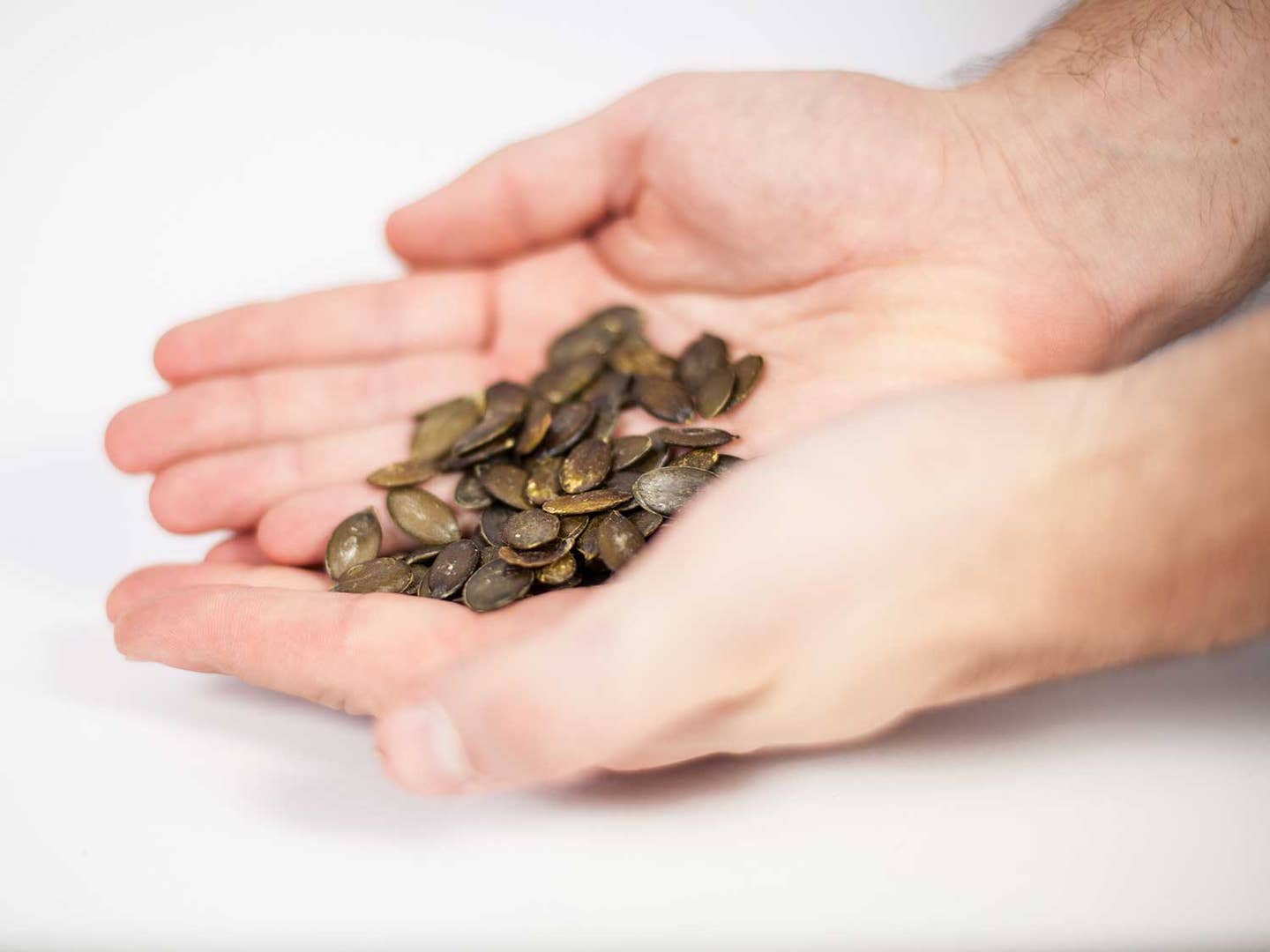 Culture
The Green Gold of Austria
In the southeastern region of Styria, pumpkin seed oil is a highly prized delicacy. Here's how to harness its power
Austria's southeastern region of Styria is known as the country's "green heart." There, hills are alive with medieval villages, Baroque architecture, and vineyards brimming with Müller-Thurgau and Zweigelt grapes. But it's a bulbous orange pumpkin, banded in dark forest green, the color of the hull-less seeds it holds within, that's a distinctly Styrian specialty, one that didn't even exist a century or so ago.
"The oilseed mutation was a game changer" says Michael Mazourek, an associate professor of plant breeding at Cornell University who specializes in squash. "Mutations are happening all the time in nature…there's only a subset of those that we notice."
This advancement led to an increased production of the viscous verdant oil called kernöl, or kürbiskernöl; the signature "green gold" of Steiermark (the German word for Styria). While pumpkin seed oil was already a part of the Styrian diet, it was a specialty product that only few farms grew, and only certain stone mills could press. Thanks to this evolution, and an increased yield, Austrians attained an ingredient that has become so important to their cuisine. It's becoming so valued internationally that even a stateside producer, Stony Brook Wholehearted Foods, has successfully sourced and sold pumpkin seed oil, pressed from Styrian pumpkin seeds grown in upstate New York, to the American pantry for a decade.
The cucurbita pepo field pumpkin is known to have been grown in Styria since the late 1800s, but the modern-day oilseed sort wasn't cultivated until the 1920s. For over 200 years, farmers in Austria had been growing varieties with bumblebee yellow, sometimes even marigold orange interiors, but their prized seed wasn't so sought after.
In 1947, the first hull-less oilseed pumpkin, the Gleisdorfer Olkurbis, was developed at the Gleisdorf Seed Breeding Institute in Austria; it's still the most widespread vine in the country, if not Europe. But in the 1950s, a plant breeder named Erich Tschermak developed a more favorable fruit, by combining a softer-shelled hull-less-seeded pumpkin with a short-shooted bush-type squash, for easier access in the field, and more seeds per fruit. "The rest is history," says Mazourek.
In the absence of a seed coat, pumpkins will toughen their exterior skin to protect their insides; at the same time, more nutrients are being sent to the kernel. The downside: "to maximize that oil, you don't want the plant investing to make a lot of carbohydrates in the meat of the pumpkin," says Mazourek.
"With a hull-less seed, what you gain is access. The pumpkins of the past required a lot of labor or specialized equipment to get the shells off. Now it's much more democratized. You can even get a little tabletop grinder and do it yourself," says Mazourek.
In late spring, last year's saved pumpkin seeds are sown into the field, and by June, the vines begin to bloom bright, sunrise-orange flowers. Harvest comes in September and October, but the pumpkins never leave the fields—they're processed as soon as they're picked. First, they're run through a combine that separates the seed from the rest of the pumpkin; the seeds are collected, crushed, ground and pressed, either on the farm, or a nearby mill. Due to the seed's high protein content, the leftover pressed paste, or ölkaas, is used as flour or animal feed.
While big players in the industry like Steirerkraft, Farmer-Rabensteiner, and Pelzmann make the majority of the oil you'll find in supermarkets across Austria, there are still many smaller, family-run kernöl businesses, like sixth-generation Schalk Mühle, whose pumpkin seeds are roasted by hand in pans over wood-burning stoves, and Berghofer Mühle, whose 800-year-old mill runs off its own hydroelectric power generator on the banks of the Rába river.
High in antioxidants, the raw pressed oil has long been linked to many medicinal properties, such as promoting prostate and eye health. Look for a GGA (Geschützte Geografische Angabe) label on a bottle for the best taste and color; this indicates the oil's been produced in Styria with Styrian pumpkins, and only from the first pressing (you can press seeds up to three times!). The resulting product looks like a luminescent blend of balsamic vinegar and fresh extra-virgin olive oil, appearing green in a thin stream, and red when in a thick pool, an optical phenomenon called dichromatism.
The dichotomy here is that Gregory Woodworth, the owner of Stonybrook WholeHearted Foods, never hoped to bring kernöl into the American pantry; he was just handed a surfeit of food waste. After relocating his cookie company from New York City to upstate, he was approached by Martin Farms, one of the only commercial growers of hull-less pumpkin seeds on the East Coast. They started working together 10 years ago, with one acre, and now have 200 acres of Styrian pumpkin vines.
While the international market is bigger for seeds than the oil itself (e.g. granolas, trail mixes, or sold as snacks by the handful), you still have to watch out for impostors. "Some importers sell seeds from gourds, melons, and even cucumbers," says Woodworth. "They've been steamed to remove the shell and sterilized for food safety, which contributes to the olive-green color."
Unlike the Austrians who add water and salt (salt helps pull oil from the kernel) to the seeds before grinding them to a porridge on a stone mill, Woodworth washes, dries, and cleans the seeds, rendering them shelf-stable for up to two years, much like almonds or walnuts. The viscosity of Austrian oil is much thicker than Stony Brook's, but since Woodworth processes his seeds for storage, he can press fresh oil outside of the autumnal season. The oil itself has a shelf life of less than a year; after that it loses its color and molasses-y umami-rich flavor—fresher is better.
There are many Styrian recipes that call for pumpkin seed oil, such as, käferbohnen, or scarlet runner beans. In this dish, speckled dark-violet beans are cooked until creamy, then tossed with a vinaigrette of apple cider vinegar and pumpkin seed oil. But kernöl doesn't only need to be used in a Styrian sensibility. The earthy, nutty oil can handily season a salad on its own. The oil is also often served at the end of a meal with vanilla ice cream, and in New York City, Markus Glocker, the chef at Bâtard and Augustine restaurants, may be from the small town of Gallneukirchen, near Linz in Upper Austria, but he's long been harnessing the power of Styrian pumpkin seeds.
While cooking at the contemporary Austrian Steirereck Restaurant in Vienna, he used to make a famous recipe of soft-scrambled eggs (steirische kernöl eierspeise) for staff meal. "The eggs are doused with oil when they're still warm," says Glocker, who loves the myriad ways the oil can bolster a dish. "It makes things creamy without being too heavy, like adding butter, but with the tannin of red wine, which gives a little more structure to a dish."
With regards to the seeds, Glocker enjoys them as a snack, whether an energy boost for exercise, or in front of the TV. In the kitchen, Glocker has a multifaceted brittle recipe, treating the seeds as one would candied nuts; they end up sweet, salty, and savory, and can be used in an entrée (he sometimes serves a turbot "farci" with organic hen egg, pumpkin seeds, charred leeks, and Champagne sauce at Bâtard), as well as dessert. He was recently in a friend's backyard making Styrian fried chicken (steirisches backhendl). A hefty handful of ground-up seeds in the breading adds more crunch to the crust and an earthy overall taste; the oil garnishes a potato and mache salad on the side. Glocker has even used kernöl from Hans Reisetbauer (a famed Austrian schnapps maker) as a replacement for butter service, showcasing Styria's emerald treasures as the drops of green gold they truly are.