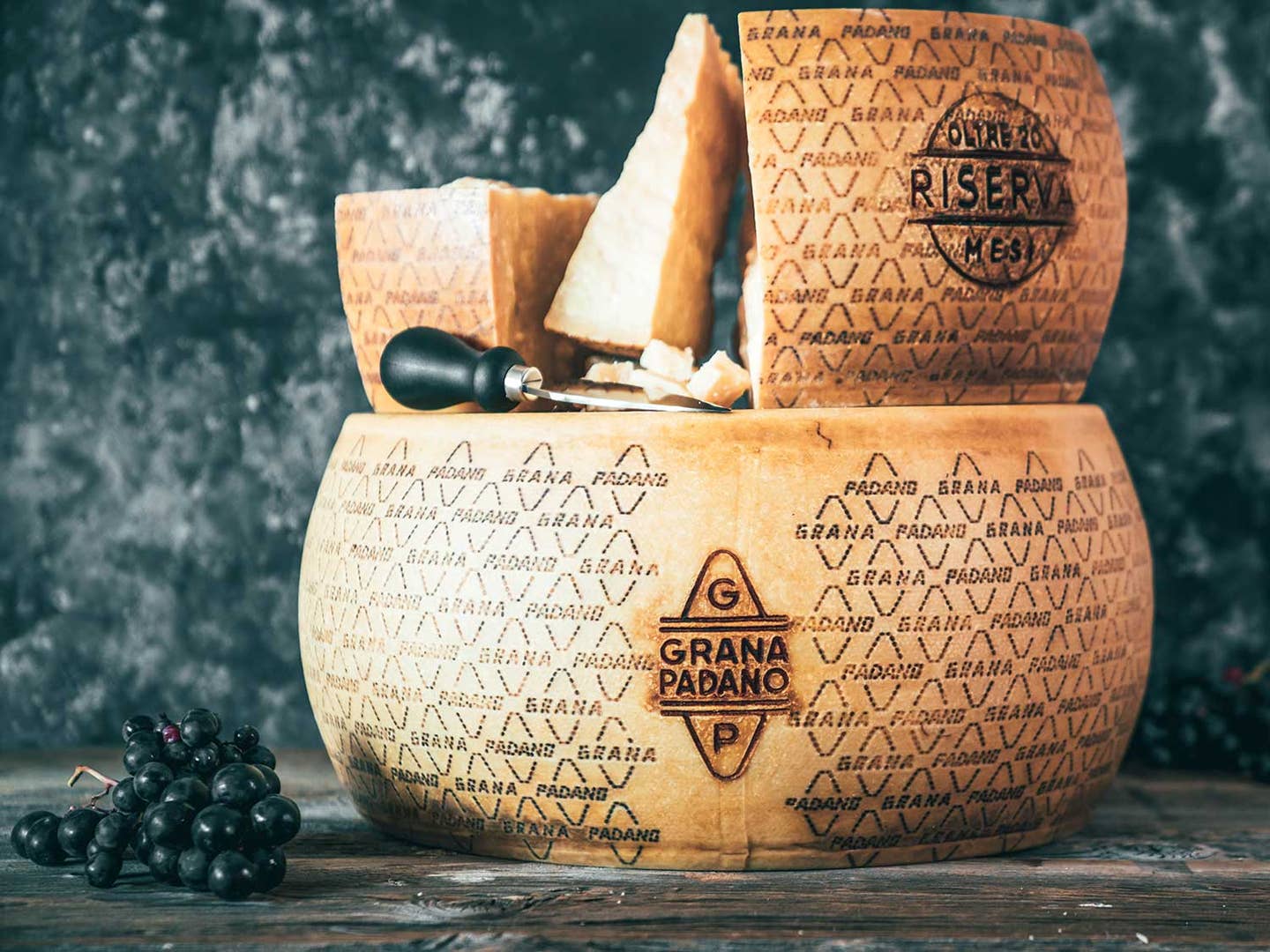 Culture
How a Group of Benedictine Monks Transformed the Culinary Landscape With a "Grainy" Cheese
The story of Grana Padano.
For nearly 1,000 years, Grana Padano cheese has been made in the Po Valley (Pianura Padana), in Northern Italy, with locally sourced milk.
About a half hour from central Milan, the landscape shifts surprisingly quickly from city streets to bucolic countryside. Nestled in the Parco Agricolo Sud Milano protected area established in 1990 to preserve the heritage of the Po Valley, the historic Chiaravalle Abbey feels miles—and perhaps even centuries—away. However, nearly 1,000 years ago, this peaceful hamlet was quietly humming with innovations that would produce one of the most versatile, tasty, and nutritious cheeses in the world.
During the 12th century, industrious Benedictine monks transformed a once marshy land into a working dairy farm, where grazing cows began producing a surplus of milk. To use the extra milk, they began making a savory, hard cheese, which could withstand the test of time. While the monks named it caesus vetus in Latin, the language of the church and universities of the Middle Ages, locals started referring to it as "Grana," or grainy for its texture, and "Padano," for the region.
The name Grana Padano stuck, but it only became official centuries later. The concept of protecting the authenticity of traditional food products in Europe can be traced to the late 1880s, but it wasn't until the 1950s that defining the continent's culinary treasures took on the exactness of a gemologist spotting fake stones. In the 1950s, Italy started outlining rules defining the origins and names of cheeses and guidelines on their production.
Over the ensuing decades, these exacting guidelines would become benchmarks of quality, authenticity, and traceability. Among those prestigious cheeses, which must adhere to very specific qualifications, Grana Padano is an EU-certified PDO (Protected Designation of Origin) product since 1996, still linked to the region where it was first developed.
Grana Padano can only be produced from partially skimmed milk from the strictly defined production area of the Po Valley (Pianura Padana), inextricably connected to its climate, culture, and people this area encompasses the regions of Piedmont, Lombardy, Veneto, and the provinces of Trento (Trentino) and Piacenza (Emilia Romagna).
Moving into the cheesemaking process—a wondrous, epicurean alchemy of starter, enzymes, and heat—Grana Padano is crafted in cone-shaped, copper-lined cauldrons, each containing around 265 gallons of milk from which two "twin wheels" are produced. Before aging, the wheels are shaped in fascera molds with a special band impressing the marks of origin all around them.
All the wheels must age a minimum of 9 months before having to pass strict quality tests, and only then will they be fire-branded and be able to be called "Grana Padano". It can be found in 3 different vintages: aged between 9 and 16 months, mild and creamy, over 16 months with a grainier consistency, and "Riserva" PDO, over 20 months of ageing.
Due to these different ageing stages, Grana Padano cheese is a very versatile cheese, which can be served on its own or in a variety of recipes. It is perfectly enjoyed as an aperitivo or cocktail time nibble, in sauces and soups, grated on pasta, fish and potato dishes, used in sandwiches, salads and savory treats, and much more. This versatility also enables Grana Padano to be paired with a great variety of wines, from a sparkling white wine for an aperitif to a dark and full-bodied red wine. The possibilities are infinite.
Grana Padano possesses unique nutritional features such as quality proteins, vitamins and mineral salts, especially calcium. One ounce serving contains the nutrients of almost a pint of milk It is an excellent natural, healthy and easy digestible food for everybody. Due to its production characteristics and long ageing, it is lactose-free making it ideal for people intolerant to this sugar.
Bruschetta with Skillet Seared Mushrooms and Grana Padano
• 4 oz. Grana Padano, divided
• 4 slices bread from large, round country loaf
• 3 cloves garlic, divided
• 1 lb. portabella mushroom caps, thinly sliced
• 1 small red bell pepper, diced into 1⁄2-inch pieces
• 3 Tbsp. extra virgin olive oil
• 1⁄4 tsp. freshly ground black pepper
• 2⁄3 cup half-and-half or light cream
1. Preheat oven to 400°F. With a cheese shaver or a vegetable peeler, shave Grana Padano into shards making about 1 1⁄2 cups.
2. On a baking sheet, toast bread slices until crisp, but not browned, about 10 minutes. Cut one garlic clove in half and rub the toast with cut sides of the garlic. Scatter 1⁄2 cup of Grana Padano shards evenly over the toast and set aside.
3. Cut remaining garlic cloves into thin slivers. In a large skillet over medium-high heat, heat the olive oil; add mushrooms and cook, stirring occasionally, until they soften and release liquid, about 5 minutes. Stir in bell pepper and garlic slivers; cook until vegetables are tender, about 5 minutes longer.
4. Reduce heat to medium-low. Stir in flour, salt, and pepper and cook, stirring, until incorporated, about 2 minutes; add half-and-half and bring to a simmer.
5. Divide hot mushroom mixture evenly over each bruschetta and top with the remaining Grana Padano shards.