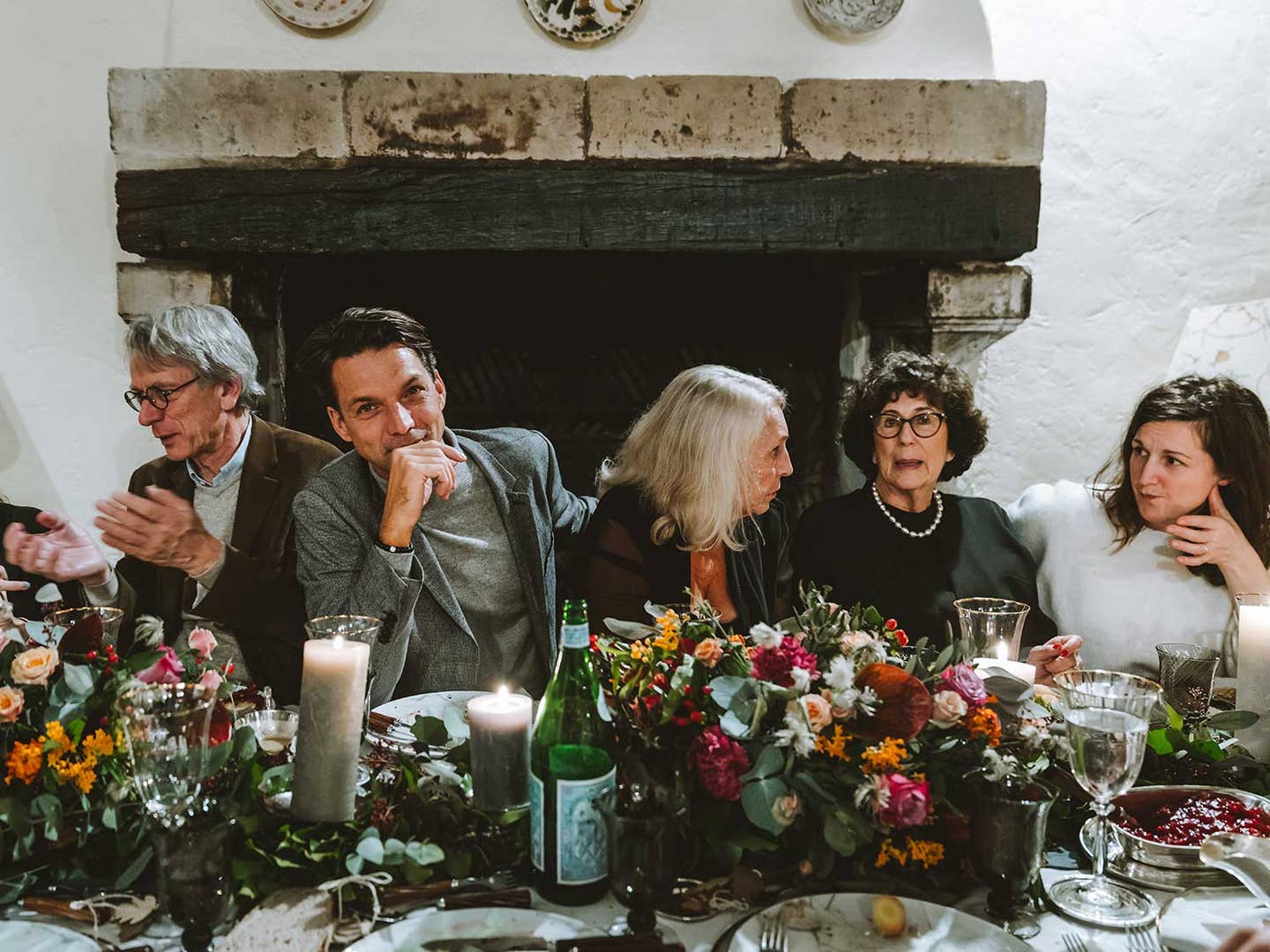 Culture
How to Throw a Fancy French Holiday Dinner Party for a Crowd
Chefs Marie-Aude Rose and Daniel Rose on keeping things chic and stress-free when cooking for 40 in Provence
Chefs and partners Marie-Aude Rose and Daniel Rose usually spend the holidays in Chicago with family but this year, French-born Marie-Aude and American-born Daniel decided to relocate the party to the small Provençal town of Eygalières, a few hours from Paris by train. What followed was a raucous 40+ person fête including magnums of champagne, friends from around the world, and a long, chocolate-laden kids table—pulled off with a lot of planning and only a modicum of stress.
No strangers to cooking for crowds—between them they helm some of the best restaurants in both France and the United States, Le Coucou and La Mercerie in New York City and La Bourse et la Vie and Chez La Vieille in Paris. Daniel Rose has even taken to cooking during the flight over, and now supplies meals in business class on Air France. The pair approach the party prep like a restaurant and the day of like what it is: a holiday. The key to getting to a place where you can feed a large, sit-down group an ambitious menu while also sitting down to dinner yourself lies in organization, attitude, and belief in the power of the buffet.
First, logistics. Whether you're travelling to the south of France or hosting at home, advance prep allows for less day-of stress. "Hosting a lot of people is not easy, but it helps if you get as much done as possible and things are ready to go," Marie-Aude said. The couple began doing just that, prepping for their holiday meal a few days prior in the kitchen of Chez La Vielle in Paris's 1st arrondissement. In the small, compact space that feels more like a home kitchen (with plenty more fridge room) than a restaurant, Marie-Aude marinated grapefruit segments in spiced red wine for the cranberry and grapefruit Salad and made the pumpkin charlotte from start to finish while Daniel simmered (and froze) the soup and ground wild boar and foie gras for the sausages.
To transport, they packed everything in big disposable containers and brought it all (including their two kids) to the south of France from Paris by train. The containers can be transferred straight to the oven for reheating. Whether your transporting or simply stacking in meager fridge space, "don't stress if things get a little squashed." Daniel said. "You're not catering, you're feeding friends and family."
That friends and family attitude translates seamlessly to party time. The best way to enjoy yourself and make sure dinner gets on plates before midnight is to bring the people to you, aka ask for help. "If you bring guests into the kitchen to help, you get five to 10 minutes of one-on-one time with a lot of different people," said Marie-Aude. "Also," Daniel added from across the room, "get everyone tipsy."
To achieve just that, the duo set up a Champagne station to greet guests as they entered the party with plenty of glasses, multiple magnums on ice, and pour yourself as many glasses as you like policy. Strategically placed heat lamps and bowls of crunchy, salty, store-bought apéritif snacks encouraged guests to linger outside and mingle. Their own Champagne glasses in hand, Daniel and Marie-Aude returned to the open kitchen to finish the soup which, having been made and frozen two days prior, involved simply warming, portioning, and topping with freshly shaved black truffles—a generous gift from a guest.
The soup itself is creamy in texture, but has no cream for a reason, "It's the holidays so you want to save room for cream in other things," said Daniel. Same goes for the mashed potatoes. They're prepared in advance then reheated in a large sauce pot on the stovetop, with fragrant, fruity Provençal olive oil stirred at the last minute. While Daniel isn't adamant where the oil comes from, he is very clear that quality olive oil matters a lot when it's the star ingredient in an otherwise simple recipe.
Indeed, recipes when entertaining—especially for the holidays—should be simple yet delicious. "You have to spend the whole day in the kitchen anyway, so it's important to have as few steps as possible to get to the results you want." Daniel said.
While it may sound more chic than simple with ingredients like wild boar and foie gras, the prep for the main course of boar sausage and parsnips involves not much more than grinding things together, adjust seasoning to taste (Daniel inevitably adds more cognac), and boiling and roasting parsnips. If you don't have a grinder, use a knife and chop things as finely as you can. If you don't care to stuff the sausages, don't. Form them into small patties and pan fry instead.
The most important thing to note when making the sausages is to keep the meat mixture cold as you work with it. Daniel uses a block of ice frozen into a prep pan, home cooks can use a shallow ice bath. Once the meat, foie gras, and chard are ground together, use your hands to gently mix it gently, taking care not to emulsify the mixture. "You're not making a hot dog," he said. Before casing the sausages, test the seasoning by shaping a bit into a patty and cooking it in a bit of oil in a pan. Keep in mind that adding more alcohol will accentuate the salt, so add booze before sodium when adjusting.
The pumpkin charlotte, served last, is actually the first recipe you should make in your holiday prep. Marie-Aude makes hers two days in advance (any longer and the cookie crumbs start to become soggy). Of all the recipes, the charlotte is arguably the most "complicated," but Marie-Aude and Daniel have a system: "with pastry you have to concentrate," said Daniel. "Plug the kids into the iPad, have all the mise in front of you, and commit to making the recipe from start to finish." The commitment is worth it for a holiday dessert you want to cap the season, packed with flavor and texture and dripping with spiced, salted caramel.
Just as they are meant to be simple, Marie-Aude and Daniel's holiday recipes are written to be versatile. You can sub chicken, venison, or wild rabbit for the wild boar in the sausages, swap the chervil for dill or parsley in the cranberry-grapefruit salad, or substitute pear puree for the pumpkin in the charlotte, all to excellent result.
Finally, forgo the fantasy of individually plating for your guests or making space on a beautiful holiday table to pass around every dish. Instead, set up a buffet. Fill dinner tables with plates and cutlery and wine glasses and place cards and put your largest platters and serving spoons to good use. Serve dinner with plenty of wine and save a magnum of Champagne to make the rounds with dessert, then don't be afraid to ask for help again with the cleanup.