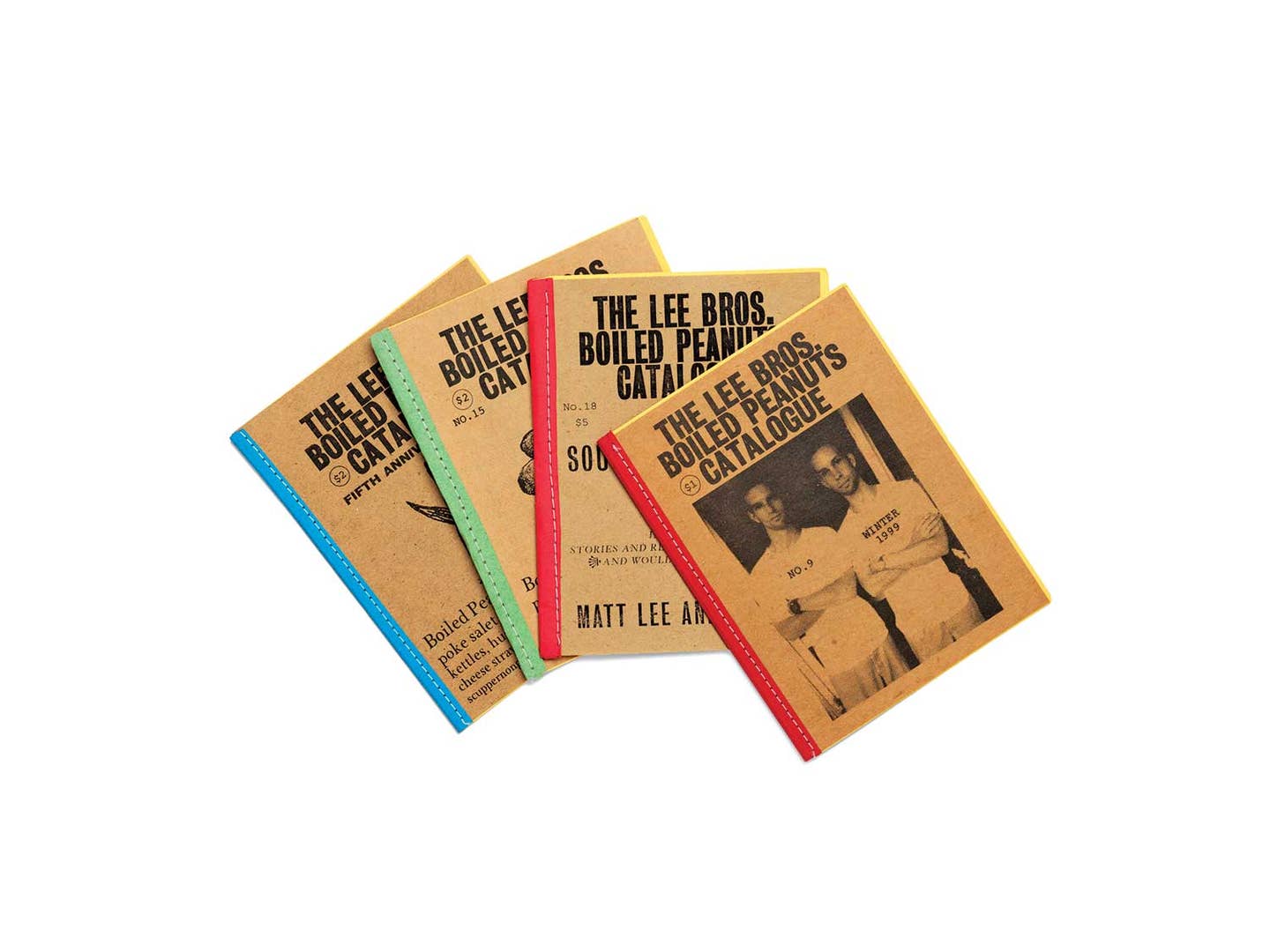 Culture
In Good Company: Friends of Saveur Remember the Past 25 Years
Mark Bittman, Alice Waters, Danny Meyer and more share their stories.
In February 1995, Saveur assistant editor Kelly Kochendorfer phoned seeking samples of our boiled peanuts. A year prior, we'd hatched a plan to sell the Southern staple by mail-order, setting up shop in a small warehouse in Charleston, South Carolina. Even our closest friends and family members were circumspect—if not downright dismissive—so Kelly's request offered validation: See. A national food magazine appreciates us.
When the call came, we happened to be in New York City and offered to deliver the goods to Saveur's SoHo HQ. A blast of warmth greeted us the moment we stepped into the light-filled loft. Several editors had copies of our catalog on their desks!
Resolute though we were to make the Lee Bros. Boiled ­Peanuts Catalogue a success (a nod in the inaugural 1999 "Saveur 100" definitely didn't hurt), that delivery also served as our initial exposure to the busy hum of an editorial engine devoted to kitchen culture, where people lived and breathed food for a living. It got us dreaming beyond peanuts, of both the boiled and Styrofoam shipping variety.
Eventually, we became cookbook authors and Saveur contributors. We're thrilled that our relationship with this magazine spans 24 of its 25 years, and we raise our glasses to the next quarter century!
— Matt and Ted Lee, Authors of The Lee Bros. Southern Cookbook and Hotbox: Inside Catering, the Food World's Riskiest Business
---
The thing that knocked me out about the early Saveur was Christopher ­Hirsh­eimer's photography. Her ­casual, naturally lit shots revolutionized the genre and made us all look at food in an ­entirely new way.
— Ruth Reichl, former editor-in-chief of Gourmet
---
Since its inspired inception, Saveur has served as the industry's chief culinary anthropologist. For 25 years, the magazine has shared with food enthusiasts a most generous gift, by discovering the best real food on Earth, and then allowing the people behind that food to tell their stories in appetite-­inducing color. Congratulations on a quarter century! To Saveur's past and present storytellers: Your words stand the test of time.
Danny Meyer, CEO of the Union Square Hospitality Group, which includes Gramercy Tavern, the Modern, and Shake Shack
---
Saveur taught many Americans about the importance of foodways around the world. Much of that information was simply ignored by other publications, who were out looking for the "best" restaurant.
— Mark Bittman, author of How to Cook Everything and editor-in-chief of Heated.com
---
Saveur created an entirely new model for what a food publication could be. I loved it from the start and have remained close friends and collaborators with the magazine's visionary founders. I think, for example, of Christopher Hirsheimer's remarkable photographs, and the way they so vividly and intimately captured food traditions from around the world. The stories Saveur tells are about so much more than recipes—they reveal our history and our cultures, bringing us together and connecting us with one another.
— Alice Waters, chef and founder, Chez Panisse and the Edible Schoolyard
---
Saveur, from day one, made us aware that who we are is what we eat. The magazine's brilliant writers and editors kept us hungry for stories about food, yes, but also about our feelings, our memories, our very being.
— José Andrés, humanitarian and chef-owner of more than 30 restaurants
---
During the '90s, when I was in my teens and early 20s, it was nerdy to be into food. I was extremely nerdy and self-conscious about my body, so I wasn't exactly dying to start conversations like, "Did you know some humans make cheese from yak milk?" Then my friend Charles showed me Saveur, and it was like we'd found our people. Eventually, everyone else became a food nerd. But before that, this magazine showed me parts of the world I would never have seen otherwise, and ultimately shaped who I would become.
— Francis Lam, host of the public radio show The Splendid Table
---
Saveur launched the summer I moved to New York City. I was a 24-year-old kid from Washington, D.C., who wanted to get into food writing but didn't really know anyone in the city, nor much at all about food.
Then, suddenly, I was real tight with Dorothy and Colman and Christopher. OK, so maybe I didn't actually know them, but that was the magic of their ­magazine—it made you feel like you did. You traveled with them to Oaxaca and Paris, New ­Orleans and San Francisco. You were elbow-to-elbow with them at their cutting boards as they brought home all sorts of recipes. I still remember trying, and more or less succeeding, to make a kouign-amann in my tiny West Village walk-up studio apartment. The butter. So. Much. Butter.
When I wasn't cooking from Saveur, I was staring at it; there's never been a more beautifully designed or photographed food magazine. So when I got the editor-in-chief job at Bon Appétit in 2011, those early issues of Saveur served as my mission statement: Create a beautiful food magazine that makes the reader feel as if she knows the staff. Sure, Bon Ap might not look or read at all like the Saveur of the '90s. The blueprint, however, is the same.
— Adam Rapoport, editor-in-chief, Bon Appétit