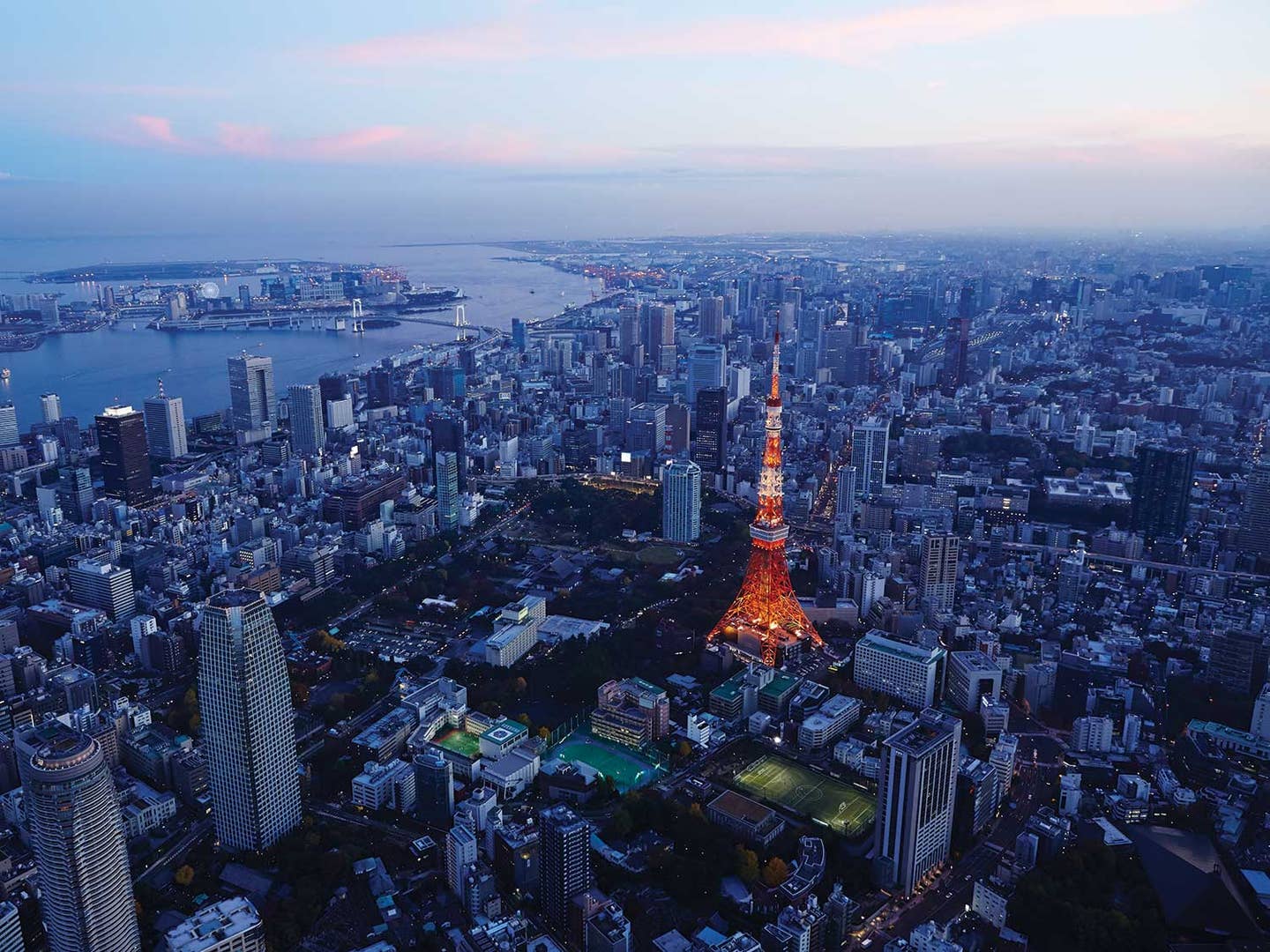 Travel
Eating Vegan in Tokyo
Chef Amanda Cohen of NYC's Dirt Candy restaurant on a culinary tour of Tokyo
Fifteen million tourists visit the magnificent megacity of Tokyo every year. Known for the best sushi, yakitori, and ramen (and Neapolitan pizza and French pastries) anywhere, Tokyo's food scene is one of its biggest draws. But chef Amanda Cohen, owner of Dirt Candy, the foremost plant-based restaurant in New York City, recently went in search of something else: the sprawling capital's most outstanding vegan and vegetarian dishes.
After a stop at Mikura, a second-floor chopstick store, to choose personalized pair, Cohen walked over to the bustling Demboin-dori shopping area where the 150-year-old Umezono is a celebrated spot for wagashi, traditional tea-time confections made with mochi, azuki beans or fruit. Cohen warmed up with a bowl of awazenzai millet porridge topped with sweet bean paste and a side cup of salty pickled plum seeds.
A few doors down, she sat for lunch at Edo Monja Hyotan for monjayaki, Tokyo's answer to Osaka's soul food, okonomiyaki, which are savory pancakes cooked on a flat-top grill right in front diners. Cohen chose a vegetarian one filled with mochi and cheese, which made for crispy latticework on the grill. Curious to try other versions, she headed over to Nishinaka Dori, aka "Monja Street," in Chūō, where over 50 restaurants serve monjayaki. There, she popped into Monja Okame Hyottoko, for its miso ramen monja.
In Meguro City, an old roll-up garage has been converted into the eight-seat Mique, Keiko Seto's stylish vegan gallery. Seated at the blonde wood bar, Cohen was treated to Seto's composed and modern vegetarian dishes, including fu-katsu, wheat gluten cooked in the style of tonkatsu (fried pork cutlet) and a smooth "pâté" made from gently cooked mushrooms, lentils and walnuts, accompanied by intricate salads. Seto's creative cooking would satisfy even the most critical carnivore.
Cohen recently opened Lekka Burger, a vegan burger joint in NYC, so it was imperative that she stop by Ain Soph Ripple, a new burger and burrito bar in Shinjuku. She ordered the ripple "cheese" burger, which came with a nicely chewy vegan patty on an oversized fluffy bun, topped with guacamole and tangy aurora sauce.
To learn more about Japan's diverse rice culture, Cohen booked a session with Momoko Nakamura, The Rice Girl, who leads classes on how best to buy, cook, and enjoy rice. She also sells a seasonal rice subscription, with monthly rice deliveries, and is the author of Plant-Based Tokyo, a book that profiles some of the top vegetable cookery in the city—from baked goods to soba noodles.
While on a rice kick, Cohen took a train two hours west to Ōme in the Okutama mountains (still in the Tokyo prefecture), where Ozawa Shuzo, Sawanoi sake brewery, makes the most elegant and easy-to-drink sake, from crisp, clean junmai ginjo to barrel-aged varieties.
On the noodle front, a number of ramen shops in Tokyo now have vegan offerings; her favorite was the one at Afuri, which is built on a shio- (salt) based broth flavored with kelp, dried mushrooms and vegetables. Each of the chain's 16 locations, receive water deliveries from the mountainous Kamakura region twice daily to ensure the quality of their broth. Added to this are vegan noodles made from radish and konjac and a combination of raw, steamed, roasted and grilled seasonal vegetables. For soba, Cohen went to T's Restaurant in Meguro City, a vegetarian standby that's known for its sesame and peanut oil–laced Chinese-style dandanmen noodles.
A temple of tofu, Futaba Tofu in Nihonbashi Ningyocho makes everything from soft, creamy tofus to firm bricks ready for frying. Here, Cohen also found an unexpected treat: warm cups of amazake, a traditional sweet drink made from fermented rice, which is also served as soft-serve "ice cream" year-round. For more soy delights, Cohen went north to Senjuazuma, Adachi City where Uzukino Honten, a yuba factory during the week transforms into a serve-yourself steam tray brunch spot on the weekends.
The owners of Uzukino Honten also run an impressive kaiseki restaurant, Tsurutokame, helmed by an all-female staff. Cohen had the chance to shop with the team at Toyosu vegetable market, where they go daily, rolling out a new tasting menu every few weeks. The restaurant offers a vegetarian menu in addition to its standard one, with dishes that apply traditional ideas to unconventional flavor combinations, such as soba noodles with black truffles.
Like kaiseki, shojin ryori (vegan cooking) was originally derived from tea culture and has been practiced by Buddhist monks in Japan since the 13th century. Chef Daisuke Nomura's family started the Michelin-starred Daigo restaurant in the 1950s, but it's Nomura-san's own restaurant, Sougo, that's the next generation of shojin ryori. There, he serves his interpretations of the classics, like walnut goma dofu and seaweed salad with tokoroten noodles breaking the mold of this old cuisine.
Cohen suggests cocktails at Bar Ben Fiddich, in Shinjuku, where owner/bartender Hiroyasu Kayama, makes drinks from fruits, vegetables and herbs harvested from his family's garden, paired with hard-to-find spirits like limited-edition bottles of Nikka whiskey and its vintage vermouths. Cohen loved Kayama's signature Daikon Gin & Tonic, which is always on the menu, as well as an enlivening Negi (onion) Gibson.
To cap off her stay, Cohen booked a night at Hoshinoya, the first Tokyo-based ryokan from the Hoshino luxury hotel group, a stunning respite from the rest of the city. Hidden amongst skyscrapers, the building is clad in an iron Asanoha motif, which is unassuming from a distance, but close-up, it has an intricate, naturalistic pattern.
After a dip in the relaxing rooftop onsen (hot spring), with cold bottles of coffee milk to cool down with after a bath; it's like a vacation from your travels. As a midnight snack, Cohen snuck handfuls of the specially-made Senbei Brother rice crackers (flavored with seaweed, sansho and plum sugar) from her floor's tea room and made sure to get some more from the gift shop before she checked out. With each crunch on the flight back to JFK, she was transported back to the vegetarian bounty Tokyo has to offer.