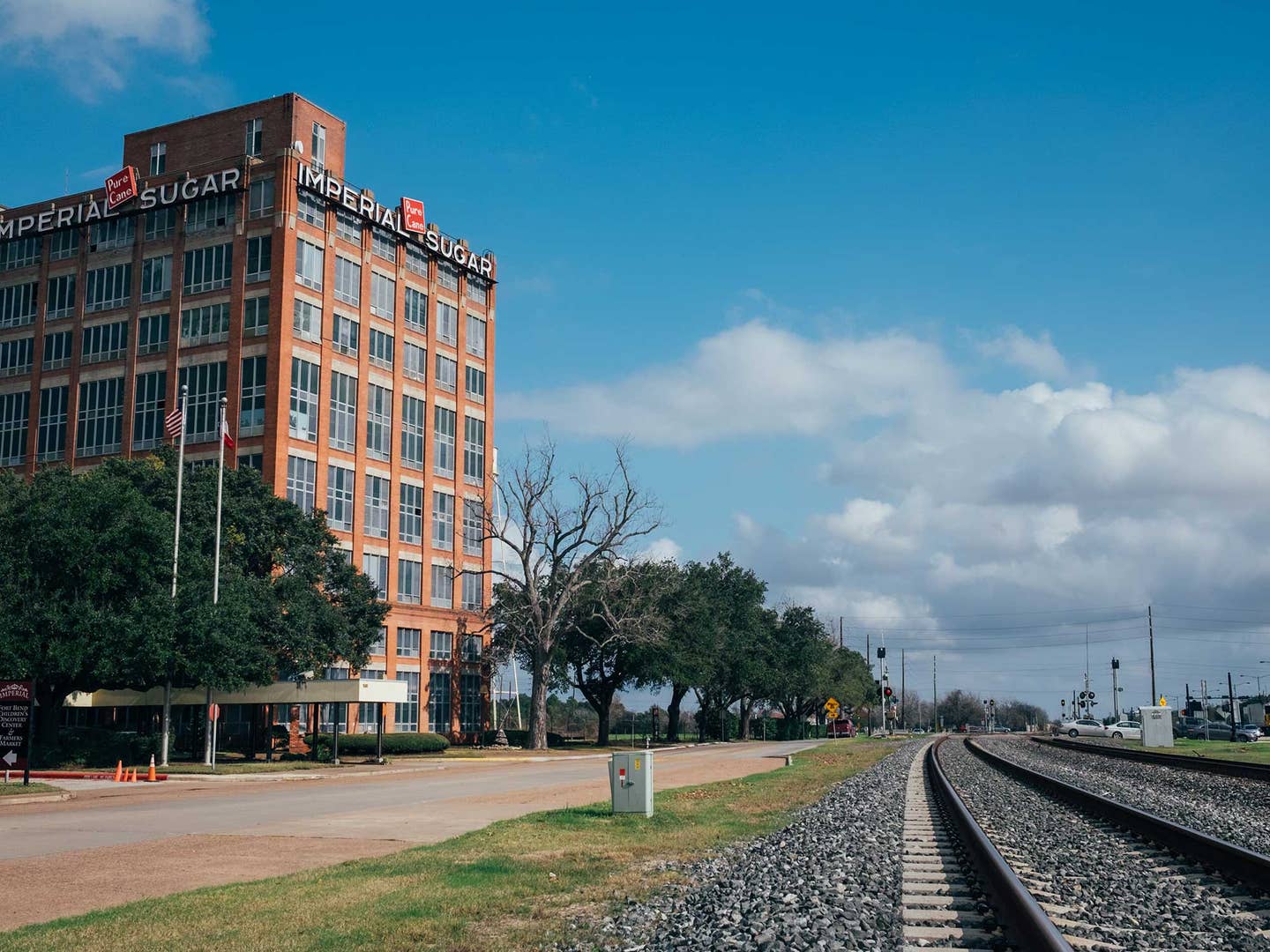 Travel
How the City of Sugar Land, Texas Got Its Name
Two Sugar Land natives explore the sweet—and not-so-sweet—history of their hometown
As a kid, it would have been hard to imagine a time when life in this lazy town wasn't so sweet. It wasn't until my family relocated directly across the railroad tracks from the site of the now defunct Imperial Sugar factory that I started digging around to find out how the city got its name.
The story begins in 1823, when pioneer Stephen F. Austin settled 300 American families in modern-day Fort Bend County via a Mexican land grant. (Not insignificantly, the land was likely previously occupied by the Karankawas, a Native American tribe.) In the following decades leading up to the Civil War, sugarcane became the region's bread and butter, and Fort Bend County, and its surrounding counties, collectively became known as the Texas Sugar Bowl.
One of the most taxing crops to harvest, sugarcane was cut, pressed, boiled, and packaged almost entirely by slaves working in inhumane conditions, according to Texas Monthly. University of Essex historian Sean Kelley tells the magazine, "People got sick, they died. Women's fertility rates plummeted. Europeans quickly discovered that you couldn't get people to work in this voluntarily, which is why there's a strong historical linkage between sugar and slavery."
In 1865, the South's defeat in the Civil War and the subsequent outlawing of slavery by the Thirteenth Amendment dealt a fatal blow to the Texas economy, shuttering the vast majority of sugar plantations, which could not sustain production without the free labor. But one critical clause in the amendment left a loophole: forced servitude would be allowed to continue only "if used as punishment."
Thus, in 1878, businessmen Edward H. Cunningham and Littleberry A. Ellis, who had together purchased one of the area's last surviving sugar plantations, struck a deal with the State of Texas to lease its entire prison population, made up overwhelmingly of African-Americans who once again found themselves enslaved. The brutality of this plantation—which boasted a chilling mortality rate of three percent annually—is thought to have inspired the song "Ain't No More Cane," a traditional prison work tune that was later officially recorded by Alan Lomax and performed by Bob Dylan at the Gaslight Cafe.
Then, around the turn of the century, prominent businessmen Isaac H. Kempner and William T. Eldridge bought the land from Cunningham, founding the Imperial Sugar Company. In favor of free labor, Kempner ended the legacy of convict leasing and established Sugar Land as a forward-thinking company town, building levees to prevent dangerous floods, erecting good homes for workers, and providing schools for children, who were notably prohibited from working in the factory. In an interview with Houston Public Media, Kempner's living grandson Denny Kempner says, "My grandfather and Eldridge decided that if they were going to have decent people working for them they had to have decent conditions for them, which was a pretty progressive point of view in those days."
Sugarcane was no longer grown along the Brazos River by 1928, forcing Imperial to ship it in from a Galveston port to be processed at the inland refinery. The company continued to prosper through the 20th century: a $4 million renovation at the end of World War II allowed it to produce two and half million pounds of sugar daily. But as government policy shifted to benefit growers over refiners and the company changed hands out of the Kempner family, Imperial began to slowly incur debt. In 2001, it filed for bankruptcy protection and in 2003, the refinery facility was closed.
Today, vestiges of Sugar Land's sugar-producing history still remain: Imperial Sugar is still headquartered in Sugar Land, photographer Jake Wiley and I both attended Isaac H. Kempner High School, and those original company-owned homes, along with the entire production complex—including the char house, warehouse, silos, and smokestacks—are still standing today.
The complex was recently purchased by the Texas Real Estate Fund, Inc., which will develop a lifestyle and retail center called Imperial Market. That iconic char house is set to become a hotel, the three-bay warehouse once used to unload sugarcane shipments will house an Urban Outfitters and upscale bowling concept, and each of the cylindrical silos will be home to restaurants. We were kindly granted access to the space to capture these photos before the transformation, which is slated to begin this year.
For lifelong Sugar Land residents like myself, it may be jarring at first to grab a burger in one of those iconic silos or see our beloved Char House—where casually trespassing has always been a right of passage for high school students—refurbished as the Char House Hotel. But despite these changes, I'm grateful that the buildings will not be demolished like so many others, and will continue to stand as a testament to our dark, complicated sugar history. And if the tale of Imperial Sugar Company tell us anything, it's that Sugar Land is a town whose strength relies on the ability to change and evolve for the better.
More From The Sugar Files