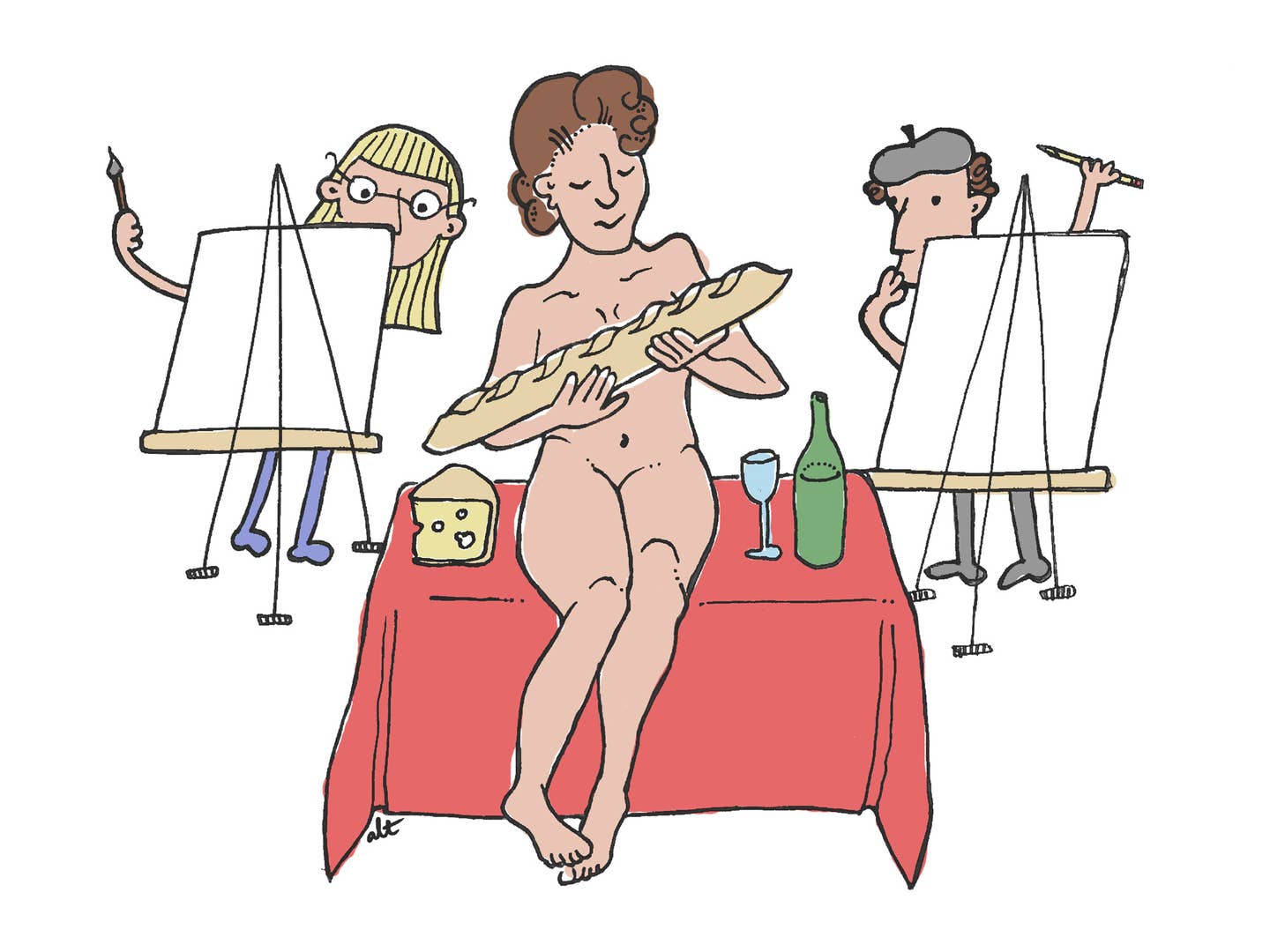 Travel
TBT: A Painting Class Picnic in Paris
A quick way to learn how to eat like the French do? Paint alongside them
My favorite part of the four months that I spent living in Paris, France, in 2011 was the three-hour painting class I took every Thursday in the residential 15th Arrondissement. It was the event around which I oriented my week—the one thing I wouldn't skip out on. My excitement had very little to do with the act of painting.
Our class of 12 was divided into two very distinct camps: French people, mostly middle-aged men, who knew their way around a paintbrush; and the five or six American students who were taking this class for a taste of "culture." The class officially began at 7 p.m., but everyone would saunter in around 7:10, and then the model would disrobe and take her place on a stool draped in dripcloth.
Though I'd taken drawing classes with nude models before and was living in a country where bikini tops are optional on beaches, I still had to feign nonchalance to the model's initial nakedness. I mirrored the reactions of the French students around me and squinted my eyes, trying to judge curves and shadows and not focus on the fact of nakedness. The concrete room would fill with the sound of pencils scratching on paper.
Around 8 o'clock we would break for une pause. The model would throw on a robe, palettes and paint tubes would be cleared, and we would congregate around a cluster of ink-stained side tables. A baguette would appear; then, a thick slice of pâté, marbled with fat and aspic. An oily wedge of comté would immediately overpower the lingering smell of turpentine. Then came one—no, two—no, three—bottles of wine. All red, of course, since it was fall in Paris and already quite chilly. One of the more hardened-looking men always had a bottle opener on him and would pop the cork before we even began setting out the little water cooler plastic cups we used in place of wine glasses.
Our art class picnic was sourced, by and large, from spots within walking distance of the studio. We hit up chain supermarkets and corner boulangeries, closet-sized meat and cheese shops run by often-toothless proprietors and their yippy dogs. We bought our wine at corner stores reminiscent of American bodegas, and it was still damn good.
There was never any coordination about who brought which food, so occasionally we'd find ourselves with eight bottles of wine and only a baguette to absorb them with, or the opposite: four types of odorous cheese and barely enough wine to muster a classwide "santé!" But the lack of structure brought excitement to the reveal: What would we be eating tonight? Plus, we could always duck out for a bottle of wine or a jar of olives.
Unlike the meals I ate with my French host family, there were no salad plates here, no individual containers of yogurt for dessert, no rules about what to eat first. Our feasts were a delicate dance between gluttony and propriety: no one sipped their wine until everyone had been served, but they dug into containers of olives with ink-stained fingers and not an ounce of hesitation. We tore into baguettes with our hands, then used it to scoop up tapenades, swaddle our slices of salami, and wipe our fingers clean when we were done. In the end, there were always a few butter cookies or a bar of midnight-colored chocolate.
During this break, the Parisians made no effort to practice their language with us. The locals didn't ask us about our classes or how we were adjusting to life in a foreign country. Instead, they asked us if we'd ever tasted real pâté—like they make in the countryside outside of Paris—and showed us the mark of a high-quality baguette (press down: if you hear a crackle, it's a keeper). During the pause, we dared to use the subjunctive and try out idioms, those feats that had always tripped us up in language classes. It's hard to be timid about your grammar slip-ups when you're sharing your third glass of wine with the very woman whose nipples you were just painting.
After the last baguette was gone, we would wander in a circle from easel to easel scoping out each others' work and giving critiques. We'd return to our stools and attempt to reposition the model in her previous pose, a feat which took far longer than necessary (most likely due to the wine). After the break, we were all a bit bolder with our paint strokes, more daring with our color choices.
I think I kept one or two of my paintings from the class, but these days I'm more likely to spring for a wedge of comté or use a baguette as an all-purpose utensil than pull out a paint brush. That class mostly taught me that any place, any time, can be ripe for a picnic. And that a bottle of red is a great way to bond with a nude french woman.
Catherine Lamb is a baker, writer, and part-time blueberry farmer with a penchant for large dogs.