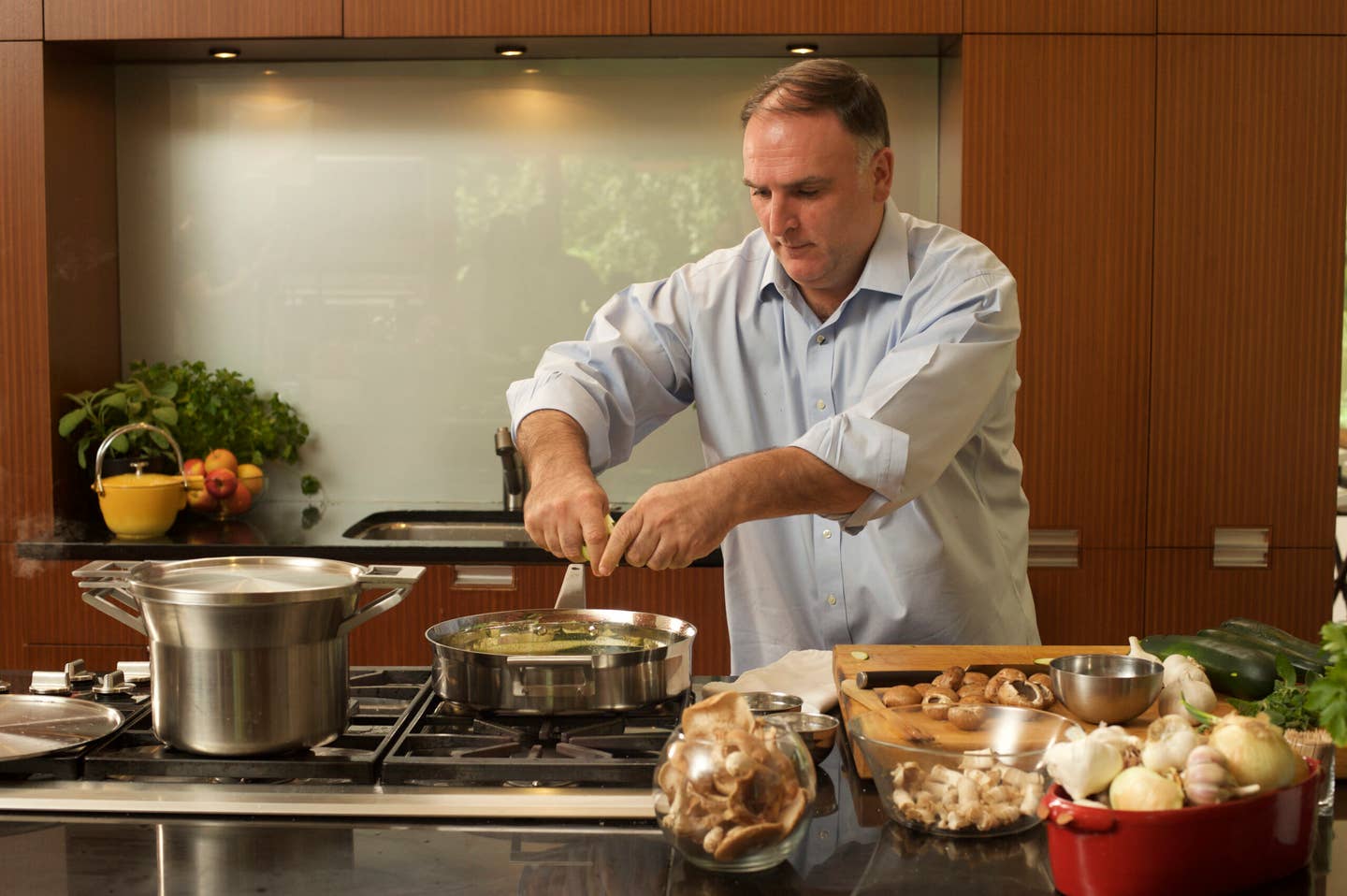 Culture
The Tenth Degree: José Andrés
The iconic Spanish chef on the world's very best sandwich and how to properly cook an egg
To many Americans, José Andrés is the Spanish chef, the most recognizable, enthusiastic, and generous promoter of the culinary treasures of his homeland. The proprietor of more than a dozen restaurants, Andrés has turned his creative eye and theatrical flair to Spanish tapas, Mexican street food, homestyle American food, even Asian-style noodles. Andrés is also an educator, as Dean of the Spanish Studies program of the International Culinary Center; a gregarious host on travel and cooking shows; and a humanitarian dedicated to finding lasting solutions to global malnourishment. We checked in with Chef Andrés, whom we'll now be referring to as "The Spanish Godfather." Read on for more.
What is your favorite sandwich?
If you ever make it to Bilbao, Spain, you have to try two sandwiches from a place called Bar El Eme: the Triángulos and the Torres. One has jamón and one has anchovies, but both have the restaurant's secret sauce. Only two people in the world know what's in that sauce, and believe me, it's so good, I'm sure those two people are doing everything they can to protect their identities!
And if you're in LA, go to my friend Michael Voltaggio's sandwich shop ink.sack. Anything on the menu is a hit, and I happen to love the one named after me, "the Spanish godfather"!
Your house is on fire and you can only save one thing. What is it and why?
My first edition of Brillat Savarin's Physiology of Taste. Published in 1825, it is a visionary piece of work, because back then philosophers didn't write that much about food. It's where the famous quote, and one of my favorites, "Tell me what you eat and I will tell you what you are," comes from.
What book(s) is on your bedside table right now?
I recently became the proud owner of Civil War Private Henry J. Souder's diary when he served as the company cook for the 20th Ohio brigade in 1863. The manuscript is a daily chronicle of everything he cooked for the troops during a nine-month period, including the decisive siege of Vicksburg, Mississippi. As a chef, it's an incredible account of what fueled the troops, ringing true Napoleon's words that an army marches on its stomach.
The sixth volume of the Japanese comic series Oishinbo by Tetsu Kariya and Akira Hanasaki also never leaves my side. Titled The Joy of Rice, this chapter explores the essential ingredient of Japanese cuisine.
You're having a dinner party and can invite three people, dead or alive, and serve them one thing. Who are they, what do you serve, and why?
Warren Buffet, Bill Gates and my friend Radha Muthiah, CEO of the Global Alliance for Clean Cookstoves, who would convince the former two to invest in clean cookstoves. Whatever I'd make them, I'd cook it using one of those stoves to prove to them just how effective they can be.
What is your greatest fear?
That we won't be able to feed the nine billion people estimated to be living in this world by 2050.
What is the most overrated ingredient? Underrated?
Sometimes I think that the most overrated ingredients are your typical garnishes – micro greens and herbs. Don't get me wrong, I love them and think they're beautiful, but have you ever seen the inside of a tomato? It seems so basic! But the membrane that holds the seeds together, when taken out in one piece, is as beautiful of a garnish as anything else.
And as for underrated, a Spanish fried egg, cooked simply in olive oil. We put it on everything! It adds heft to any meal to make it fulfilling and nourishing.
You can have any superpower. What is it and why?
Solve world hunger, because when our world is no longer hungry, we will be strong enough to solve the rest of the problems we face.
What's the first thing you learned to cook?
Paella, with my father. I was in charge of collecting the firewood, a task I did not appreciate at the time, but do now that I understand the importance of fire when it comes to cooking.
What is the best advice you've ever gotten, and from whom?
I was cooking at an event in Chicago with the great restaurateur Richard Melman in 1992. At some point he said to me, "whatever decisions you make in life, throw the anchor and stay." After that, despite the many opportunities I had to leave DC, I stayed put, and I'm glad I did.
What's the last meal you want to eat before you die?
Sea urchin, straight from the ocean, and if I could be picky, it would be from the Hokkaido Bay in Japan.
Want more of The Tenth Degree? Read our Q&A with Marcus Samuelsson here.