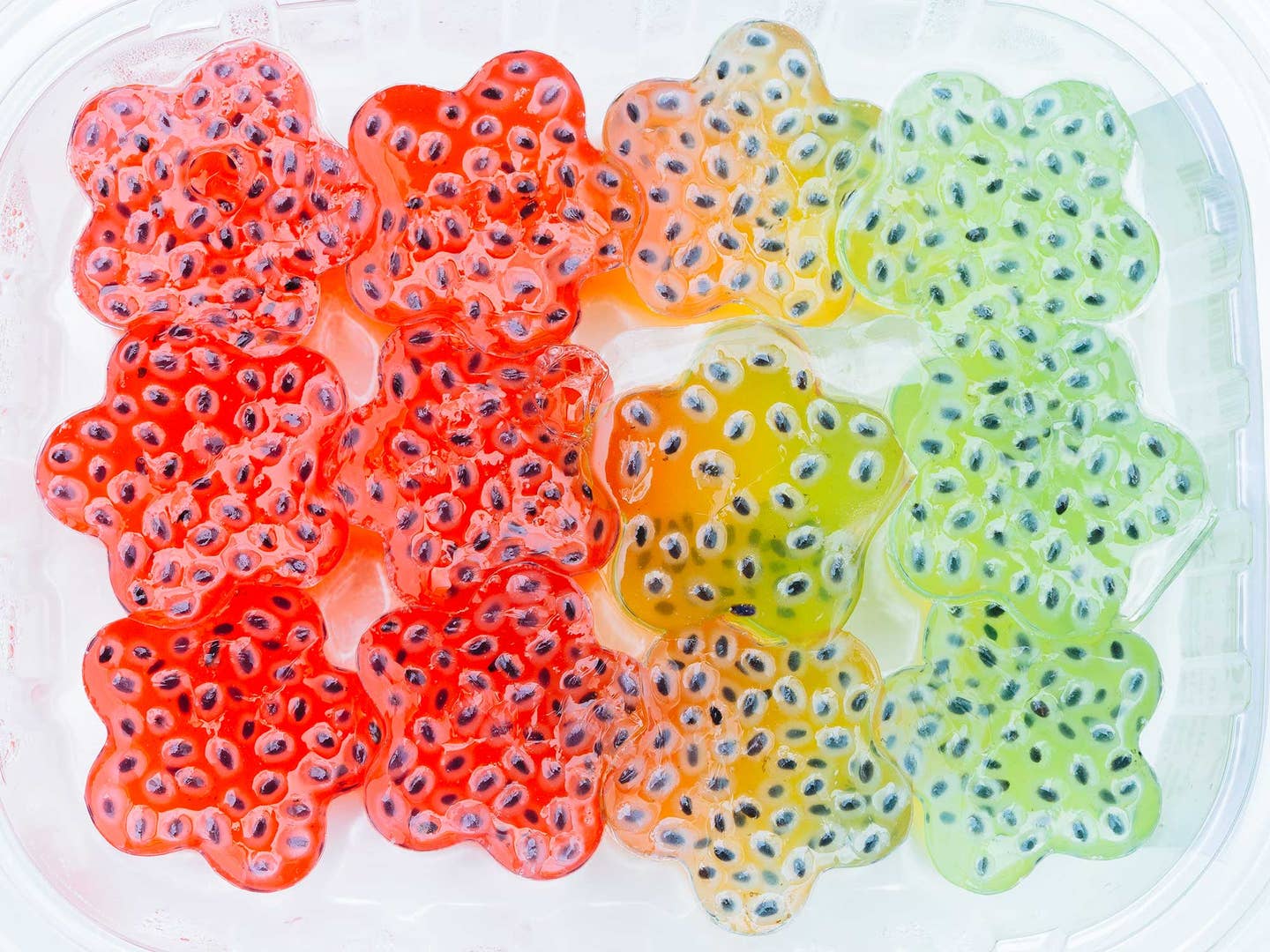 Travel
Learn Some Sweet Pastry Tricks From the Masters of Thai Dessert
Coconut soups, frankincense smoke, and lots of a beguiling herb called pandan—these are the salty, sticky, and slippery rules of a sweets culture like no other
The ingredient lists are short: rice, coconut milk, sugar, and salt. Sometimes egg gets involved, sometimes tapioca or mung bean. Pumpkin, banana, and cassava make a few appearances.
And yet the sweets at Sugar Club, a Thai cafe and grocery in Elmhurst, Queens, line almost the entirety of one long wall, 20 to 30 varieties in all. The bite-size treasures, shaped like blossoms and glossy fruits, come in shades of golden yellow, bubblegum pink, and astroturf green. There are two-bite custards in foil cups, balls of sticky rice tinted indigo from pea flowers, and fluffy steamed cakes blooming in palm leaf wrappers.
It's all a world apart from the buttery, flaky pastries that characterize Western bakeries. Instead of vanilla, there's fragrant pandan; wobbly puddings and steamed gels emphasize chewy textures over tenderness or crunch; blitzes of salt balance the smoky, caramel complexity of palm sugar and the nutty sweetness of coconut milk.
But the Thai dessert palate goes deeper than ingredients or presentations; it also points to a wholly different way of thinking about dessert. Which may be why, despite a rapid, ascendant rise in popularity, Thailand's sweets have yet to gain the broader audience of Thai cuisine as a whole in America.
A Different Kind of Sweet
Peerasri Montreeprasat, the chef at Sugar Club, recalls how her mother made black sticky rice with coconut cream almost every day. "Two or three times a week she'd call everyone in the family to help make a dessert," and children, aunts, and uncles would spend the afternoon rolling rice flour dumplings for the warm sweet coconut soup known as bua loi.
Sugar Club acts as a surrogate mother's kitchen for Elmhurst's booming Thai community, selling desserts like sticky rice that, were you in Thailand, you'd only really find in family homes, alongside more baroque sweets that are the more typical domain of bakery menus and streetside stalls.
Among them is khanom tan (khanom means dessert while tan refers to palm), a spongy, malty-tasting steamed cake the color of raw sienna. It's made from the juice of the toddy palm fruit mixed with rice flour, sugar, and coconut milk. The batter is left to ferment before it's steamed to add some twangy complexity.
Montreeprasat then points out a box of takoh, a coconut cream and tapioca flour pudding steamed in petite banana leaf cups. It's a little nutty with a balance of salty and sweet, with a delicate herbal fragrance from the banana leaf. Larger banana leaf packages contain lightly sweetened sticky rice wrapped around banana. Sweeter black sticky rice comes with a balancing layer of salty coconut cream, a common addition to Thai desserts.
Some of these desserts also require special ingredients and techniques that non-Thai cooks just don't know, which has been a problem Earl Ninsom, the chef behind several acclaimed Thai restaurants in Portland, Oregon such as Langbaan.
Staples like mango with sticky rice may take five minutes to make, but "there are other things that take a whole day of prep time for one bite," he says, "It's a pain to make it happen, and maybe that's not worth it here because labor costs are really high." Even in Thailand, he says, "usually older people with more time to spend make dessert," while younger generations tend not to.
Ninsom's personal favorite dessert is khanom chan, which has the texture of a silky, starchy gummy candy and encapsulates the wholly different vocabulary of the Thai sweet tooth. Thai cooks use rice instead of wheat, coconut milk instead of butter; the sweets are cooked in steamers or on stoves more often than in an oven. But the grammar—sweetness, fat, and carbs—is the same as it is anywhere. And in that, people will always find pleasure.
The world of Thai desserts includes a range of steamed custards. The simplest of these is a flan-like mixture of coconut milk, palm sugar, and duck eggs (which Montreeprasat says are traditionally favored for the rich orange color of the yolks), which might be served by the scoop over sticky rice or in slices studded with pumpkin.
The more elaborate version of the latter is sang kaya fug tong, a whole kabocha squash that's been hollowed out, filled with custard, and steamed, then served by the slice. When Montreeprasat makes this, she sometimes carves floral designs into the pumpkin (she is an expert at Thai fruit carving), and crowns the steamed custard with foi tong, the candied egg yolk threads.
Other popular custards include khanom moa gang, a denser dessert made with puréed mung beans in the batter, and fried shallots scattered over its burnished top. Then there is khanom thuay, a sweet that gets its custard texture not from eggs but from rice flour. It's topped with a layer of salty coconut cream and steamed in small cups, a rich two-bite snack offered by wandering vendors and served for free at boat noodle shops.
Everyone knows mango sticky rice—it's easy to make and popular, and at many American Thai restaurants it's the equivalent of a bistro's perfunctory flourless chocolate cake. But there are many other versions of that mildly sweet, filling dessert to know and love. There is sticky rice with custard and sticky rice with durian (the most polarizing of fruits). It might be served wrapped in a banana leaf, with a center of soft, sweet banana. Or it might be mixed with sweet red beans and coconut cream and grilled inside a hollow piece of bamboo.
There is also green sticky rice, colored and perfumed by pandan extract, and blue sticky rice, stained with largely flavorless pea flowers. Black sticky rice, on the other hand, is just a particular variety of sweet rice; it has a grain-y flavor and a deep purple-black hue when cooked. Like white sticky rice, it must be soaked overnight before cooking, but unlike white sticky rice, it isn't always steamed. Montreeprasat cooks hers the way her mom did, on the stovetop, adding palm sugar and cubes of taro as it cooks. It's served with salted coconut cream, which provides a beautiful contrast to the rice in both look and flavor.
Montreeprasat pulls out a half-pint container of what looks like damp rice. This is khao mak, a dessert made from sticky rice mixed with sugar and yeast and fermented until the rice begins to break down into a slightly alcoholic liquid. "Only Thai people eat this one," says Montreeprasat. "Why?" I ask. "If you've never eaten it before, it tastes gross," she replies, echoing something that Ninsom told me. Besides the fact that they take time and special ingredients to make, Ninsom thinks some Thai desserts may be hard to find in the states because "texture-wise"—and taste-wise for that matter—"they might not be what American people understand."
Thai cakes more often use rice flour than wheat, yielding textures that are more chewy than crumbly. Some are fermented and spongy, like the palm-flavored khanom tan or the jasmine-scented khanom tuay fu, which are often colored pink, green, or blue and look like bursting muffins. Some are dense, like khanom man, made with grated cassava and shredded coconut. But cakes, loosely defined, might also include khanom krok, custardy little coconut cream and rice flour hot cakes cooked in a dimpled cast iron pan.
And there's also the ever popular khanom chan, which is made from a blend of rice flour, tapioca flour, and arrowroot starch mixed by hand with coconut milk and palm sugar until gluey. It's steamed in a cake pan one thin layer at a time, often alternating between plain white and pandan green batter, yielding a mochi-like dessert that can be sliced into wedges.
The most intricate Thai sweets. Sugar Club sells doll-sized fruits called look choop, the Thai version of marzipan, made with mung beans instead of almonds. The fudgy, sweetened bean paste has been molded, painted with bright food colorings, and finally dipped into agar jelly to give it a glossy coat. Like many other celebratory desserts, the look choop have also been smoked with a tian op, a frankincense-, ylang-ylang-, and patchouli-scented wax. To me they taste like blown-out birthday candles.
Montreeprasat points me towards a series of dense, soft, goldenrod yellow sweets. Some take the form of disks pinched into ruffled flowers, some look like little bundles of vermicelli, some are the size and shape of songbird eggs. These are, respectively, tong yip, foi tong, and tong yord. Tong means gold, and here the gold color comes from duck egg yolks, which have been whipped and then poured into simmering sugar syrup to various effects.
The technique is actually Portuguese (the equivalent sweets there are called trouxas das caldas or fios de ovos, depending on shape), supposedly brought to the Thai royal court in the 17th century by Maria Guyomar de Pina, a palace cook of Japanese, Portuguese, and Bengali descent. "These are the hardest thing to make," says Montreeprasat. The ratio of sugar to water has to be exactly right, and so does the temperature of simmering syrup. Then you have to pour the yolks in just so.
There are simpler candies, too, like candied palm seeds (which are translucent, with a watery, crunchy texture) or candied chunks of cassava. Some vendors also offer thua tat, a peanut and sesame brittle.
The canon of Thai dessert includes a variety of sweet soups, some warm, some cold. The "broth" is often sweetened coconut milk, and the contents might be anything from chunks of agar jelly to glass noodles. Bua loi, a warm soup, includes round, colorful rice flour dumplings. Lod chong, pandan-flavored rice flour noodles, are served on ice with a hefty pour of sweet coconut milk.
For a simple soup that includes chunks of pumpkin, Thai cooks use a secret trick: they soak the pumpkin in lime mineral water (you can find little jars of powdered lime mineral for this purpose at Thai grocery stores), which helps it keep its shape instead of dissolving into mush. Montreeprasat uses the same technique on the taro she includes in her black sticky rice, and on the whole pumpkin she fills with custard.
Sugar Club
81-18 Broadway, Elmhurst, NY 11373
(718) 565-9018
More From The Sugar Files