Recipes
Thai Black Sticky Rice Pudding with Coconut Cream
Serves

serves 4 people

Cook

12 hours 20 minutes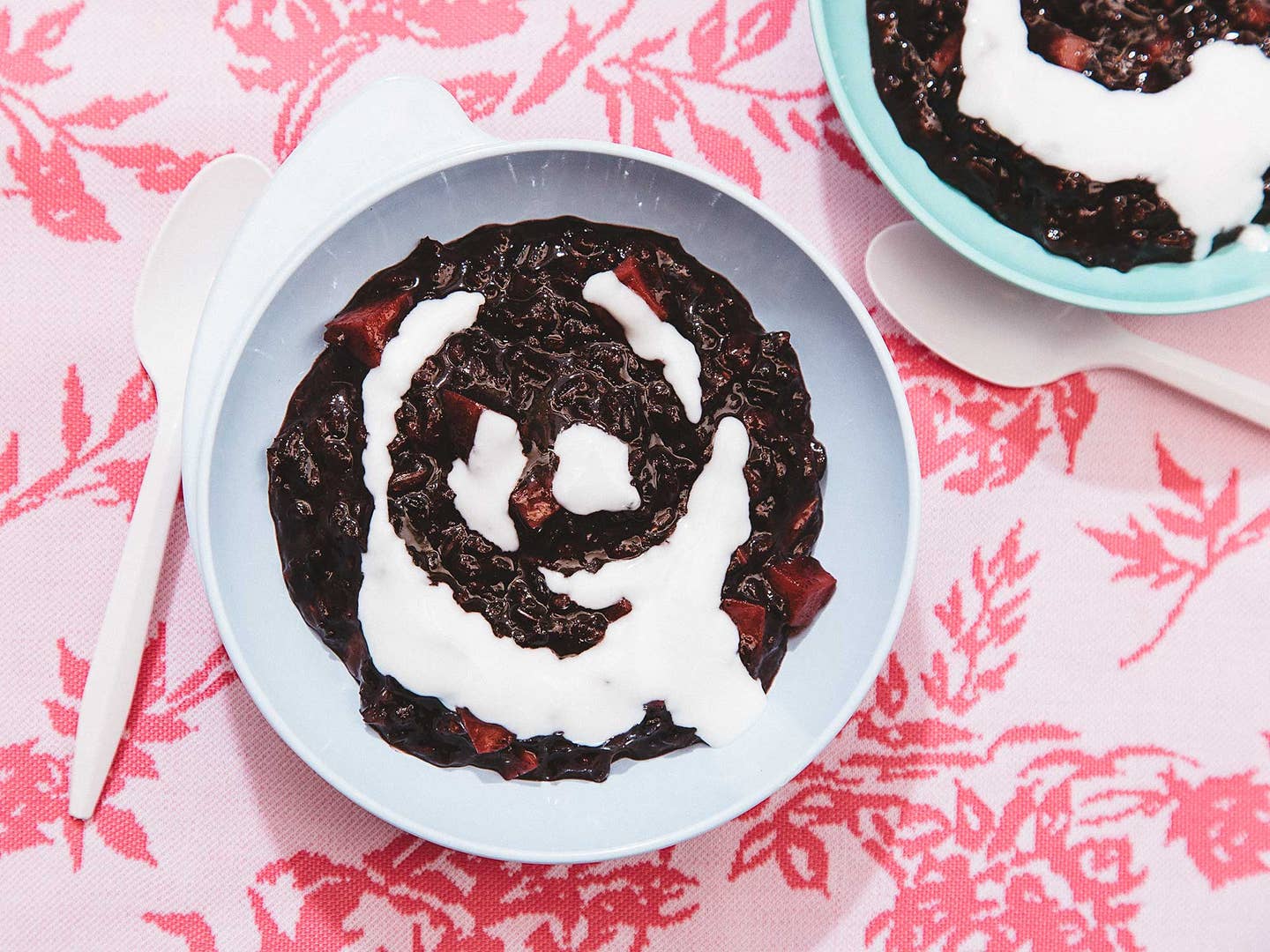 Black sticky rice, which like wild rice is unhulled, makes a rustic rice pudding loaded with far more flavor and texture than usual. This version from chef Peerasri Montreeprasat at Sugar Club, a Thai grocery and cafe in New York, adds in cubes of nutty taro and is sweetened with palm sugar.
Plan in advance: The sticky rice needs to soak overnight, and the pudding and coconut cream topping are best served chilled. For the richest topping, which should have a notably salty kick to balance the pudding, chill the coconut milk can in the refrigerator ahead of time. That thick layer of coconut cream that sets at the top of the can is what you're after.
Some Thai cooks, Montreeprasat included, soak the taro for this dessert in lime mineral water to help the root retain its shape and crisp texture even when fully cooked. The extra step makes a slight difference, but one we think you can skip if you take care to not overcook the taro.
Ingredients
For the black sticky rice pudding:
1 cup (7 1/2 oz.) black sticky rice
1⁄2 of a small taro root (4 oz.), peeled and cut in ½-inch cubes (3/4 cup)
1⁄2 cup (4 ¼ oz.) firmly packed palm sugar (preferably the soft variety from a plastic jar, otherwise it should be chopped)
For the coconut cream:
1 (13.5-oz.) can coconut milk
1 tsp. cornstarch
1⁄4 tsp. kosher salt
Instructions
Step 1
Make the black sticky rice pudding: In a medium bowl, add the rice and enough cold water to cover by 1-2 inches. Chill and let soak 8 hours or overnight.
Step 2
In a strainer, drain and rinse the rice under cold, running water. Transfer the rice to a 4-quart pot. Add 4 ½ cups water, and bring to a boil over medium-high heat. Lower the heat and simmer, stirring occasionally, until the rice is cooked through, and the grains have burst open, 45 minutes. Add the taro and continue to simmer, stirring frequently, until the taro is tender, 4-6 minutes. Stir in the palm sugar until dissolved. Turn off the heat, transfer the pudding to a medium bowl, cover, and refrigerate until chilled.
Step 3
Meanwhile, make the coconut cream: In a small bowl, add the coconut cream from the top of the can and enough of the liquid from the can to reach 1 cup (8 oz.). (Reserve the remaining coconut milk for another use.)
Step 4
In a small pot, whisk the coconut milk, cornstarch, and salt. Cook over low heat, stirring constantly, until the mixture begins to thicken, 8-10 minutes. Remove from the heat and strain into a small bowl. Refrigerate until chilled.
Step 5
To serve, divide the rice among 4 individual bowls and spoon some of the coconut cream on top.