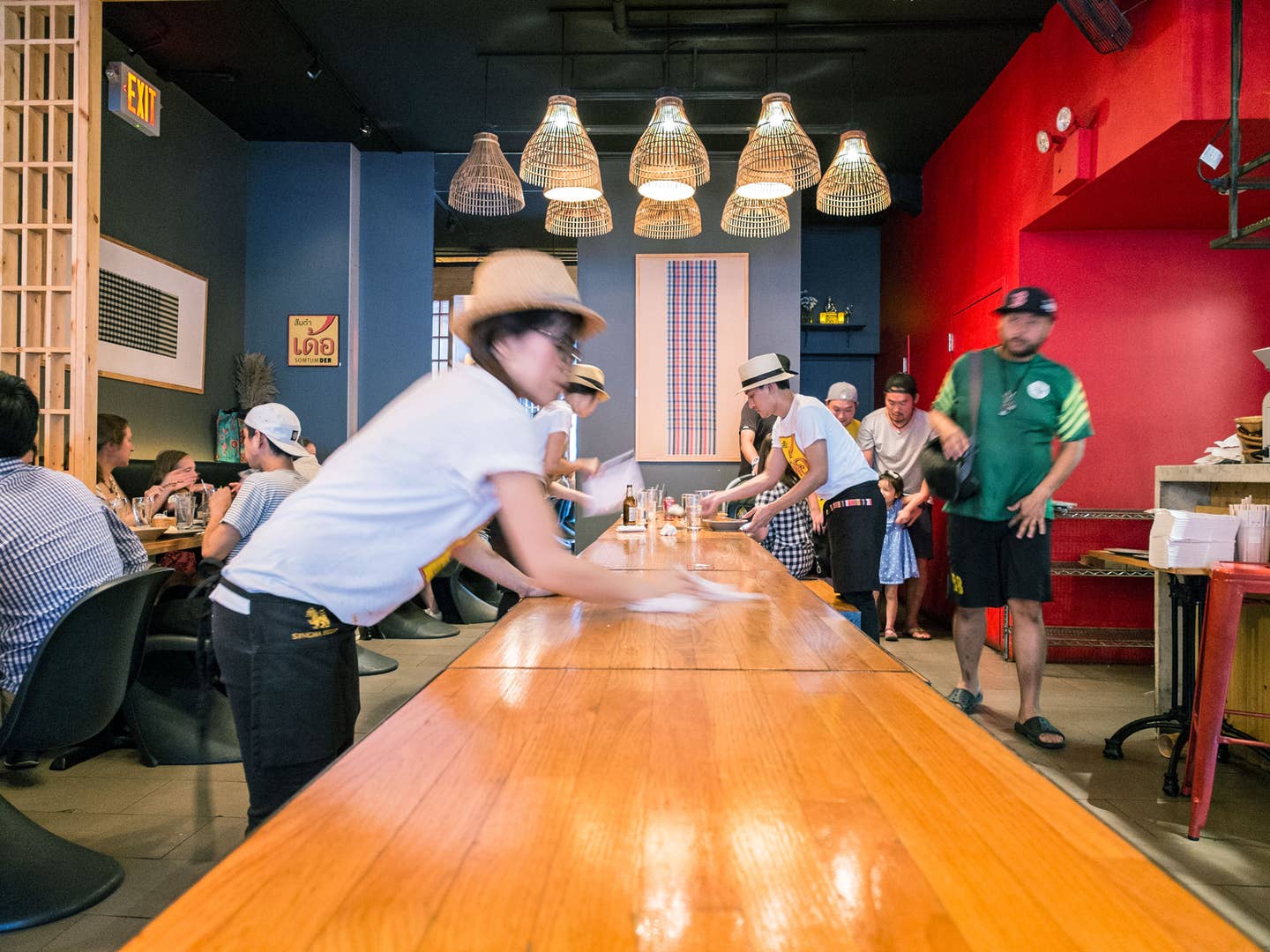 Travel
Embrace the Isaan Slow Burn
Isaan food is some of the hottest in Thailand, and it all goes well with beer
In Asia, drinking-food (and drinking properly with food) is an art form. So welcome to Asian Drinking Food Adventures, where Dan Holzman, chef-owner of The Meatball Shop, and Matt Rodbard, author of the Koreatown cookbook, seek out the best food from bars, izakayas, pojangmachas, and then some.
The goalie runs the show. It's true on the soccer pitch, and it's true when ordering spicy and fragrant (did we mention spicy?) Isaan Thai dishes at Somtum Der in New York's East Village. It's a lazy Labor Day evening and we're seated next to the goalkeeper and his crew of weekend warriors—mostly middle-aged Thai men—who have made the trip down from Boston to play some soccer, and feast on the restaurant's famous papaya salads (called som tum), a medley of larbs (small plates of minced meat dressed with lime, toasted rice and chiles), and plenty of Singha.
We post up next to the goalie, and after a little chit chat, he drops some World-Cup-level strategy about the menu and the dishes we plan to order. First order of business? Ice cold rice beer, and a round of tap water to keep us safe. Dan triples down with a Thai iced tea, hoping the condensed milk will spare his tongue the worst of it, and give some protection against the spice to come.
Isaan lies in the northeast corner of Thailand, bordering Laos and Cambodia on three sides. Generally speaking, central Thai food, centering on Bangkok, is inspired by Chinese cooking traditions (Thai-Chinese is the largest ethnic minority in the region, numbering some nine million in total); noodles and wok-cooked stir-frys abound. But in the north, food is built around the ubiquitous basket of sticky rice—a staple on all Isaan tables. Diners dip small handfuls of rice into saucy and spicy dishes of vibrantly flavored ground meats and fresh fruits and vegetables, often seasoned with crushed peanuts and dried shrimp.
It's a rustic style of cooking motivated by the region's poor soil and unpredictable weather. The chef and Thai food historian Dave Thompson describes it simply as "industrious cooks using a small amount of food to flavor a large amount of rice."
Before the fireworks begin, our "Der's H'orderves" arrive with the nodding approval of our friend the goalie. It's a platter of fried and grilled pig parts styled like a cross between a French charcuterie plate and the deep-fried sampler platter at a Texarkana bowling alley. There's a selection of sausages (one fermented in a tightly packed casing; another, looser and mild), a "pork roll" (basically deep-fried hot dogs, which is a good thing if you're wondering), and chunks of fried pork, heavily seasoned with coriander seed, chile, and salt. The dish is served with a side of dayglow orange sweet chile sauce, roasted peanuts, slivers of ginger, and a healthy bouquet of cilantro. It's a delicious tornado of salt, fat, bitter, and sweet, begging for big sips of beer to wash it down.
Somtum Der offers a dizzying dozen som tums available on the menu, and once again we look to the goalie for advice. He points at the classic tum thai kai kem—built on a foundation of green papaya, lime juice, tomato, palm sugar, and dried chili and topped with a salted egg. We tell the server that we want it as hot as they serve it, and she nods with a smile (our receipt later reveals she mercifully plugged in two peppers out of a possible four). But two-chile hot at Somtum Der is plenty hot, and as the spice takes over our bodies we quickly drain beers and refill our glasses of water. I order a weird Dr. Pepper Shandy (yes, that would be half DP, half Singha), which I drink down in a couple sips. Turns out the combination is near-genius and a highlight of our experience. Time is our new best friend while we recover between assaults of chile heat, and we're left to suffer while the goalie smiles and enjoys our pain.
But of all the dishes on the table that night, our favorite—and the one we most wanted to prepare in our home kitchens—is a lemongrass and sardine salad with raw onions, lime juice, and Thai sweet chile sauce. It's listed in the Central Thailand section of the menu, amongst the "mild" dishes. Dan loves canned sardines and wishes they were more popular, so he orders them whenever they're available. In the cooling salad they're cut into large chunks, and their tender flesh and oily, briny flavor works magically with the fragrant lemongrass, crunchy raw onions, and sweet chile. It's a recipe that can be prepared quickly for a snack or lunch, or to go along with any Southeast Asian bowl of noodles or sauté.
Now, of course you can buy sweet Thai chile sauce basically anywhere sriracha is sold, and if you are short on time, go for it. But we really like our homemade version, which leans a bit on that glorious condiment from Pittsburgh: Heinz ketchup. It will keep for several months in your refrigerator and you will want to put it on many things.