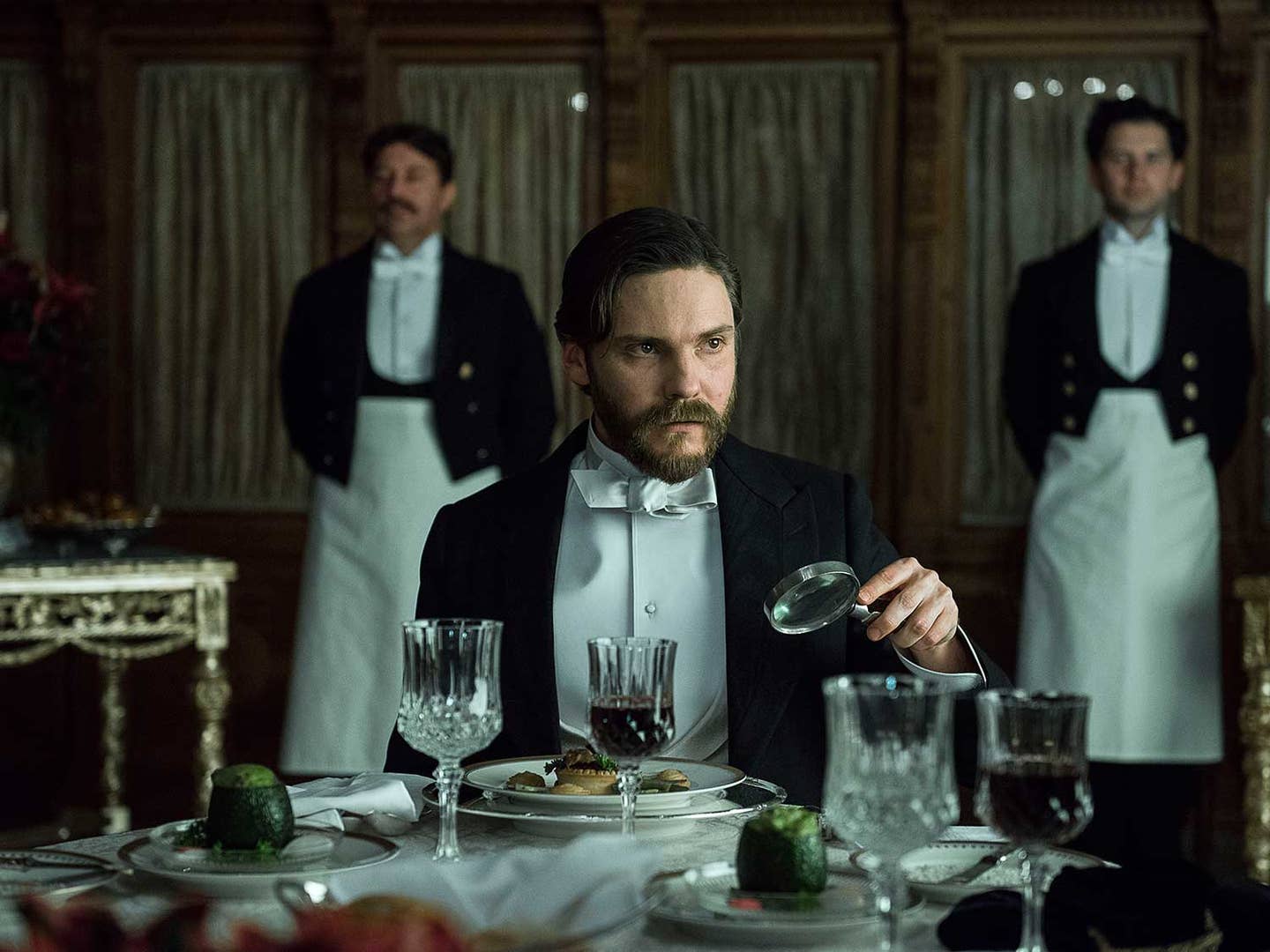 Culture
How "The Alienist" is Bringing the 19th-Century New York Restaurant Scene to Life
An interview with culinary consultant Alia Akkam on how she helped create the primetime drama's historically accurate restaurant scenes, down to the very last soup spoon
Waiters stand at attention along the length of Delmonico's lofty-ceiling dining room, attired in neat jackets trimmed with gleaming brass buttons and knee-length aprons. On an unseen signal, they step forward in choreographed unison to lift silver-domed cloches: Beneath each quivers a snowy blancmange, nippled with a single candied cherry.
It's a scene straight out of 19th-century New York—yet this isn't 1860, nor is it New York. Instead, this is the Budapest-based set of "The Alienist", a new TV series based on the novel by Caleb Carr. And it was the job of culinary consultant Alia Akkam to recreate historically-accurate meals for the show, which airs on Monday, January 22 on TNT.
While most of the show's focus surrounds solving a series of gruesome murders, many key scenes take place around the table, including that of storied restaurant Delmonico's. That meant detailed attention was paid to ensuring that the dishes (stuffed avocado! Charlotte Russe!), table settings, and even the metered gait of the waiters were just right. We spoke with Budapest-based culinary consultant Alia Akkam about exactly what that involved.
What did your job entail as culinary consultant for "The Alienist"?
Alia Akkam: Caleb Carr's book takes place in New York circa-1896, and as a native New Yorker who is both a history nerd and a lover of retro cuisine, I was hired to delve back into that era and see what types of menus and dishware would be appropriate for this time period. "The Alienist" is by no means an example of culinary fiction, but food plays a prominent role in certain scenes, and the goal was to make sure that it was represented as accurately as possible.
Once production started, I was also on set for many of our food scenes, and this is a fast-paced arena that was pleasantly out of my comfort zone. I worked with the props crew to ensure that all the dishes and such we needed were packed and ready to go to the film location. I set tables, inevitably realizing I forgot something like a cake knife back at the studio warehouse and then had to call someone in a panic to look for it.
I was the liaison between the makeshift kitchens—the domain of the food stylists—and the set, ensuring food arrived on time and re-sets were available. I also watched the shoot live on camera, so if I observed a mistake, like a wine glass filled too high or an actor missing a spoon, I could mention it to one of the assistant directors and adjust.
Tell us how you approached researching food and culinary history for the show.
I didn't rely solely on books, but reached out to various culinary historians who were generous with their time, like Sarah Lohman [of NY's Tenement Museum], and institutions such as the the John Jay College Library and New York Historical Society. William Grimes, author of Appetite City: A Culinary History of New York, was especially helpful with etiquette suggestions.
Immigrant life and social class are also deeply woven into "The Alienist", and so I did a lot of digging around in this sphere as well, reading Jacob Riis's How the Other Half Lives and materials from New York's Tenement Museum.
What did you have to do to bring culinary history alive for the screen?
There were a few different stylists involved with "The Alienist", including Lisa Heathcote from London, who has worked on projects like Downton Abbey, and Melissa McSorley from Los Angeles, who has worked on films like Jeremiah Tower: The Last Magnificent. These are talented, smart ladies who looked at my research, did some of their own, and dreamed up beautiful, edible food that truly looked as if it belonged on dinner tables in 1896 New York.
My boss, who was the prop master for Mad Men, has an incredible eye and amazing relationships with prop houses and antique stores, so everything she sourced was striking and evocative. Her attention to detail was so profound. She would be in Vienna, for example, and I'd get a text with photos of gorgeous candy from a shop there, asking me which one seemed like the best fit for a particular scene.
I realized just how important details are when it came time to shoot the Delmonico's scenes, when I found myself training Hungarian actors to play waiters through an interpreter. A waiter at Delmonico's would have been confident and formal and I had to convey that, along with practical details like serving from the right and clearing from the left because it wasn't silver service, and making sure they lifted cloches in unison.
Sounds like there wasn't much room to cut corners.
No—for example, the props department even sought to replicate Teddy Roosevelt's actual coffee mug. Through the lovely staff at the Sagamore Hill National Historic Site and other research, I was able to find out that he favored an oversized, custom cup to sate his coffee addiction. Seeing all these connections between food and history was an especially enlightening part of the experience for me.
Was food really all that different back then?
One of the biggest challenges focusing solely on 1896 is that many of the foods we assume were available then, weren't. When we were discussing including a display of pickles, I found out that it wasn't until 1897 that the first pickle vendor arrived on the Lower East Side. If an Italian immigrant wanted pasta in their home then, they couldn't buy a cheap box of Ronzoni, so what did they do? Making it at home would have been the most economical.
What was the best part of this project?
This experience made me feel like a little kid again, gaining entrance to a magical place I once fantasized about. Watching this production unfold in real time, I was most astonished by the crew: precise, unflappable, and tireless, transforming chaos into a brilliantly choreographed ballet long day after long day.