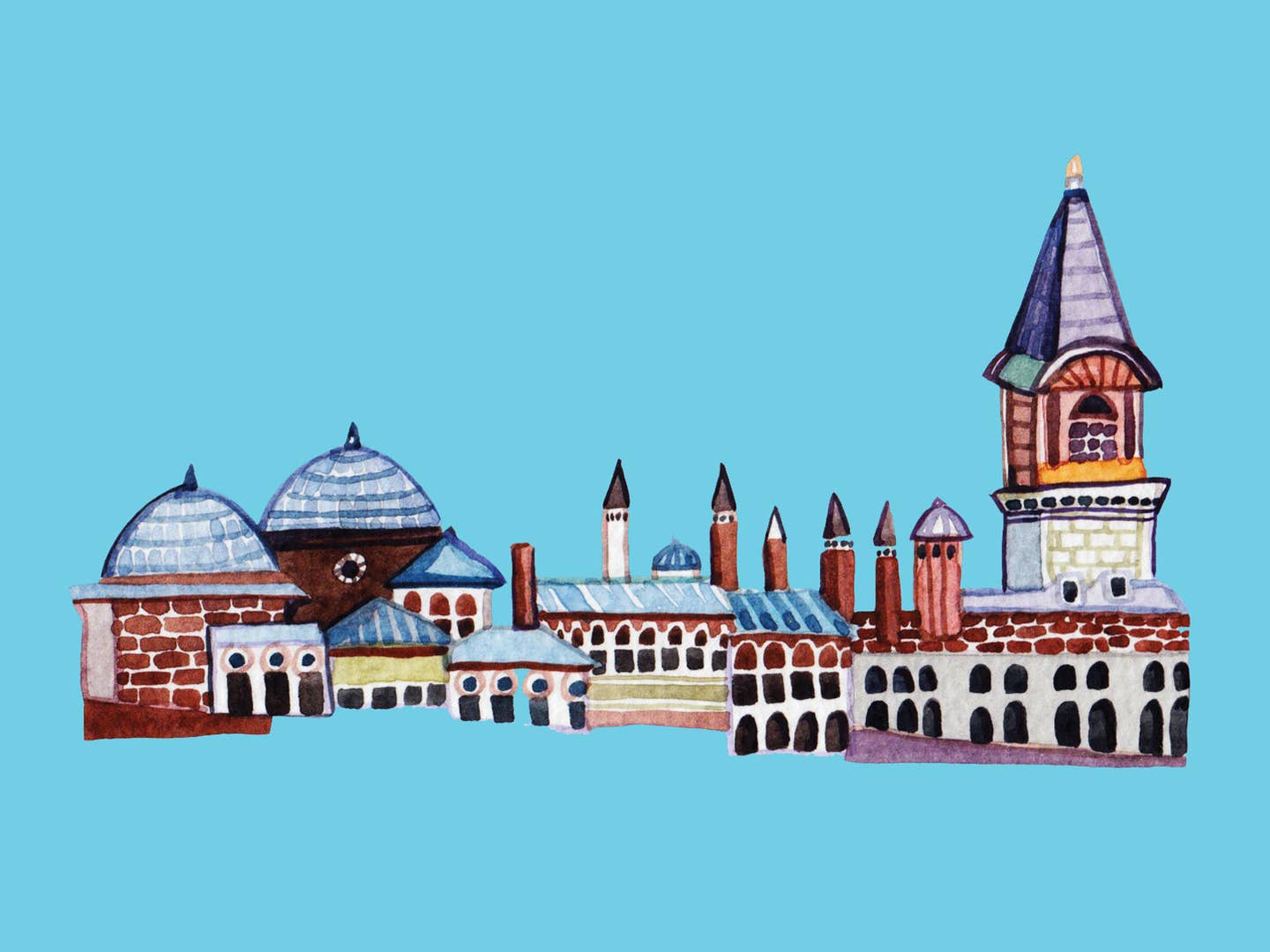 Travel
Why We Keep Coming Back to Istanbul
The city that spans two continents continues to captivate our culinary imaginations
I'm pretty sure it was a cucumber, a crunchy Çengelköy cucumber, that hooked me on Istanbul. That cuke—allied with a briny slab of feta-like beyaz peynir cheese, crinkly olives, and simit, a dense sesame-crusted bread ring—was my breakfast on a windswept deck of a commuter ferry crossing the Bosporus to Istanbul's Asian shore almost three decades ago. I dipped the simit into a tulip-shaped glass of tea as seagulls wheeled overhead, clouds swelled above the sixth-century Hagia Sofia, and the muezzins' calls to prayer echoed across the water. I still remember that giddy feeling of pleasure: sailing and savoring Byzantium as I alternated sips of tannic black tea with crunches of cuke.
Today, I find myself even more besotted with cucumbers and simit, with dollhouse baklava shops and vendors hawking milky almonds—so besotted, in fact, that I now own a pied-à-terre in Istanbul. The foodscape of this city, simultaneously exotic and comforting, invades my daydreams while I'm away. The oily perfume of mackerel, grilled and stuffed into sandwiches by the docks, the theatrically lit displays of pomegranate wedges in winter, the artichoke sellers trimming fuzzy globes on the sidewalk come spring. I pine for the hedonism of Istanbul's sceney restaurants with their glittering Bosporus vistas, and the hominess of esnaf lokantas (tradesmen's taverns), where beneath a portrait of Atatürk one inhales dime-sized dumplings called manti. Even more, I miss the funk of Anatolian sheep's butter on baklava, and the subtle mastic scent of Ottoman puddings with their burnt-caramel tops.
When I'm there, I prowl the 13-million-plus megalopolis that straddles two continents in a sort of ravenous daze, hunting down itinerant food vendors and dives whose ustas (masters) apprentice for years to perfect a single specialty—a legacy of the Ottoman guild system. A bowl of creamy beans stewed in tomato sauce transports at Ali Baba Kurufasulyeci, a beanery in the shadow of the cascading domes of the Süleymaniye mosque. Questing for Istanbul's flakiest börek, a multilayered savory pastry cradling spinach or meat, I cross to the Asian shore and carry my snack to a rickety teahouse table overlooking the Bosporus. And then the eternal kebab quandry: Do I want cağ kebab, a horizontal doner, at Şehzade in a busy outdoor arcade by Sirkeci station? Or the büryan kebab (pit-roasted lamb) from a Kurdish market street under a Roman aqueduct? I'll promenade along the Sea of Marmara with a scoop of mulberry or sour cherry ice cream from Ali Usta, an old parlor in the gracious enclave of Moda. Inevitably in Istanbul, surrounded by three bodies of water and their shifting light, amid timeless vistas and memories of three empires, I find it hard to shake the feeling of living inside a mirage.
Islamic and secular, provincial and cosmopolitan, gritty and glamorous, Istanbul also keeps one's senses on edge with its constant juxtapositions. You descend from the lofty chic of Mikla restaurant, with its rooftop panoramas and ingredients sourced by an anthropologist, into a nearby basement dive serving grilled lamb liver to taxi drivers. Or stop for a cheap disk of lahmacun (charred flatbread smeared with meat) at an old-school joint called Tatbak before lunching up the block at Kantin, favored haunt of the Hermès bag set. I love to preen among the ornamental crowds at Yeni Lokanta, where traditional meze are updated with "burnt" yogurt and walnut-studded sujuk sausage. Or to savor the flower-strewn plates of Slow Food-sanctioned foodstuff at the new restaurant Neolokal—distracted by the imperial mosques lined up across the Golden Horn waterway.
But in the end, I always return to the reassuring monotony of Istanbul's strictly codified traditional food rituals. It's a comfort to know that meyhane (drinking dens) will mosaic their crowded tables with identical meze, that a kebapçi (kebab house) menu will lead from stinky goat's milk Tulum cheese to a parade of skewers to a syrup-drenched künefe. On such certainties does Istanbul's edible life rest. Or used to, at least. These days, as developers demolish atmospheric old markets and gentrify century-old stalwarts, every bite here tastes bittersweet, tinged with huzun, a Turkish word meaning melancholy longing. And this existential shadow, this creeping sense of loss, makes the city that much more precious to me.