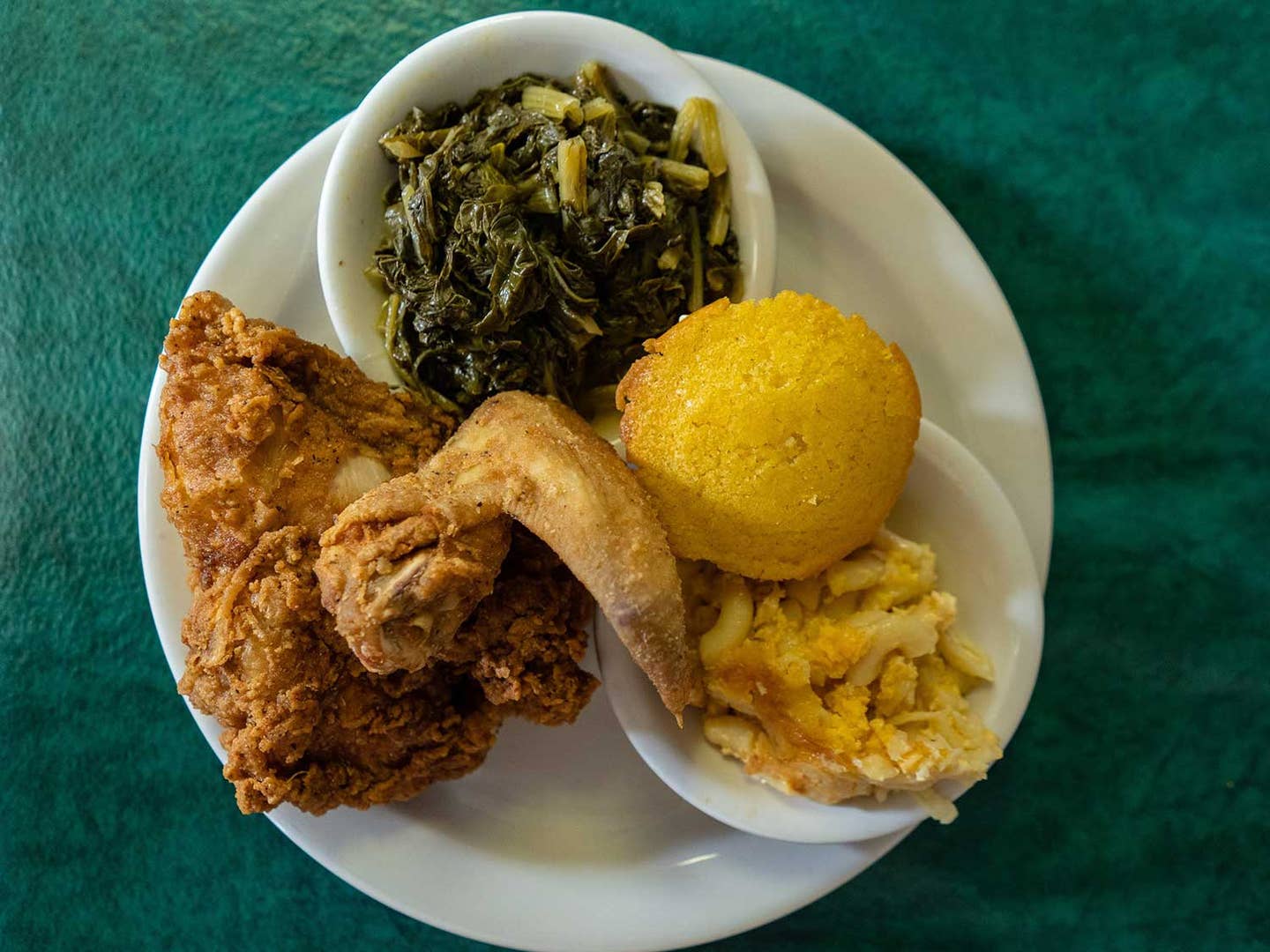 Travel
Get Thee to The Four Way Restaurant in Memphis
Why we urge you to dine at this beacon of civil rights history, Southern heritage, and the epitome of Tennessee soul food
Located on a still resurging corner in Soulsville—a neighborhood just south of downtown Memphis (and yep, that's its real name)—The Four Way restaurant in Memphis might not look like much at first glance. But don't let first impressions sway your judgment of this beloved family-owned eatery. It's a location full of history, soul, hospitality and good food, and may very well be one of the most remarkable restaurants in the country.
Age is a factor that brings with it certain charms. As one of the oldest restaurants in all of Memphis, The Four Way Restaurant has offered patrons soul-satisfying food and been a meeting place for local conversation for over seven decades. As it was in the 1950s and 60s, The Four Way remains one of the defining businesses of Memphis, representative of the city's diverse and important history and rich culinary heritage.
"The Four Way was a safe haven," explained Patrice Bates Thompson, the current co-owner of The Four Way. "Here, African-Americans could eat a fine dining experience," she adds. "It was pretty much the only place like that to come during segregation. Mrs. Cleaves opened her restaurant to everyone. It was so popular other races would often come to eat here too."
It's also been the meeting place for such historical events as the civil rights movement to the evolution of Memphis music. Dr. Martin Luther King, Jr., Rev. Jesse Jackson and Rev. Al Sharpton were a few of the civil rights leaders that dined here. Music icons Isaac Hayes, B.B. King, Elvis Presley, Al Green, Tina Turner, and Aretha Franklin were all regular customers.
The menu sounds fairly typical of a Southern soul food establishment: You order a main and pick two sides. Fried chicken (with your choice of white or dark meat), fried catfish, turkey and dressing, neck bones, fried green tomatoes, yams, turnip greens, and macaroni and cheese are a few of the dishes that have brought in devoted customers. But items are prepared from scratch using tried-and-true family recipes: pickled tomatoes and beets, beautiful cabbages braised and "smothered" in house, and hand-breaded catfish and chicken, twice as a matter of fact.
Even amidst the stimulating smells, views of gargantuan pots, and sounds of the fryer oil sizzling, you can't miss the importance of The Four Way's history and its ties to the evolution of Memphis. On any given day, you will find folks from about every cross-section of Memphis dining here. Blue-collar workers in casual attire, lawyers in business suits, families, tourists, and groups of friends sit alongside each other in this brightly lit dining room with friendly service. The one common bond is the generous plate of Southern food in front of each patron—the soul food that creates a melting pot within the four walls of this historic building.
Mrs. Irene Cleaves and her husband Clint opened the restaurant in 1946. Mrs. Cleaves was loved by all who were regular patrons of The Four Way. She was known and respected for her well-run establishment with impeccable service and her delicious classic Southern soul food.
The Bates family took over the restaurant in 2002 when the late Willie Early Bates bought the building and re-opened the recently closed restaurant. Bates had enjoyed Mrs. Cleaves' dishes since his childhood, having grown up just down the street. He re-opened The Four Way with no previous restaurant experience; the venture was for him a labor of love for his community. Today, his daughter Patrice Bates Thompson runs the restaurant with her mother Jo Ellen Bates.
Thompson follows in the footsteps of Mrs. Cleaves and her father, using their commitment to community, friendly service, and good food as her guide always. She describes her father as having never met a stranger, but that statement also applies to the gregarious and genuine restaurateur and host.
Thompson and I discussed how Martin Luther King dined at The Four Way when he was in Memphis. After marches, he and other leaders of the civil rights movement would stop here for a meal and to recap the day's events. According to Thompson, some of King's favorite dishes were the fried catfish and peach cobbler. Artists from the legendary Stax Records, located a few blocks away, would also regularly dine in or carry out from The Four Way.
"The Four Way was the signature place for all us artists to dine," said David Porter, the Grammy award-winning song writer who wrote such hits for Stax artists as "Hold On, I'm Comin" and "Soul Man." "There was a back entrance that allowed us to enter and eat without creating excitement. When artists came in from out of town, that's where we took them for a good meal." Today, The Four Way is still intertwined with the Stax legacy. Many of the tourists that visit the Stax Museum of American Soul Music head straight to The Four Way after their tour.
If they take a moment to look to their right, guests get a little inspiration courtesy of Mr. Bates when they enter The Four Way.
"You know that rusted piece of machinery by the front door? That is a stitching machine from the shoe shop that once occupied part of this building," Thompson explained. "My father said it is a constant reminder of the stitches that bound this community together."