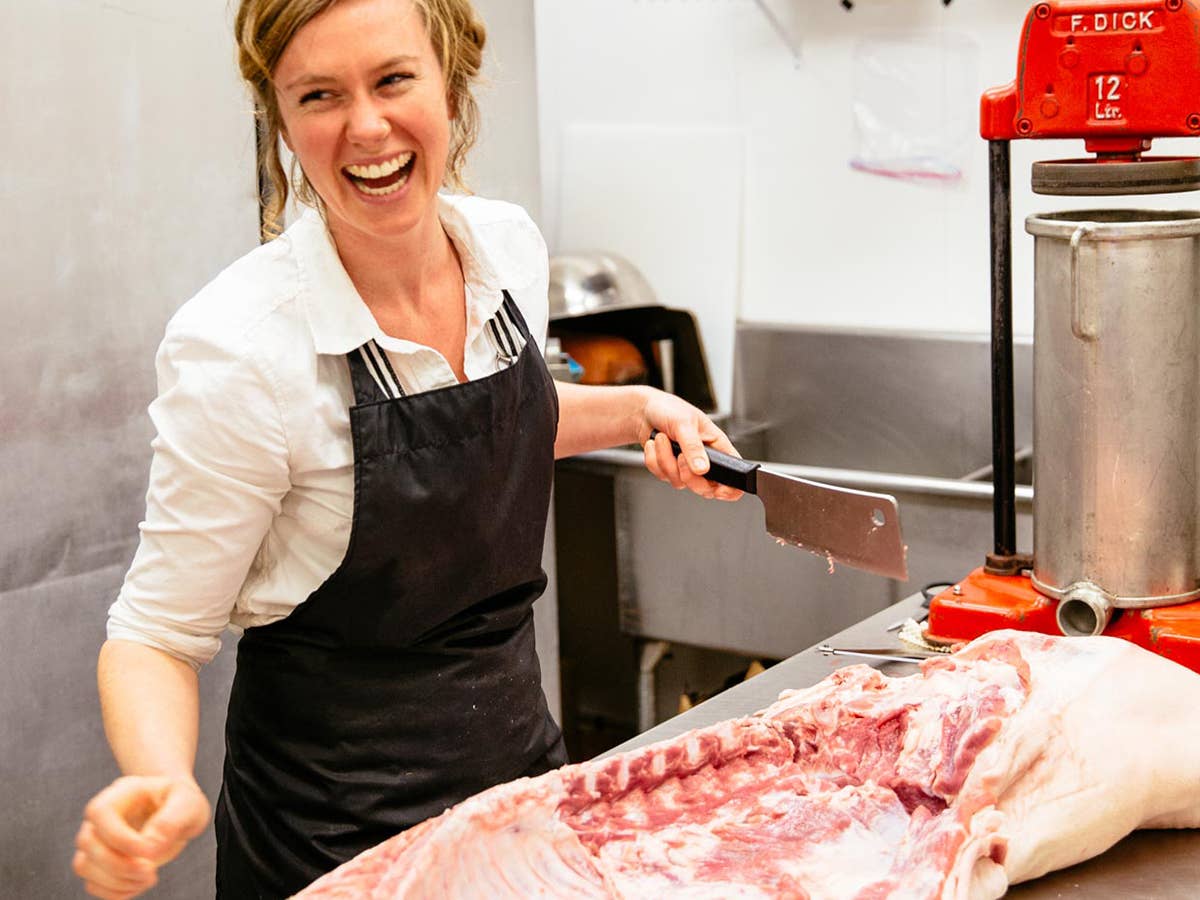 Travel
Visit the Small Canadian Town That's Putting Big Food Capitals to Shame
Welcome to Tofino, Canada, where a population of 1,800 eats seafood that rivals the world's best
After a week in Tofino I've pretty much adopted the diet of a sea otter.
Crustaceans and bivalves, naturally: gnarly gooseneck barnacles at Wolf in The Fog; decapods in the form of Dungeness crabs, sweet and simply boiled, devoured right on the beach beside The Wickaninnish Inn; and palm-sized beach oysters broiled beneath a toasty shell of miso mayonnaise and salmon bacon at Sobo. I'm getting my greens mainly from marine algae: slippery pickled bull kelp at Picnic washed down with Tofino Brewing Company's Kelp Stout. It's all remarkably good, and my fur has never looked better.
Tofino is a tiny and remote place—the first road was built in 1959—on the extreme west coast of Vancouver Island. Sail west from here into the Pacific and there's nothing but ocean until you hit Japan. The year-round population is around 1800, but that number swells by several times in the summer when tourists flock here for the picturesque marine beauty and wildlife, the surfing, and, more frequently, for the food.
Culinary tourism in Tofino is relatively recent; the story begins in 1996, when the Wickaninnish Inn opened the Pointe Restaurant and built their menu almost entirely around local ingredients—unusual for this time and place.
That local-first practice is still in place today, and a meal in the Pointe's great octagonal dining room, preferably at a window table overlooking the sweep of Chesterman beach or nestled up beside the copper fireplace, doubles as a lesson in local flavor. Chef Warren Barr pairs plump, briny clams and soft Humboldt squid with horseradish yogurt and melons from the nearby Okanagan Valley. Potatoes are cooked in beeswax, imparting a mellow sweetness, while wild salal berries (a sweet little black berry that's been a part of the local diet around here for 5000 years) do the same for a nutty brown butter cake.
While the Pointe is the most formal way to experience the best local ingredients it's not the only. At Sobo, chef Lisa Ahier, a Texas import who moved here with her husband Artie a dozen years ago, cooks an idiosyncratic and delicious menu that makes use of local suppliers in dishes that lean from Spanish (halibut and scallop ceviche) to Asian (braised duck ramen) to West Coast (cedar-planked salmon) in spirit.
The most sought-after reservation in town right now, though, is the restaurant of former Pointe chef Nicholas Nutting. Wolf in the Fog opened in 2014 to almost immediate national acclaim for its playful but refined cooking. There, you can order an entire duck served with lasagna and blood oranges, while you watch couples sip punch from crystal bowls and sing along to old-school reggae.
So intense is the appetite for Tofino's food right now that the town can barely contain it. Even a rather unlovely industrial park on the outskirts of town now houses Red Can Gourmet, the local fancy pizza joint, plus Picnic, a terrific little charcuterie and preserve shop, and the chilled-out tasting room at Tofino Brewing Company. The so-called "hippie mall" on the highway, home to Wildside Grill, an excellent fish and chip hut featuring fresh local salmon, ling cod, and halibut, and Tacofino, a colorful taco truck with a permanent lineup and Chocolate Tofino (purveyor of the chocolate starfish), is bursting at the seams.
There might not be a better small town to eat in anywhere right now for people or for otters.
Chris Johns is an award winning food and travel writer. After crossing Canada from British Columbia to Newfoundland with friend Derek Dammann, owner of Montreal's renowned Maison Publique, to meet with farmers, fishermen, winemakers and chefs (basically the people who make Canada so delicious) for a book project, he's returning to his favorite places from that trip for SAVEUR—plus visiting a few he never got to—for a second helping of Canadiana.