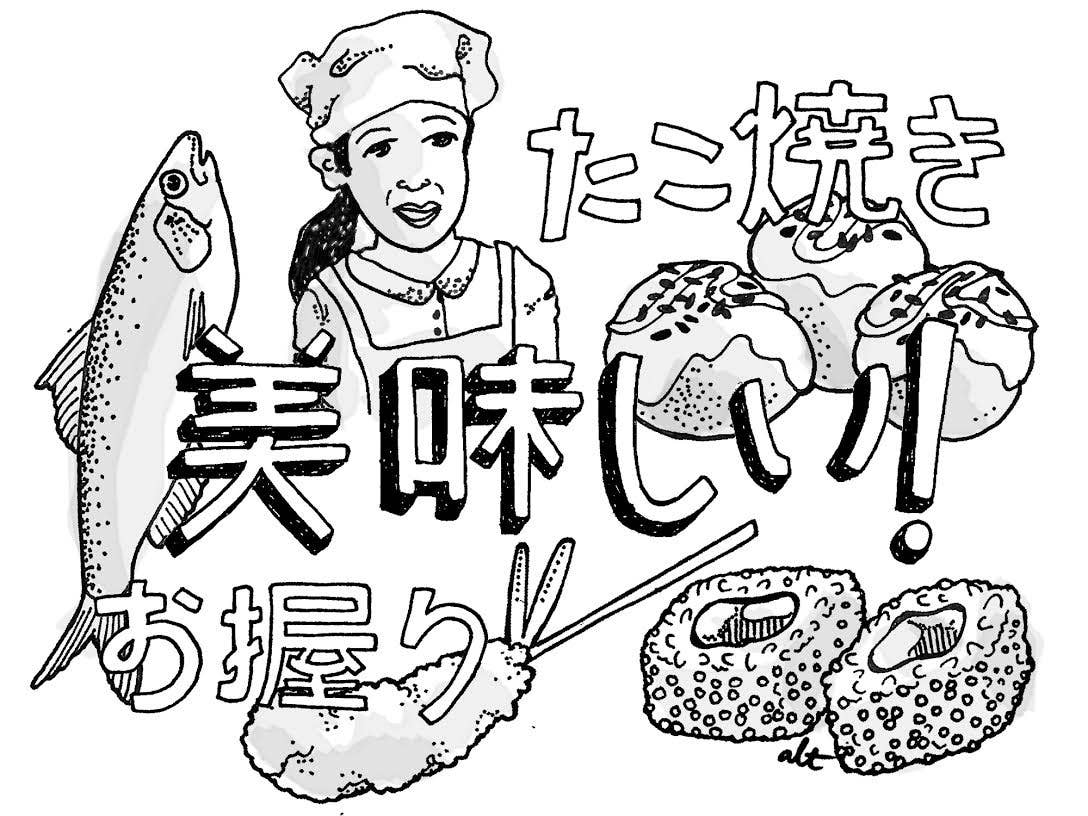 Travel
For Tokyo's Best Food, Go Downstairs
5 department store basements, or depachikas, to get your fill of rice balls and takoyaki
A continuous stream of arigatou gozaimas poured from clerks and deli staff. "Thank you," they said while helping with my purchases, "thank you." I bowed and thanked them back. I was shopping in the grocery-filled basement, or depachika, of the Odakyu Department Store in Tokyo, one of the material wonders of the world, and I wanted to buy everything. Canned sardines, canned matcha, sashimi grade hamachi, Japanese whisky, grilled fish on a stick. The store's stylish opulence was designed to trigger the consumer impulse, as if to say, "Yatte minahare (go for it)!" I almost did. But the standard depachika sells around 30,000 items, and I needed to save room in my luggage during my three-week stay in Japan.
With an average of seven to ten stories filled with clothes, electronics, stationery and kitchen gear, the depato (デパート) are living shrines to Japan's expert craftsmanship and willingness to pay for luxury goods. Large Japanese train stations usually house at least one department store, because train companies cleverly built their own stores to turn commuters into customers. The Odakyu, Seibu, and Keio stores bear the names of their parent rail lines. Outside the stations, well-respected stores such as Takashimaya, Mitsukoshi, and Isetan offer housewares and cutting-edge fashion, each with subterranean food halls. America has department stores, but not like this. Some of the world's finest food is housed under Tokyo's streets.
The 'depa' in depachika is slang for department store, and 'chika' means 'underground mall' or 'basement.' Many depatos have niches. Marui 0101 specializes in designer brands and edgy fashion. Tokyu Hands markets the DIY lifestyle with supplies for hobbies and home improvement projects. Many depachika differentiate themselves with daily osozai side-dish specials, limited edition sandwiches, and unique vendors, but their basic design is similar. That's a good thing, because it means shoppers can't go wrong.
In them, you'll find entire counters dedicated to salted plums, counters selling only roasted soybeans, whole sections for high-end miso and sencha tea. You'll find long, open-top refrigerated cases filled with fresh filleted tuna and silver-sided fish you can't identify but want to eat. The delis devote separate sections to tempura and fish skewers, bento boxes and sushi sets, traditional ebisen shrimp crackers, as well as cold cases filled with green salads, pasta salads, soba and side-dishes made from ingredients such as stewed eggplant and lotus. Save room for hot food; staff grill fresh traditional items like yaki-onigiria rice balls and takoyaki octopus dumplings while calling "Oishii! Oishii!," ("Delicious!") Save room for the bakery. And for creamy parfaits with bright banded colors. And sake, whisky, condiments and heirloom rice, shelved on rack upon rack.
Most depato open around 10am and stay open until 8 or 9pm. Late in the day, stores slash prices to move perishable sushi and pastry, so 5pm is a good time to ride an escalator down and explore. Once the dizziness passes, you will fall in love with them. Here are five popular Tokyo depachika not to miss on your next visit:
Mitsukoshi
Founded as the Echigoya dry goods store in 1673, Mitsukoshi's Nihonbashi location is Tokyo's oldest depato, often described as the Harrods of Japan. But its Ginza branch has one of the city's best depachika. Few food halls offer counters or tables; you have to stand by the stalls to eat, or take your chances ignoring the "no eating" signs in seating areas. Mitsukoshi customers can take their depachika food to the tables on the ninth floor, or enjoy the garden patio. Just because your food came from a windowless basement doesn't mean you have to eat it down there!
4-6-16 Ginza, Chūō-ku
Access through Ginza Station: from the Ginza, Hibiya or Marunouchi subway lines, use exits A7, A8 or A11.
Isetan
The archetype depato, Isetan is a short walk from Shinjuku Station. In its massive, upscale basement, crowds form as smiling staff hand out free samples of cooked fish and furikake rice seasoning made with bright shiso leaf. If you want top shelf Japanese single malt whisky, Isetan is your place. You'll pay more than at a grocery store, but you'll find exceptional malts like Chichibu, and serious shoppers can sample whiskies. Instead of getting discounted food at night, come early to line up in the doorway. The staff wait to unlock the door until exactly 10:30am, then stand along the aisles to greet passing customers.
3-14-1 Shinjuku, Shinjuku-ku
Access from neighboring Shinjuku-Sanchome Station: use exits B3, B4 or B5 from the Marunouchi or Shinjuku subway lines. If you're walking from Shinjuku Station, use the East Exit.
Takashimaya
One of Japan's largest depato, their Shinjuku location, in the Takashimaya Times Square development, has fifteen retail floors, a 2,700-square foot depachika, and twenty-eight different restaurants. If you want to see how extravagant depatos can get, look no further. Grab some roasted fish and a few vegetable side dishes and eat them on a bench in nearby Shinjuku Gyoen National Garden. Whether in spring or winter, it's lovely.
5-24-2 Sendagaya, Shibuya-ku
Access from Shinjuku Station
Odakyu
Neither the biggest nor the best depachika, Odakyu is one of my favorites because it was my first. There is an enormous dessert and deli department. Their sencha tea is phenomenal, and their miso will make it hard to go back to eating the brands back in the States. For under two dollars, a cook will prepare you hot, fresh dango rice gluten balls, grilled and dipped in a sweet savory sauce. "Japanese pasta," the cook said before handing me the skewer. Yes, the Sembikiya fruit store sells the famous hundred dollar muskmelons and gift baskets of twelve strawberries for sixty bucks. But the regular produce section also has reasonably priced strawberries, and the largest, thickest carrots I've ever seen, priced under a dollar.
1-1-3 Nishi-Shinjuku, Shinjuku-ku
Access from Shinjuku Station: from the Marunouchi subway line, use exits A12 through A14; use the West Exit from the Yamanote or Chuo lines; use Exit 3 from the Oedo line.
Tobu
Ikebukuro Station has two huge, competing depatos: Seibu on the Station's east exit, and Tobu on the west. Tobu has Tokyo's biggest depachika. It occupies two floors. If you want to feel the sensory impact of scale, do not skip it.
1-1-25 Nishi-Ikebukuro, Toshima-ku
Access from Ikebukuro Station: Use the West Exit from the JR Line, the Tobu-Tojo Line, or the Seibu Ikebukuro Line; use Exit 6 from the Marunouchi Subway Line, the Yurakucho Line or the Fukutoshin Line.