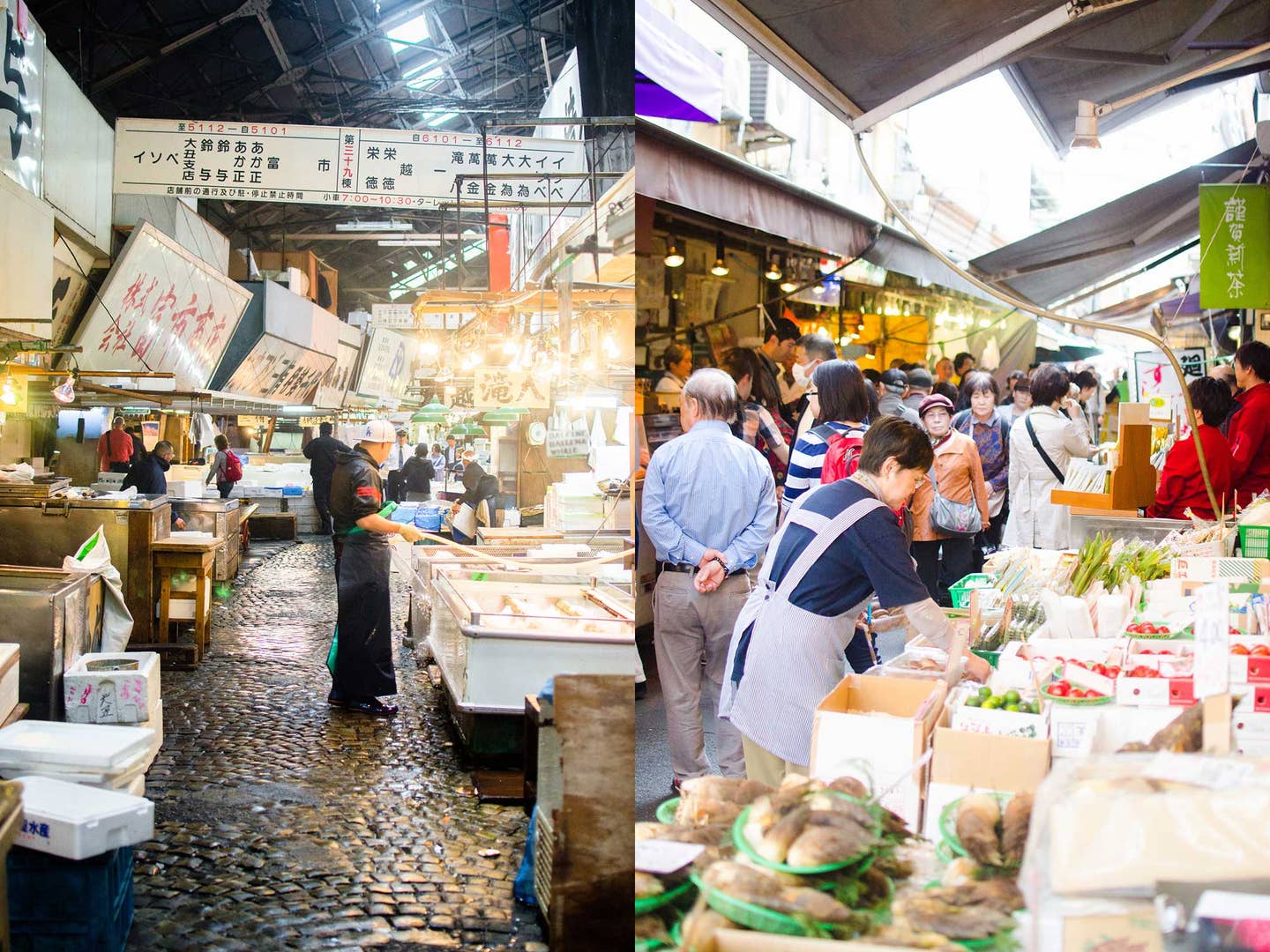 Travel
Tokyo's Iconic Tsukiji Fish Market is Safe for Now
The 81-year-old market was slated for demolition and relocation, but now the move has been delayed indefinitely
For 15 years now, the world's most famous fish market has been in limbo. Tourist mainstay and site of record-breaking tuna auctions (alongside sales of every other swimming thing Japan eats), Tokyo's Tsukiji market has been slated for demolition and relocation to a modern facility on Tokyo Bay. But Bloomberg reports that in an 11th hour save, Tokyo governor Yuriko Koike has just announced that the move will be postponed indefinitely.
The move, scheduled for November 7th, was an effort to reclaim some of Tokyo's most valuable real estate while updating the aging market's old-fashioned sensibilities: cobblestone floors, open-air design, and close-packed stalls, which some say cause issues for sanitation and more modern developments like refrigerated truck deliveries. But after years of struggling to contain costs and rising concerns about the environmental safety of the new site (formerly a gas plant), officials have pulled the plug. "Construction costs had ballooned," Bloomberg quotes Koike as saying—current estimates were 588.4 billion yen, just a little under six billion U.S. dollars.
Tsukiji has long been one of Tokyo's biggest tourist draws, most famously for its pre-dawn tuna auctions, where visitors are allowed to line up in the middle of the night—right on the cobblestone, no creature comforts in this working market—to observe sales. The inner market is then closed to tourists throughout the morning, opening up again after the day's business is done. Surrounding the inner market is a labyrinth of food stalls and small groceries, which would have found themselves without an anchor and home had the market's move proceded.
So for now, Tsukiji is safe, and considering the obstacles in the path of relocating it, visitors can breathe a sigh of relief. But in a city as future-minded as Tokyo, with real estate this valuable, there's no guarantee how long that will remain the case.