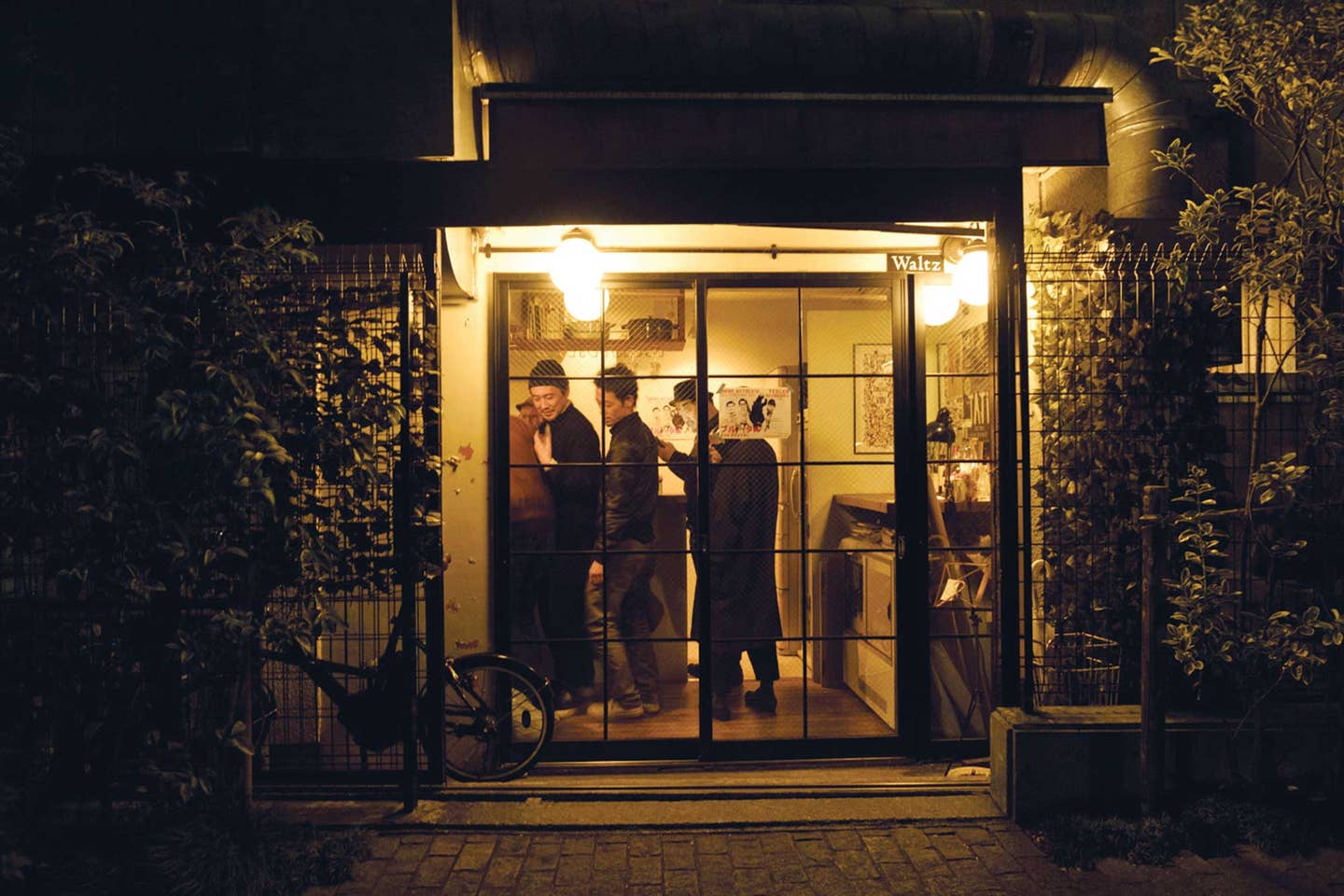 Drinks
In Tokyo's Best New Wine Bars, Drink Standing Up
Why Japan's wave of natural wine destinations should be on your radar
This past November, in Tokyo, I stood pressed against a bar with five grown men, in a barely lit space the size of a walk-in closet. When someone moved, the rest of us shifted like a single organism. Winestand Waltz, a "standing bar" in Ebisu, was a testament to the Japanese penchant for making the most of small spaces. It was hidden so expertly from passersby that my taxi driver had to interview a cook at the adjacent café before he found it.
After my eyes adjusted to the dark, I noticed the Jacques Tati posters, Le Creuset casseroles, and slim volumes of Symbolist poetry. Yasuhiro Ooyama, the bearded proprietor who's known as the "wine professor," poured me a cloudy pink brew that smelled like watermelon candy and wet poodle fur. He said it was bottled without added sulfur dioxide in a friend's wine shop in Kyushu. I nursed it for a while and tried not to move. My sojourn through the art-house film that is the Tokyo wine scene was just beginning.
One of the delightful things about the Japanese capital is its commitment to livery. The Ginza neighborhood has more three-Michelin-star restaurants than London, and some of the men posted outside their doors resemble Prussian colonels. At Wadakura, a leather-and-glass grotto on the top floor of the Palace Hotel, I took a table beside an achingly young couple on a date and a pair of Russian businessmen with laptops. As in many upscale Japanese establishments, a tranquil vibe was enforced by anodyne piano jazz. Chief sommelier Keitaro Nishimura greeted me in white tie and tails, carrying a bottle of Bollinger La Grande Année Champagne 2005 in a pouring cradle. There was a bronze grape cluster on his vest. A three-hour, 12-course kaiseki dinner with wine pairings would soon follow. After filling my flute, he bowed and handed me his business card, English side up, using both hands in the Japanese fashion. Then he bowed again and sped away, looking like someone about to conduct an orchestra in 1953.
If the fine-dining sommeliers are the Fred Astaires of Tokyo's nightlife, the natural wine bar proprietors are its Serge Gainsbourgs. Yukiyasu Kaneko, lately of Copenhagen's Noma, was telling me about a mutual friend who runs a wine bar in Brooklyn. His eyes sparkled behind chunky plastic frames. The natural wine scene has outposts from Capetown to Shanghai, and its denizens tend to find one another abroad. We were at Le Verre Volé in Meguro; with its chalkboard menus and handwriting on the walls, the cave à manger turned out to be a near replica of the Paris original. Kaneko poured me the 2014 Tsugane chardonnay from Beau Paysage in Yamanashi prefecture. It tasted like an oxidative white from the Jura and paired nicely with thin slices of mackerel and lotus root wheels. Animal Collective blared on the speakers, the natty young creatives downed glass after glass of méthode ancestrale rosé, and Kaneko began doing a compact rhumba behind the bar with Sophia Burger, also from Noma. After polishing off a plate of smoked potatoes the size of hazelnuts swaddled in crème fraîche, tofu, and salmon roe, I briefly considered dancing, too.
I was staying at Hoshinoya, a posh traditional inn shoehorned into an office tower. At a subterranean private dining room, I met Ayano Kawase, the only female sommelier I encountered in Tokyo. She told me that many Japanese still associate wine with Europe, and tend to frown on domestic bottles, which are more in demand with foreigners. She offered me a white made from koshu, Japan's most popular indigenous grape. Most of it is light and tastes a little like muscadet, but the F.O.S. from Coco Farm & Winery in Togichi, orange from skin contact, tasted mellow and rich. Kawase wore a garment that looked like a kimono reimagined as a uniform in a science-fiction movie. The koshu was served alongside a glossy Fuji apple on a bare white plate. The hollowed-out fruit was lifted to reveal a savory apple tartlet decorated with chrysanthemum petals. The long, impeccable dinner that followed resembled something dreamed up by Magritte.
After dinner I sat half-submerged in warm saltwater on the hotel's roof. My head was swimming from the alcohol and sensory overload. The onsen, or hot spring bath, was open to the elements, letting in a cold drizzle that played on the water's steaming surface and sobered me up. After I got dressed, I went to look for Kawase. I realized that what I really wanted was another glass of champagne.