Travel Guide: London
Where to eat, drink, and stay in one of the most culturally diverse capitals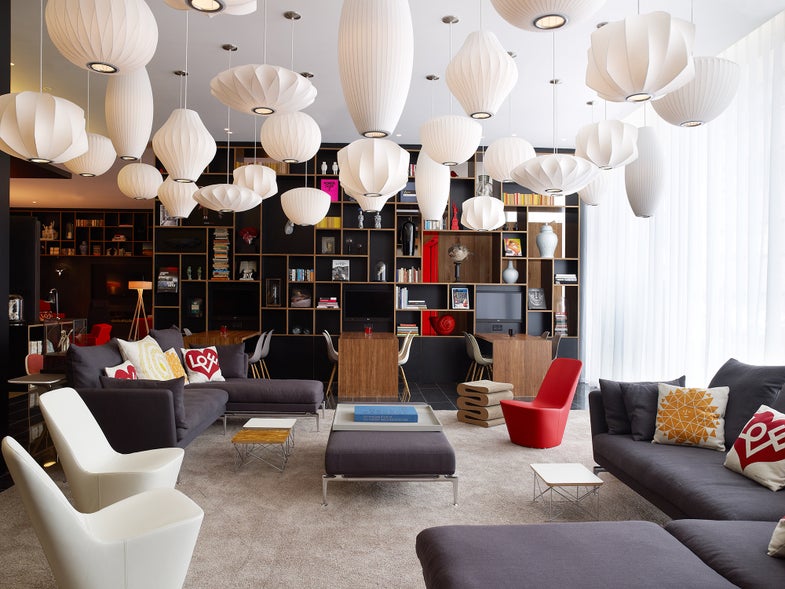 Though it should come as no surprise that one can find every conceivable type of international eats in London, one of the most culturally diverse capitals, the pervasive myth that British food itself is terrible refuses to die. Divisive local customs such as jellied eel aside, its residents and regular visitors know that London's food scene is one of the best. Even top French chef Joël Robuchon (in a move that, surprisingly, did not cost him his French citizenship) has stated that he "would argue that London is very possibly the gastronomic capital of the world."
The truth is that British cuisine has been experiencing a renaissance for some time now. In addition to culinary pioneers such as Heston Blumenthal leading the way to the future with scientifically informed innovations, there's been a strong push to revisit traditional dishes, in combination with the "Best of British" movement and its strong focus on top-quality seasonal produce, heritage meats and seafood, and artisan dairy products.
Even pub fare, once something to be tolerated rather than enjoyed, has been continuously elevated and upgraded since the Eagle in Clerkenwell launched the "gastropub" concept in 1991. And when The Harwood Arms become the city's first Michelin-starred pub in 2010, the notion that pub food is an afterthought to the beer was forever laid to rest.
While it is surprising that most pubs still close at 11 p.m. in this cosmopolitan metropolis, that's why Londoners start getting their drink on early. Cocktail lounges stay open later, though, and with eight London locales on the "World's 50 Best Bars" list—more than any other city—the town is top of the heap for drinks as well.
Where to Eat
St. John
Fergus Henderson launched the nose-to-tail trend when, nearly 24 years ago, he opened this stark white restaurant in an old smokehouse near Smithfield meat market. Now Michelin-starred, it continues to turn out fresh takes on traditional British dishes, accompanied by excellent wines and house-baked breads. Roast bone marrow with parsley salad is a perennial favorite and baked-to-order madeleines for dessert are worth the wait.
St. John
26 St. John Street
London EC1M 4AY, United Kingdom
+44 20 7251 0848
Tayyab's
This bustling, family-run Punjabi institution in Whitechapel has been in business for more than 40 years. Waiters whirl through modern rooms with lounge-like décor, delivering platter after steaming platter of the house specialty, sizzling grilled lamb chops. But the entire selection of spicy curries, vegetarian dishes and tandoor-baked breads is consistently excellent. It's BYOB and booking ahead is highly recommended.
Tayyab's
83-89 Fieldgate Street
London E1 1JU, United Kingdom
+44 20 7247 6400
Dinner by Heston Blumenthal
One of the forerunners of cutting-edge molecular gastronomy has now turned his eye to the past. Heston Blumenthal's Dinner, in Knightsbridge's posh Mandarin Oriental hotel, produces artistic interpretations of historic British recipes dating back to 1390. Though it's breathtakingly pricey, the dazzling presentations of dishes such as Meat Fruit (c. 1500), Salamagundy (1720), and Powdered Duck Breast (1670) are matched by the heady flavors.
Dinner by Heston Blumenthal
Mandarin Oriental Hyde Park
66 Knightsbridge
London SW1X 7LA, United Kingdom
+44 20 7201 3833
The Wolseley
This glamorous Art Deco grand café in the Parisian or Viennese tradition, all black marble, gold accents, and soaring ceilings, was originally an automobile showroom when it opened in 1921. Antique Orientalist décor and mismatched silver-plated teapots are part of the Old World charm. It's a fantastic choice for breakfast or afternoon tea, but an all-day menu of elegant European dishes is available till midnight.
The Wolseley
160 Piccadilly
London W1J 9EB, United Kingdom
+44 20 7499 6996
E. Pellicci
This compact East London greasy spoon has been run by the same Italian family since 1900. And how many greasy spoons are lined with lovely Art Deco wood paneling? It's a particular favorite for a hearty "fry up" (full English breakfast) as well espresso drinks, an array of inexpensive sandwiches, and familiar Italian and British mains.
E. Pellicci
332 Bethnal Green Road
London, E2 0AG, United Kingdom
+44 20 7739 4873
Hunan Restaurant
This small, menu-less spot in Pimlico with understated ambiance has been quietly making magic for more than 30 years. Guests are simply asked what they can't (or won't) eat, and then the seemingly endless wave of bite-sized plates begins. Chef Mr. Pang revisits regional Chinese standards with top-of-the-line ingredients and a light touch, periodically popping out of the kitchen to admonish diners not to "waste the sauce."
Hunan Restaurant
51 Pimlico Road
London SW1W 8NE, United Kingdom
+44 20 7730 5712
Caravan
This hip café in Farringdon's Exmouth Market is also an independent coffee roaster, supplying beans to many other London locales. The menu is eclectic, featuring everything from massamun goat curry and Welsh lamb to Nepalese momos, all featuring "Best of British" ingredients. Breakfasts and brunches, with picks like a creamy banana-caramel porridge, really shine. The bar offers classic cocktails and a well-curated wine list.
Caravan
11-13 Exmouth Market
London EC1R 4QD, United Kingdom
+44 20 7833 8115
Ottolenghi
With five London restaurants and seven cookbooks, renowned Israeli chef Yotam Ottolenghi's culinary empire continues to grow, but the down-to-earth ambiance and unwavering excellence of his modern Mediterranean small plates remain. The front window of the Islington location brims with tempting cakes and puddings, but the seasonal savory dishes and fantastic wine list—with unusual options such as orange wines—are the stars.
Ottolenghi
287 Upper Street
London N1 2TZ, United Kingdom
+44 20 7288 1454
Poppies
Decked out in memorabilia and staffed by girls in retro outfits, this chip shop looks like a nostalgic memory of what a post-war chippy might have been. Yet owner Pop Newland has in fact been doling out ample portions of fish and chips in East London since 1945. Quality is top: incredibly fresh, tender, and flaky fish in a light, crisp batter.
Poppies
6-8 Hanbury Street
London, E1 6QR, United Kingdom
+44 20 7247 0892
The Harwood Arms
London's only Michelin-starred pub takes gastropub dining to new heights. Set in a relaxed, circa-1840 dining room in calm pastel tones, the Modern British menu focuses particularly on wild game and local produce—some sourced from their own rooftop garden. Also somewhat unusual for a pub is the serious wine list. Bookings are essential.
The Harwood Arms
Walham Grove
London, SW6 1QP, United Kingdom
+44 20 7386 1847
Lima
Chef Virgilio Martinez showcases indigenous Peruvian ingredients in gorgeous, refined small plates at his Michelin-starred Fitzrovia restaurant. Served in a bright, compact space, standouts include sea-bream ceviche with cancha (crunchy roast corn) and braised octopus with quinoa and Botija olive puree. Tasty cocktails are based on pisco and tropical fruits. His new branch, Lima Floral, has a downstairs pisco bar serving piqueos, Peruvian small plates.
Lima
31 Rathbone Place
London, W1T 1JH, United Kingdom
+44 20 3002 2640
Lima Floral
14 Garrick Street
London, WC2E 9BJ, United Kingdom
+44 20 7240 5778
Hawksmoor
Widely considered some of London's best steakhouses, the five Hawksmoor restaurants all specialize in top-shelf cocktails and prime cuts of dry-aged beef sourced from grass-fed British heritage breeds. But in a chic Art Deco room at Piccadilly's Air Street location, charcoal-grilled seafood from Brixham Fish Market in Devon gets equal billing. The Guildhall branch serves elevated full English breakfasts and all offer traditional Sunday roasts.
Hawksmoor
5 Air Street, Mayfair
London, W1J 0AD, United Kingdom
+44 20 7406 3980
Rasa Sayang
A no-frills, halal eatery in Chinatown preparing authentic Straits cuisine. Malaysian and Singaporean mainstays such as flaky roti canai dipped in curry, beef rendang, and satay skewers are on the more accessible end for the uninitiated, while the more adventurous can head for the menu's "Heat Zone" and try spicy, pungent options such as stir-fried sambal petai (a.k.a., "stink beans").
Rasa Sayang
5 Macclesfield Street
London W1D 6AY, United Kingdom
+44 20 7734 1382
Dub Jam
A ska, reggae, and dub playlist thumps from the wall of upcycled speakers in this tiny, colorful joint in Covent Garden. Jamaican-style jerk skewers and rum punch served in hand-painted tin cans (two-for-one during daily happy hours) add to the festive Caribbean beach-shack vibe. Also available are burgers, patties, veggie options and, of course, Red Stripe.
Dub Jam
20 Bedford Street
London WC2E 9HP, United Kingdom
+44 20 7836 5876
Fifteen
Jamie Oliver's nonprofit restaurant on a quiet street in Shoreditch creates modern, globally inspired plates with a focus on seasonal British ingredients such as Lindisfarne oysters and samphire. Each year, its apprentice program takes on 15 unemployed young trainees, culminating in a week when they take over the kitchen. The chic bar crafts classic and modern cocktails.
Fifteen
15 Westland Place
London N1 7LP, United Kingdom
+44 20 3375 1515
Where to Drink
Nightjar
Live jazz and blues acts and lustrous Art Deco mirrors add to the Prohibition-era feel of this cozy, candlelit underground lounge. An extensive menu of consistently excellent and artfully presented cocktails is arranged by era, from "Pre-Prohibition" to "Post-War." There's a cover for the live music, but not on Sundays, Mondays, and Tuesdays. It's table service-only, and popular, so it's a good idea to book ahead.
Nightjar
129 City Road
London EC1V 1JB, United Kingdom
+44 20 7253 4101
Cahoots
In true speakeasy style, it's not easy to find this hopping bar, but here's a hint: Imagine there's a disused underground station beneath Soho's Kingly Court. Book ahead for tickets to 1940s London and seats in an air-raid shelter or vintage Tube car. Creative, quirky cocktails ("Give Peas a Chance" makes magic from the unlikely combo of garden peas and champagne), war ration-inspired snacks, and a swinging soundtrack guarantee good times.
Cahoots
Kingly Court
London, W1B 5PW
+44 20 7352 6200
The Spaniards Inn
Even for a town rife with historic pubs, The Spaniards, dating to 1585, has a venerable pedigree. Its wood-paneled rooms were frequented by Dickens and Keats allegedly wrote 'Ode to a Nightingale' in the spacious beer garden. Cask ales and ciders are paired with classic pub fare like Scotch eggs or pie and mash, as well as modern gastropub bites such as seasonal flatbreads.
The Spaniards Inn
Spaniards Road, Hampstead
London, NW3 7JJ, United Kingdom
+44 20 8731 8406
White Lyan
Cocktail geekery has reached its pinnacle in this sleek, black-on-black Hoxton nook. In the interest of consistency, the rules are: no ice, no perishables (including citrus zest and fruit juice), and pre-mixed house drinks only. Peculiar ingredients include beeswax, bone, dandelion soda, and ambergris. While it's pretty high-concept, the atmosphere is low-key, lively, and unpretentious, and you can even buy bottled cocktails to take home.
White Lyan
153-155 Hoxton Street
London, N1 6PJ, United Kingdom
+44 20 3011 1153
Mother Kelly's
In an airy, tranquil space under a railway arch in Bethnal Green, this modern tap room and bottle shop has a colorful graffiti wall and indoor/outdoor seating at long wooden tables. A daily changing cast of 19 craft beers is on draft, with a focus on London breweries. Four taps are reserved for ciders, perries, prosecco and wine, while six refrigerators are packed with bottles from around the world.
Mother Kelly's
251 Paradise Row
London, E2 9LE, United Kingdom
+44 20 7012 1244
Where to Stay
The Hoxton
This pair of trendy hotels feature rooms with funky décor (One of Shoreditch's eight East London concept rooms was inspired by the famed Beigel Bake), hip diner-style restaurants, and daily delivered breakfast. The High Holborn outpost also has room-size options ranging from "Shoebox" to "Roomy," an espresso bar, and a nail salon. In-house events include art shows, DJs, film screenings, and technophile classes.
The Hoxton, Shoreditch
81 Great Eastern Street
London, EC2A 3HU, United Kingdom
+44 20 7550 1000
The Hoxton, Holborn
199-206 High Holborn
London, WC1V 7BD, United Kingdom
+44 20 7661 3000
citizenM
The Bankside branch of this Dutch hotel chain offers stylish, affordable lodgings. The high-tech rooms are compact and minimalist, with a touchscreen tablet for all controls. The spacious lounge and work space, wrapped around a garden atrium, features iconic modern furniture and art and a pop-up store of design books. There's also a 24-hour bar and self-service canteen stocked with light eats.
citizenM
20 Lavington Street
London, SE1 0NZ, United Kingdom
+44 20 3519 1680
Artist Residence
A 10-room Regency-era townhouse in genteel Pimlico has been transformed into a stylish, intimate boutique hotel. Each comfy room is different, but all have eclectic furnishings with retro touches, irreverent artwork, and high-end fixtures. The two suites also have sitting areas and freestanding claw-foot bathtubs. On the ground floor, there's a cozy, boho guest lounge and a private dining room.
Artist Residence
52 Cambridge Street
London, SW1V 4QQ, United Kingdom
+44 20 7828 6684
What to Do
Borough Market
The city's oldest market, sprawling under the railway lines near London Bridge, is a food-lover's paradise. Beneath the 19th-century glass-and-steel roof, nearly 100 stalls sell produce, cheese, bread, meat, wine and groceries from around the world. Many, such as Roast To Go (an offshoot of Iqbal Wahhab's celebrated Roast restaurant, upstairs), also sell sandwiches or hot dishes, making Borough a great option for a breakfast butty, quick lunch, or stocking up on picnic provisions.
Borough Market
8 Southwark Street
London, SE1 1TL, United Kingdom
+44 20 7407 1002
Neal's Yard Dairy
Stop into one of their three handsome shops (at Borough Market, Covent Garden and Bermondsey) to sample a large, carefully curated selection of artisan cheeses from dairy farms around the British Isles. Or sign up for one of their cheese-pairing or cheese-history classes. For the truly cheese-obsessed, they can even create custom celebration or wedding "cakes" from stacks of cheese wheels.
Neal's Yard Dairy
6 Park Street
London, SE1 9AB, United Kingdom
+44 20 7367 0799
Tour a Distillery…
Learn about the history and production of one of London's favorite tipples at COLD, the first gin distillery within the city limits in nearly 200 years. It offers regular tastings and guided tours (including a G&T), or for a more hands-on experience, Gin Lab classes offer the chance to create a custom botanical blend and distill your very own bottle of "mother's ruin."
City of London Distillery (COLD)
22-24 Bride Lane
London, EC4Y 8DT, United Kingdom
+44 20 7936 3636
…or a Brewery
Explore the making of the city's other favorite beverage at this independent craft brewery built under converted Victorian railway arches, offering both drop-in and pre-booked tours. Or taste the house beers—including lagers, stouts and Gentleman's Wit, a bergamot-flavored white beer—at The Brewery Bar, which hosts a rotating cast of food trucks on weekends.
Camden Town Brewery
55 Wilkin Street Mews
London, NW5 3NN, United Kingdom
+44 20 7485 1671
Take Time for Tea
The ultra-British ritual of taking afternoon tea can be performed in any number of posh hotels, but advance reservations—and deep pockets—are usually required. For a more spontaneous pause, savor classic scones and tea cakes at the self-service V&A Café at the Victoria and Albert Museum (admission is free), with three truly opulent 19th-century rooms (one designed by William Morris) and live piano music on weekends. For a more formal service, try The Wolseley or the 18th-century Orangery in Kensington Palace Gardens: genteel options for traditional cream teas or towers of dainty sandwiches and pastries.
V&A Café
Victoria and Albert Museum
Cromwell Road
London, SW7 2RL, United Kingdom
+44 20 7942 2000
The Orangery
Kensington Palace, Kensington Gardens
London, W8 4PX, United Kingdom
+44 20 3166 6113
Picnic in a Park
Take advantage of a sunny day by picking up a picnic hamper at luxury emporium Fortnum & Mason's hallowed Food Hall and heading for the lush lawns of Green, Hyde, or Regent's Park. On a budget? Take your pick from rows of vintage picnic baskets at Notting Hill's Portobello Road antiques market and stock it yourself with goodies from Borough Market.
Fortnum & Mason
181 Piccadilly
London, W1A 1ER, United Kingdom
+44 20 7734 8040
Portobello Road Antiques Market
London, W10 5TA, United Kingdom
+44 20 7727 7684
Join a Pop-Up Dinner
For an out-of-the-ordinary dining experience, the GrubClub website proposes pop-up dinners in unique settings such as the St. Pancras Clock Tower, on a double-decker bus, or in a vintage Underground car. More intimate events include themed tea parties, international family-style meals, private garden supper clubs or BYOB dinners in the homes of Michelin-trained chefs.
Dine Outdoors
Every Friday and Saturday night from May through September, Dalston Yard comes alive with Street Feast, an international mish-mash of street-food hawkers and pop-up bars with a block-party vibe. More than 20 stalls and food trucks sell bites ranging from burgers and Taiwanese buns to Indian tapas and Korean tacos. Starting June 12, Dinerama in Shoreditch features open-air dining and rooftop bars five days a week.
Street Feast
Dalston Yard, Hartwell Street
London, E8 3DU, United Kingdom
Dinerama
Shoreditch Yard, 19 Great Eastern Street
London, EC2A 3EJ, United Kingdom
Late-Night Nosh
Suited businessmen and drunken revelers alike line up for the soft, chewy bagels at this 24-hour Brick Lane institution that has been turning out thousands daily since 1977. At just 25 pence each, they give lie to the belief that bargain bites do not exist in London. A popular option is a sandwich heaped with slabs of steaming-hot salt beef, mustard and pickles.
Beigel Bake
159 Brick Lane
London, E1 6SB, United Kingdom
+44 20 7729 0616
Futuristic Frozen Treats
Tucked in a corner of teeming Camden Market, this tiny shop outfitted with vintage lab equipment churns ice cream to order amid billowing clouds of liquid-nitrogen fog. Aside from the thrill factor, the super-fast freezing ensures that even dairy-free flavors have an astonishingly smooth texture. Top-quality chocolate and vanilla are mainstays, with imaginative guest stars such as "Strawberry and Hay" or "Scones, Jam, and Tea."
Chin Chin Labs
49-50 Camden Lock Place
London, NW1 8AF, United Kingdom
+44 7885 604284