Foie Gras Pancakes and the Ultimate Poutine: How to Eat Montreal
Everything you need to eat your way through this thriving food city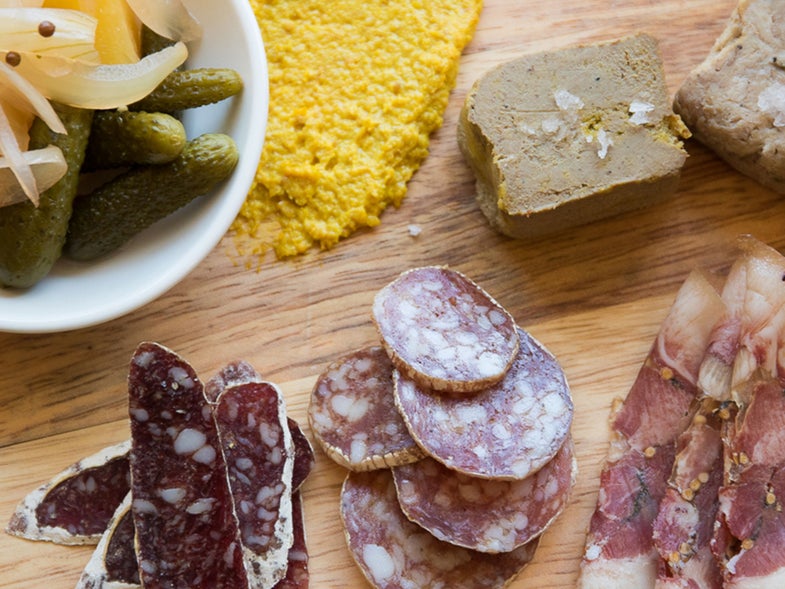 To get a taste of European culture in North America, head to the city of smoked meat, dense woodfire-baked bagels, and poutine: Montreal. Thanks to the French-Canadian city's booming culinary scene, visitors these days can now expect a heaping helping of continental food and flair, as well as a generous sampling of what makes Quebec's native cuisines worth a trip of their own. Maple syrup and game meats practically merit their own food group, while the city's cocktail culture—though slow on the uptake compared to America's imbibing revival—has matured at a brisk pace over the past five years or so. Meanwhile, Montrealers who prefer their own dining room tables to those in restaurants also take eating seriously, as demonstrated by the city's many farmers' markets, cooking-supply stores, and other must-see, food-minded destinations. From where to get the best foie gras-topped pancakes to the hotel with the cushiest beds, check out our guide below.
Where to Eat
Joe Beef
Dinner at this always-a-party eatery from buzzy restaurateur David McMillan that Momofuku founder David Chang calls "my favorite restaurant in the world" is worth the hype. The business, named after a legendary 19th-century barman, pays tribute to traditional French and Quebecois fare. For example, the restaurant is home to the over-the-top "foie gras double down," which smooshes bacon, cheddar cheese, and maple syrup between two slabs of breaded and fried duck liver. With its insistence on hyper-local provisions and creative takes on rustic fare—pressed duck with seared foie gras! duck eggs with pommes frites! bacon-wrapped horse filet!—Joe Beef offers an over-the-top dining experience.
Joe Beef
2491 Notre-Dame West, Montreal, H3J 1N6
514-935-6504
Le Club Chasse et Peche
Montreal's a meat lover's town, and since 2004, its carnivorous epicenter has sat behind a nondescript stucco facade tucked in a cobblestone street at the edge of the tourist-laden Old Port neighborhood. Inside, dimly lit small rooms with a lounge-y feel provide the perfect covert setting for eating your fill without worrying about what your fellow patrons might think. The cheeky menu is chockablock with hybrid meat dishes: veal with lobster tail, partridge with Serrano ham, and the house-named Chasse et Peche (which translates to "hunting and fishing"), a surf-and-turf spread often featuring sweetbreads and lobster in multiple forms. Don't miss the cocktails.
Le Club Chasse et Peche
423 rue Saint-Claude, Montreal, H2Y 3B6
514-861-1112
Au Pied de Cochon
Chef Martin Picard is the jovial-giant poster boy of traditional Quebecois cooking, and his signature restaurant's menu is so larded up with syrup, fat, and foie gras, it almost reads like a dare. Foie gras, in fact, gets its very own section on the bill of fare; it's available on top of a hamburger or a mess of poutine, pressed into a salted pie (tarte de fois gras cru au sel), or as part of the "plogue a Champlain": a towering dish comprised of a buckwheat pancake, potatoes, a fried egg, Canadian bacon, and foie gras, drenched in a maple syrup reduction. The restaurant's space is bistro-like, cozy, and narrow.
Au Pied de Cochon
536 Duluth East, Montreal, H2L 1A9
514-281-1114
Hotel Herman
Small plates, elegant cocktails, hipster-chic vibe: Partners Ariana Lacombe, Dominic Goyet, and Marc-Alexandre Mercier hit all the requisite cool points when they opened their soignée eatery in 2012. What's great about Hotel Herman, though, is that along with its swankiness, it also knows how to have fun. A massive, rectangular bar stands in the center of the room, which keeps the on-goings airy and saloon-like, while exposed brick, tiled surfaces, and a pressed-tin ceiling boost the storefront space's amiable din. And then there's the menu, which is punctuated by idiosyncratic dishes like deer tartare, raw fluke, and blood sausage with button mushrooms and spaetzle—and for dessert, white chocolate with sea buckthorn and pine.
Hotel Herman
5171 Boulevard Saint-Laurent, Montreal, H2T 1R9
514-278-7000
Park
Calling Park the best sushi restaurant in Montreal is an understatement because it's probably one of the best sushi restaurants in all of North America. Chef Antonio Park's globally inspired menu stems from his identity—a Korean Montrealer who grew up in South America—and he serves up dishes like nigiri with chimichurri, duck breast with a foie gras croquette, and Korean shaved ice dessert patbingsu. Thanks to several special permits obtained by the restaurant, customers can try truly unique seafood, such as snapper that's given needle treatments by fishermen to lessen the bodily trauma of death. For the best experience, order omakase-style; or for something less formal, go for lunch and get a bento box or bibimbap.
Park
378 Victoria Avenue, Montreal, H3Z 2N4
514-750-7534
Maison Publique
Anglophilic food isn't particularly common in French-speaking Quebec, but this inspired iteration of a classic British pub (which counts Jamie Oliver among its backers) has been warmly embraced by locals for its friendly vibe, smart cocktails, funky-meets-homey decor, and modernized comfort food. The kitchen is in full view behind the bar; from it come delicious dishes like Welsh rarebit, meat pies, crispy pig ear salad, baked oysters, and a ravishing T-bone steak for two. And in a city that loves brunch almost as much as it loves hockey, Maison Publique offers everything from pancakes, bacon, and eggs, to blood sausage and smoked sturgeon.
Maison Publique
4720 rue Marquette, Montreal, H2J 3Y6
514-507-0555
Au Kouign-Amann
The bakery culture of "la vraie France" can be found at this adorable, old-fashioned patisserie and boulangerie. Its namesake specialty is a traditional Breton sweet: Picture a croissant as big as a whole cake that's been slathered with a mind-boggling amount of extra butter and sugar. Kouign-amann is served in triangular slices; with one of the bakery's café drinks, it makes for an excellent midday stop while strolling the Plateau. Au Kouign-Amann also serves a Gallic lunch menu featuring croque monsieurs and quiches. If you're lucky, you can snag a seat at one of three small tables and bask in the bakery's weathered wood and exposed brick interior.
Au Kouign-Amann
322 Avenue du Mont-Royal East, Montreal, H2T 1P7
514-845-8813
Where to Drink
Le LAB
Fabien Maillard's dark corner bar is easy to find but still feels like a speakeasy with its vested staff, clandestine vibe, and innovative takes on pre-Prohibition cocktails. Every month, a new crop of libations highlights different ingredients—anything from chiles to Canadian rye whiskey. But, perennial potables reign supreme, such as the Jerky Lab Jack, a Jack Daniel's-based cocktail mixed with house-made bitters and syrup, served on the rocks and garnished with a strip of beef jerky pinned to a mini-clothesline. Also, LAB-tenders (as they prefer to be called) are renowned for their love of pyrotechnic bartending, so hunker down for a show.
Bar Le LAB
1351 rue Rachel East, Montreal, H2J 2K2
514-544-1333
Big in Japan
First, some helpful taxonomy: There's Big in Japan the eatery, a greasy spoon-style izakaya featured on a 2011 episode of Anthony Bourdain's The Layover; and then there's Big in Japan the bar, the restaurant's offspring, located a few blocks north. Open the nondescript door marked with miniscule Japanese lettering, and pass through a long, narrow corridor, and you'll arrive at in a room with rococo-yet-minimalist candlelit bar tops with sake and Japanese whisky bottles hanging from the ceiling (high-rolling regulars purchase their own bottles and stash them there.) Funny enough, the cocktail menu steers toward Western-world staples: Manhattans, Negronis, Sidecars, and the like. Come on weeknights or early on the weekend to avoid the velvet-rope-and-bouncer treatment out front.
Big in Japan (no website)
4175 boulevard Saint Laurent, Montreal, H2W 1Y9
438-380-5658
Le Rouge Gorge
Le Plateau is a boho Montreal neighborhood made for people-watching, and since opening there this past spring, this wine bar has attracted the see-and-be-seen crowd in droves. When the warm weather arrives, Le Rouge Gorge's floor-to-ceiling windows offer a breezy view of the area's foot traffic, as does its cute sidewalk terrasse (a summer amenity to be enjoyed at many local bars and eateries, and one of Montrealers' favorite things about the city). Designer Zebulon Perron renovated what was previously a divey pool hall into a provocative establishment with a trapezoidal, marble-topped bar and an apparatus suspended above that holds wine bottles and glasses. Don't miss the charcuterie, cheeses, and pickled nibbles.
Le Rouge Gorge
1234 Avenue du Mont-Royal Est, Montreal, H2J 1Y1
514-303-3869
Dieu du Ciel
This Montreal microbrewery is the Montreal microbrewery; hands down, the best brewpub for its selection, ambiance, price, and most importantly, taste. On any given visit, you'll likely find 15 to 20 different beers handwritten on the chalkboard menus; the alcoholic content of each will be meticulously noted and everything can be ordered in tasting-sized pours, allowing you to smartly strategize your session drinking. There are too many great beers here to list (and the lineup rotates regularly), but try the Disco Soleil (IPA aged with kumquats), the Route des Epices (pepper-flavored Siegle ale), the Rosee d'Hibiscus (white beer infused with hibiscus flowers), or the Aphrodisiaque (cacao-and-vanilla-flavored stout).
Dieu du Ciel
29 Avenue Laurier Ouest, Montreal, H2T 2N2
514-490-9555
Le 4e Mur
Its name means "the fourth wall," which is what you'll pass through, seemingly, to reach this subterranean speakeasy. Located on a block of the Quartier Latin that's run amok with college-kid hangouts, Le 4e Mur's unmarked door is manned by a gentlemanly bouncer who will check your reservation on his smartphone, let you into the pitch-black vestibule, then leave you to figure out which brick (hint: it's on your left) must be manipulated to magically open a second door leading to the basement bar itself. Once you're there, you'll be treated to smart takes on classic cocktails like Boulevardiers and Negronis. Since opening in July 2015, Le 4e Mur has scheduled free burlesque shows on the weekends. Enter your e-mail address at their website to make a reservation and find out the bar's address.
Le 4e Mur
Address given out through the website
No phone number
Le Mal Necessaire
Montreal was late to the tiki-craze party but caught up big-time when Le Mal Necessaire finally debuted in the summer of 2014. Locate the bar's neon-green pineapple along the streets of Chinatown and descend into a hip-yet-welcoming lounge serving tiki drinks that are as over-the-top as they are on point. Classic cocktails include mai tais, pina coladas, painkillers, and Singapore Slings, available in either monster-sized individual portions—many drinks here come served in hollowed-out pineapples or coconuts—or, in a few cases, by the group-friendy pitcher. Patrons can also order food from the Chinese eatery upstairs.
Le Mal Necessaire
1106B Boul St Laurent, Montreal, H2Z 1J5
514-439-9199
Where to Stay
Hotel de L'Institut
One of Montreal's best accommodations is also a best-kept secret: The four-star Hotel de L'Institut, operated by Quebec's government-run tourism and hotel management school, is located in the lower Plateau, where lodging can be hard to come by compared to Montreal's tourist-heavy downtown. Every one of its 42 rooms comes equipped with its own balcony; other niceties include bamboo bath linens, goat's-milk moisturizer, waffle-knit robes and a bounteous breakfast buffet. Guests and non-guests can make a reservation at the penthouse restaurant for an incredibly good and low-priced weekday lunch, while the ground-floor Restaurant de l'Institut holds its own among the city's fine-dining standouts. L'Institut is also the rare Montreal hotel that provides underground parking for only a modest surcharge.
Hotel de L'Institut
3535 rue Saint-Denis, Montreal, H2X 3P1
514-282-5120
Hotel Le St-James
Housed in a restored bank building from 1870 (the hotel spa is located in what used to be the vault), Lucien Remillard's boutique property features individually designed and decorated rooms outfitted with hand-ironed Frette bed linens, marble bathrooms, blackout window shades, and museum-quality curios that Remillard personally selects on his travels. The staff even helps guests tailor their accommodations by selecting their own musical playlists and room fragrances. Expect to see a few famous faces traipsing through the small, beautiful lobby; Le St-James is renowned as the celebrity hotel of Montreal.
Hotel Le St-James
355 rue Saint-Jacques, Montreal, H2Y 1N9
514-841-3111
Hotel Gault
Hotel Gault's location—on a corner of Vieux-Port that borders the more modernized, centre-ville portion of downtown—serves as an allegory for its distinctively Old World-meets-New aesthetic. Housed in a five-story Beaux Arts warehouse from 1871, its 30 loft-like suites are furnished with floor-to-ceiling French windows (that you can actually open!), Flou beds, Mondrian custom cabinetry, flat-screen TVs, and heated bathroom floors. With work spaces provided in each room, a user-friendly lobby, library geared for meet-ups, and free use of the hotel's iPads and Wi-Fi, Hotel Gault is also a great place to get some work done—but with a check-in desk that doubles as a bar, why would you?
Hotel Gault
449 rue Sainte-Helene, Montreal, H2Y 2K9
514-904-1616
What to Do
Marche Atwater
Montreal takes great pride in its system of public markets (which those in the U.S. would recognize as farmers' markets, with a focus on locally grown and raised produce, meat, and dairy). Located along the banks of the Lachine Canal (a lovely spot to enjoy a market-purchased picnic), Atwater's year-round set-up makes a visit worthwhile no matter the season. The indoor/outdoor facility boasts several gourmet specialty shops inside its circa 1932 Art Deco edifice. What really makes Atwater recommendable, however, is its unparalleled selection of ready-to-eat victuals, with stalls surrounding the building that sell everything from Reunionese cuisine to Singaporean street food.
Marche Atwater
138 Atwater Avenue, Montreal, H4C 2H6
514-937-7754
The Wandering Chew
This two-woman collective, founded by law student Sydney Warshaw and food writer Katherine Romanow, promotes and preserves Montreal's Jewish food culture through two main endeavors. Their "Beyond the Bagel" walking tours focus on the culinary history of the adjoining Plateau and Mile-End neighborhoods, making pit stops at such landmarks as Schwartz's (a Jewish deli beloved for its smoked meat), Wilensky's Light Lunch (a luncheonette counter that's barely changed since the 1930s) and rival bagel-makers Fairmount Bagels and St-Viatuer Bagels. The Wandering Chew also hosts dinners and other sit-down events like "Makhn A Piknik: A Yiddish Poet's Feast," "A Southern Jewish Thanksgiving," and "Killer Cheese and Girl Power: A Chanukah Party."
The Wandering Chew
No address
No phone number
Dante Hardware and Mezza Luna Cooking School
If you'd get a kick out of shopping for Laguiole knives and Le Crueset Dutch ovens in a store where firearms are wall-mounted behind the register, then this is the kitchen specialty shop for you. Since 1956, the family-run business has imported hard-to-find cooking and baking supplies from Europe; since 1994, Elena Faita-Vendittelli has run the Mezza Luna cooking school a few doors down to further impart her family's love for old-world Italian eats. Students can take classes in everything from bûche de noël to sweet-and-salty apples, then head over to Dante to pick up the supplies they need to recreate those dishes at home.
Dante Hardware and Mezza Luna Cooking School
6851 St-Dominique Street and 57 rue Dante, Montreal
514-271-2057 and 514-272-5299