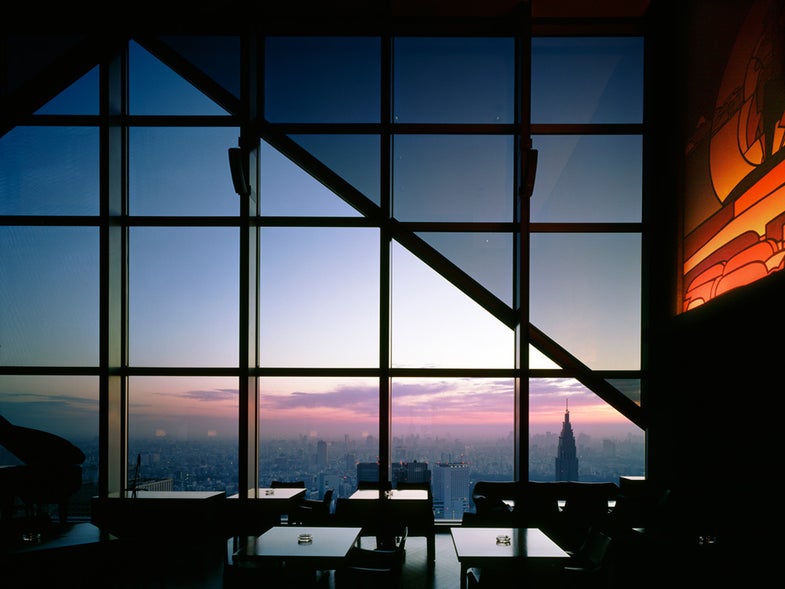 One of the greatest pleasures of dining in Tokyo is that great food can be found at any budget. Step into a depachika, the epicurean basement of a department store, and you'll be tempted with charcoal grilled yakitori, colorful bento meals, wagyu beef marbled with fat, or pristine muskmelons that go for hundreds of dollars. Even convenience stores offer rice balls stuffed with ikura (salmon roe) and colorful fresh salads.
Care is taken with every step of a meal, regardless of price, from the preparation to the presentation. Shun, or seasonality, is treasured; some ingredients are only available for a few weeks and even chain restaurants may offer seasonal menus. Specialty restaurants run by shokunin—artisans who specialize in a craft—abound, and many restaurants focus all their attention on doing one dish very well, be it soba, tonkatsu, or sushi.
While many come for the cuisine, it is the hospitality of the Japanese that they talk about after they return home. The art of caring for others, omotenashi, goes beyond restaurants and hotels to the street and even the subway.
Where to Eat
Ginza Kyubey Honten
Just down the street from Tsukiji Market, this third-generation sushi-ya is noted for its remarkable sushi and omotenashi, the art of hospitality. The restaurant is a favorite of Japanese sushi aficionados. Most high-end sushi-ya are only open in the evenings, but Kyubey serves lunch, and is a great value. Kuruma ebi, Japanese tiger prawns, are presented alive and then prepared in front of the diner. Anago, sea eel, will melt in your mouth. Lunch reservations can be made in advance, but only at 11:30 a.m. If you don't have a reservation, stop by the shop around 12:30 p.m. and ask if it's possible to be seated.
8-7-6 Ginza, Chuo-ku, +81-3-3571-6523
Tempura Kondo
The ton-ton sound the knife makes and the bubbling of the sesame oil at this tempura restaurant are as much a part of the appeal as the food. Tempura is traditionally served with a savory soy-based dipping sauce, which can turn the deep-fried crust soggy; Kondo garnishes theirs with simply salt, which means the delicate crust retains its crispy texture. Be sure to request the thick-cut sweet potato and finely julienned carrots, which are not on the regular menu.
Sakaguchi Building 9F, 5-5-13 Ginza, Chuo-ku, +81-3-5568-0923
Tonkatsu Maisen Aoyama Honten
This restaurant specializes in tonkatsu, thick cuts of pork covered with panko that are deep-fried until golden brown. There is usually a long line in front of the shop, but don't let that sway you as the line moves quickly. If you are dining solo you may be invited to sit at the counter and bypass those ahead of you. Upgrade the miso soup to tonjiru, which includes thin-sliced pork, a meaty soup. Omotesando Koffee (Jingumae 4-15-3), a hip coffee stand, is on the residential street behind Maisen.
4-8-5 Jingumae, Shibuya-ku, +81-3-3470-0071
Ginza Kagari
The sign above the door says SOBA in English, but this tiny shop is all about ramen. While niboshi (dried sardines) is one of the two choices, most diners order the tori paitan, a thick and creamy chicken broth. There are only eight seats overlooking the kitchen. Toppings over the thin, straight noodles include chicken, Kyoto bamboo shoots, and nanohana (rapeseed) greens. Be sure to add the ajitama (soy sauce-marinated) egg and fried garlic butter, which are optional.
4-4-1 Ginza, Chuo-ku
Kanda Yabu Soba
Opened in 1880, Kanda Yabu Soba is one of the city's most popular soba-ya. To appreciate the buckwheat noodles, order the basic seiro soba, served cold, and only dip half of the noodles into the dipping sauce. When you are almost done the kitchen sends out a pot of soba-yu, the hot water that the soba is cooked in. Pour some of this into the dipping sauce and drink up. If you listen carefully, you may hear the cashier as she sings out each order to the kitchen.
2-10 Kanda-Awajicho, Chiyoda-ku, +81-3-3251-0287
Ginza Kojyu
Diners at the counter can watch as Chef Toru Okuda prepares classic kaiseki dishes, multiple courses based on seasonal ingredients. Seafood shines here, and it is often simply prepared, sliced as sashimi, grilled, or presented in an umami-rich soup. Kojyu has an impressive wine list that is gently priced. If you can't get a reservation at Kojyu, then inquire about his second restaurant, Ginza Okuda, in the basement of the same building.
Carioca Building 4F, 5-4-8 Ginza, Chuo-ku, +81-3-6215-9544
Toyoken
Master Chef Yoshihiro Narisawa, of the eponymous Narisawa, has collaborated with the third-generation yoshoku restaurant Toyoken to modernize the recipes and elevate service. Croquettes and breaded aji (horse mackerel) are deep-fried in rice oil. The black curry, made with Matsuzaka wagyu beef, takes more than three weeks to make and is a dish that can be dated to the original restaurant.
Akasaka K Tower 1F, 1-2-7 Moto-Akasaka, Minato-ku, +81-3-5786-0881
Den
Chefs from around the world pilgrimage to Zaiyu Hasegawa's Den. The kappo restaurant is a multi-course menu of seasonal dishes. The quality of the cuisine is exceptionally high and is balanced with Hasegawa's playful touches. His mother was a geisha and he has learned the art of omotenashi, hospitality, from her. If you are enamored with the tableware, by artists like Asato Ikeda, Hasegawa can introduce you to a shop where you can buy it.
2-2-32 Kanda-Jimbocho, Chiyoda-ku, +81-3-3222-3978
Okame Hyottoko Ten
For a truly local experience, head to Tsukishima, an island on Tokyo Bay near Tsukiji Market. The main street is lined with restaurants that specialize in a local speciality, monjayaki, a thin, crisp savory pancake made with an assortment of finely chopped ingredients. The dish is cooked on an iron plate on your table and looks like a very messy version of Osaka's okonomiyaki. Wash it down with an ice cold beer. Monjayaki fillings vary. Mentaiko (spicy cod roe), mochi (sticky rice taffy), and cheese is a popular combination. Be sure to come at night when the neighborhood comes alive.
3-8-10 Tsukishima, Chuo-ku, +81-3-5548-1508
Kintame
Located on a pedestrian path leading up to a temple in Monzennakacho, a small, low-key neighborhood close to the heart of Tokyo, Kintame's menu is all about Japanese pickles. From quickly fermented pickles to narazuke, tortoise-shell colored pickles that have spent years in sake lees, pickled dishes are the centerpiece, accented by sides that may include marinated and grilled fish or omelette. Be sure to order the bubuchazuke for the widest variety of pickles: Pickles are served with rice and then at the end of the meal, combined with savory tea for a quick porridge of rice, pickles, and tea.
1-14-3 Tomioka, Koto-ku, +81-3-3641-4561
Patissieria
Located in Shinjuku Takashimaya's depachika is a long glass case showcasing more than 100 pastries. A dozen patisseries from the Tokyo area are represented here, selling their signature as well as seasonal sweets. Some popular shops include Tadashi Yanagi, Rue de Pussy, and Puissance. Ask for any shun, seasonal pastries, and you may be presented with cherry blossom sweets in the spring or chestnuts in the autumn. Select a cake and enjoy it with a coffee at the eat-in counter.
Shinjuku Takashimaya B1, 5-24-2 Sendagaya, Shibuya-ku, +81-3-5361-1111
Where to Stay
Courtyard by Marriott Tokyo Station
As the rooms are small, the Marriott Courtyard Tokyo Station is best suited for travelers who will spend most of their time exploring the city. The hotel is about a ten-minute walk from Tokyo Station and walking distance to the Ginza district, notable for its high concentration of restaurants and shopping.
2-1-3 Kyobashi, Chuo-ku, +81-3-5485-3923
Palace Hotel Tokyo
Located near Tokyo Station, many of the rooms overlook the Imperial Palace and its moat. The hotel has a number of restaurants including tempura, teppanyaki, sushi, or kaiseki. Discover artisan crafts in the basement boutiques and the popular sake shop, Hasegawa Saketen, selling beautiful glassware. Request a room with a balcony—a rarity in Tokyo hotels.
1-1-1 Marunouchi, Chiyoda-ku, +81-3-3211-5211
Mandarin Oriental, Tokyo
The Mandarin Oriental is home to one of the city's most exciting culinary programs and was host of Rene Redzepi's Noma Japan. With a handful of Michelin stars under one roof, the hotel boasts a number of dining options. Leave it in the hands of the concierge for those hard-to-get reservations. Have a cocktail at the Mandarin Bar and be sure to inquire into the regional specialty tasting plate—such as a flight of insects, surprisingly palatable regional cuisine from Nagano prefecture.
2-1-1 Nihonbashi Muromachi, Chuo-ku, +81-3-3270-8800
Where to Drink
Bar Gen Yamamoto
The hand-crafted cocktails at Bar Gen Yamamoto are based on fruits and vegetables at the peak of their seasonality. No music gives the bar a serene, Zen-like atmosphere. With a shaved head, Yamamoto is almost like a Buddhist monk as he quietly assembles the cocktails and presents them in exquisite glassware. There is usually only one spirit in each cocktail, allowing for the produce to shine. Reservations are highly recommended. Food is not served here, but you can find plenty of good eats on the Azabu-Juban main street at Nagasaka Sarashina soba (Azabu-Juban 1-8-7), Abe-chan yakitori (Azabu-Juban 2-1-1), or at Afuri ramen (Azabu-Juban 1-8-10).
Anniversary Building 1st Floor, 1-6-4 Azabu-Juban, Minato-ku, +81-3-6434-0652
New York Bar at the Park Hyatt Tokyo
With a starring role in Sofia Coppola's movie, Lost in Translation, the New York Bar is timeless. High ceilings make some of the city's best views even more dramatic. Dinner can be taken here from the New York Grill, including a wagyu burger. Come early and watch as the city comes alive below. There is live music after 8 p.m. The beverage program at the hotel is strong and the original cocktails here are outstanding.
Park Hyatt 52nd Floor, 3-7-1-2 Nishi-Shinjuku, Shinjuku-ku, +81-3-5322-1234
Taproom
American Bryan Baird is one of Japan's top craft beer brewers. His Harajuku Taproom, with over a dozen of Baird's beers on tap, is just off of the hip and fashionable Takeshita Dori. Skewered and grilled meat and vegetables take center stage, but enticing vegetarian options include wasabi potato salad and crudité with garlic miso. The non-smoking Taproom opens at noon on weekends and holidays. Baird is a whiz at incorporating local ingredients like the citrus yuzu or mikan.
No Surrender Building 2F, 1-20-13 Jingumae, Shibuya-ku, +81-3-6438-0450
Jip Wine Bar and Wine Shop
Jip is one of the best spots in Tokyo to try domestic wine as there are over 300 labels, about of which 20 are poured by the glass. Pick a bottle of wine and the corkage fee is only 1,500 JPY. The menu includes wine bar classics as well as some local dishes like stewed chicken offal. Try a flight, either of three local varietals such as aromatic white Koshu and the fruity red Muscat Bailey A, or of the same varietal from three different regions like Yamanashi, Nagano, and Hokkaido.
Shinjuku-ku, Shinjuku 2-7-1, +81-3-6380-1178
Tachigui Sakaba buri
Start your evening at this tachigui, a bar without chairs, literally "stand and eat." The walls of buri are lined with colorful, individual-size sake cups. Have a few grilled chicken skewers and seasonal sashimi with the cup sake and then move on to one of the many izakaya near Ebisu station. Be sure to order the mizore, frozen sake.
1-14-1 Ebisu-Nishi, Shibuya-ku, +81-3-3496-7744
What to Do
Tsukiji Market
The world's largest seafood market is a must-visit. Tsukiji is divided into two parts, the jonai (inner market) and the jogai (outer market). The inner market is the wholesale seafood section and is open to the general public after 9 a.m. The outer market is always open to the general public and has stores with knives, tea, and pantry staples. Hundreds of restaurants tempt with sushi, ramen, and donburi (rice bowls topped with sashimi). Get your morning Joe at Turret Coffee, Tsukiji's only third-wave coffee shop (Tsukiji 2-12-6, opens at 7 a.m.).
5-2-1 Tsukiji, Chuo-ku
Depachika Isetan
The epicurean basement food floor at department stores will have your eyes spinning from the selection and presentation. Isetan in Shinjuku is the most beautiful, but any depachika will be mind-blowing. Don't miss the wagashi section—traditional Japanese confectionaries presented like diamonds at Tiffany. Eat-in counters include a whiskey tasting bar, Jean-Paul Hevin chocolate café, and Toraya wagashi and tea shop. Isetan has a lovely rooftop garden for impromptu picnics. Carefully peruse the bento section, grab a cup of sake from the sake department's refrigerator, and have a rooftop al fresco lunch.
3-14-1 Shinjuku, Shinjuku-ku, +81-3-3352-1111
Oboro Saketen
Here you will find an impressive collection of sake and shochu, a traditional distilled spirit, at this Shinbashi shop. Taka, Jikon, and Shichihonyari are just some of the labels in the sake refrigerator. Jun Okuma went to college in Minnesota and offers tastings at his shop, complete with explanations in English. Come to Oboro Saketen before dinner and the staff can recommend some local drinking spots, as Shinbashi is famous for its numerous izakaya.
5-29-2 Shinbashi, Minato-ku, +81-3-6809-2334
Taste of Culture
Elizabeth Andoh has a cult following among home cooks thanks to her detailed and informative cookbooks. She offers market tours and cooking classes on topics ranging from pickling to miso to soy to seafood. She is generous with her knowledge and students leave with a copious amount of information. The five-day intensive workshop is worth planning your trip around; you will leave confident to cook in a Japanese kitchen.
Kappabashi
Restaurateurs come here for everything from kitchenware to tableware when opening a new restaurant. There are over 170 shops along a half-mile street, including specialty stores for lacquerware, knives, chopsticks, and plastic food samples. Even though this is restaurant central, there are few good bites in the immediate area. Plan on taking your meal in the neighboring Asakusa temple district, which is a short walk away.
Taito-ku, Matsugaya; closest station: Tawaramachi
Yanaka Shotengai
Shotengai are traditional shopping streets, sadly disappearing and being replaced by supermarkets. Many of the shops are family owned and sell items for daily life such as prepared foods, tea, and rice crackers. Yanaka is an older part of Tokyo that has not lost its charm and feels a bit like stepping back in time. There are about sixty shops that line this pedestrian street. Get the menchi katsu, breaded and deep-fried hamburger, at Niku no Sato or Niku no Suzuki, and wash it down with draft beer from Echigoya liquor shop.
Taito-ku, Yanaka; closest station: Nippori
Antenna Shops at Kotsukaikan
"Antenna shops" are retail shops that represent different prefectures (think states). Here you will discover artisanal made miso, limited production sake, traditional sweets, and even fresh produce. The Kotsukaikan building near Yurakucho station has more than a dozen antenna shops. Some things worth seeking out include iburi gakko, Akita smoked daikon pickles, and Hokkaido soft-serve ice cream. The Mura Kara Machi Kara shop has products from throughout Japan. Here you can sample many different types of miso.
2-10-1 Yurakucho, Chiyoda-ku
Food Tour with Tokyo Fixer Shinji Nohara
Many food and drinks writers count on Shinji Nohara for finding hidden gems in Tokyo—he was Anthony Bourdain's guide through the city. Nohara knows all the best spots and he will even travel with you beyond Tokyo; most importantly, he can get reservations at some exclusive restaurants. His services are popular, however, so contact him as soon as you begin planning your trip.
tokyofixer1@gmail.com
Nihonbashi District
Nihonbashi, the old merchant's district of Tokyo, is where the fish market was before moving to Tsukiji. Here you will see Japan's oldest department store, Mitsukoshi, and other historic food shops selling Japanese pantry staples like katsuobushi at Ninben, nori at Yamamotoyama, and aged kombu at Okui Kaiseido. Kiya offers knives and kitchenware for one-stop shopping for home cooks. Take a break from the shopping with freshly whisked matcha and wagashi, traditional confectionaries, at Hakuza.
Chuo-ku, Nihonbashi-Muromachi; closest station: Mitsukoshimae
Yukari Sakamoto, author of *Food Sake Tokyo, offers market tours in Tokyo.*