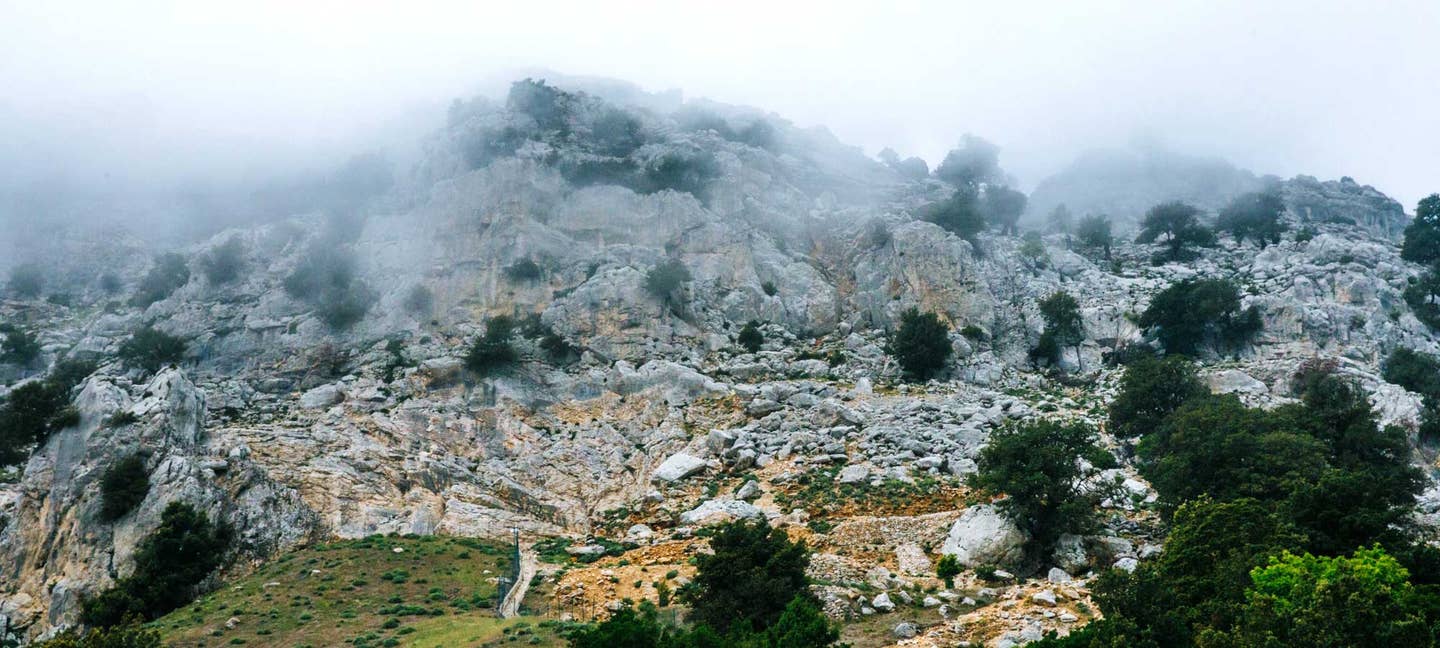 Travel
What It's Like to Travel to Sardinia, Italy's Most Mysterious Western Island
As one local says, "This is still very much a wild place"
On my fifth day along Sardinia's northeastern coast, the island remains elusive—perhaps even more mysterious than when I arrived. It is said that people live here longer than almost anywhere in the world; the cuisine includes oft referred to but largely unspecified "global influences" dating back centuries; and the unique dialect is more similar to Latin than mainland Italian. This rugged island off the coast of Italy, tucked under its westernmost wing and hovering above Tunisia, Sardinia is a place where most locals live in small towns folded into the mountains. Inland, it is dotted with mysterious archaeological ruins called nuraghi, with semi-unknown purposes (the bronze age civilization that left them behind had no written language). And along the coast, where exclusive resorts for well-off travelers persist, you can still sense a hushed remoteness far away from the crowds of the country's mainstay destinations like Rome and Florence. Hotels manage to curl themselves into the coastline and remain submissive to the island's massive cliff faces and sweeping hillsides. "This is still very much a wild place," a local tells me.
Coastal inhabitants on Sardinia are a relatively recent phenomenon. Because, for many centuries, the island was under near-constant attack from invaders and conquerors coming from Europe and Africa, Sardinians mostly kept to the mountains. Much of the land along the northern coast was undesirable—a jagged terrain particularly susceptible to attacks from across the Mediterranean. Even the land that is now the coveted Costa Smeralda ("The Emerald Coast"), despite its modern draw among the global elite, was once considered relatively valueless and given over to the daughters of local peasants. Up until the 1960s, it remained a scrubby and sparsely inhabited place.
It was then that Prince Shah Karim Al Hussaini, now Aga Khan IV, a businessman and religious leader for Ismaili Muslims, paid the island's coast a visit. He found the pristine waters a vibrant emerald color, punctured by giant granite rocks, and decided to purchase the land from the peasant women to build his own personal villa, constructed to resemble a fishing village. Not long after, his wealthy friends wanted in, and Costa Smeralda began to transition into a high-end luxury destination. The Prince's villa was expanded and converted into the now-famed Cala di Volpe hotel, and the white-walled Hotel Romazzino was built just a mile up the coast. The Aga Khan was rigid about the aesthetics of his carved out paradise, and formed a consortium to enforce strict architecture standards that are still in effect today. The style is vaguely grecian, but with deeper ruddy hues and amoeba-shaped archways and windows. The hotels' smooth stucco walls still blend into the cloudy coastline, folding in around you.
The current "coastal" cuisine that emerged in this part of Sardinia, including the descendant towns of the Aga Khan's enclave, is also a relatively recent phenomenon. Since Sardinians, for much of their history, were mountain-dwellers, true Sardinian foods are said to be those of the highlands, including goats and sheeps milk cheeses, sausages, a cracker-like flatbread called guttiau, and pastas. Other dishes show influences from all over the Mediterranean and Arab world: A Sardinian puffed cheese pastry with honey reminds me of Palestine's kunafeh pastries, and spicy Catalan lobster is an obvious transplant from Spain.
It is the pasta that truly offers a peek into the island's own personality. Often not found outside Sardinia, the shapes are usually hand-formed—many are impossible to make with machinery. My first encounter of one such pasta is in a bright dish of lorighittas in Porto Cervo. Twisted loops of pasta are nestled around mussels and shrimp, tossed in tomato sauce, and scattered with a surprising, pungent sprinkling of dill. Most pastas here are dressed in some type of tomato sauce, and this one is remarkably light and delicate. The lorighitta pasta shape resembles a rope tied into a circle, and the lore about them is endless. On this trip I'm told that they were traditionally made to resemble a woman's earring by unwed women in the town of Morgongiori—despite the word itself relating more closely to sa loriga, a Sardinian word for iron rings for tethering horses or donkeys.
A much richer red sauce, embedded with a robust goat meat ragu, accompanied my second pasta at Hotel Romazzino. This one topped a cluster of malloreddus—a pasta dough made from semolina and a touch of saffron, formed into plump little pinecone-like gnocchi shapes. Made by rolling small pieces of dough along a gnocchi board or a cheese grater to create ridges or facets, the texture is remarkable and ideal for lapping up the rich sauce. The least conspicuous was my third pasta dish, which the chef at Il Pomodoro in Porto Cervo cited as macarrones de lados—thick, rustic little thumb-printed pasta rounds, tossed with artichokes and shaved bottarga, a salted and cured hunk of fish roe. The pasta itself was humble and imperfect, and the flavor a balance of heartiness and brightness—of something rugged and something coastal.
Just as I think I am gaining a foothold on Sardinian pastas, the fog begins to settle in from inland. I ask for the story behind malloreddus and macarrones de lados (which curiously translates simply to "pasta side"), and am met with polite smiles and a few shrugs from my local companions: "They are from somewhere in the mountains."