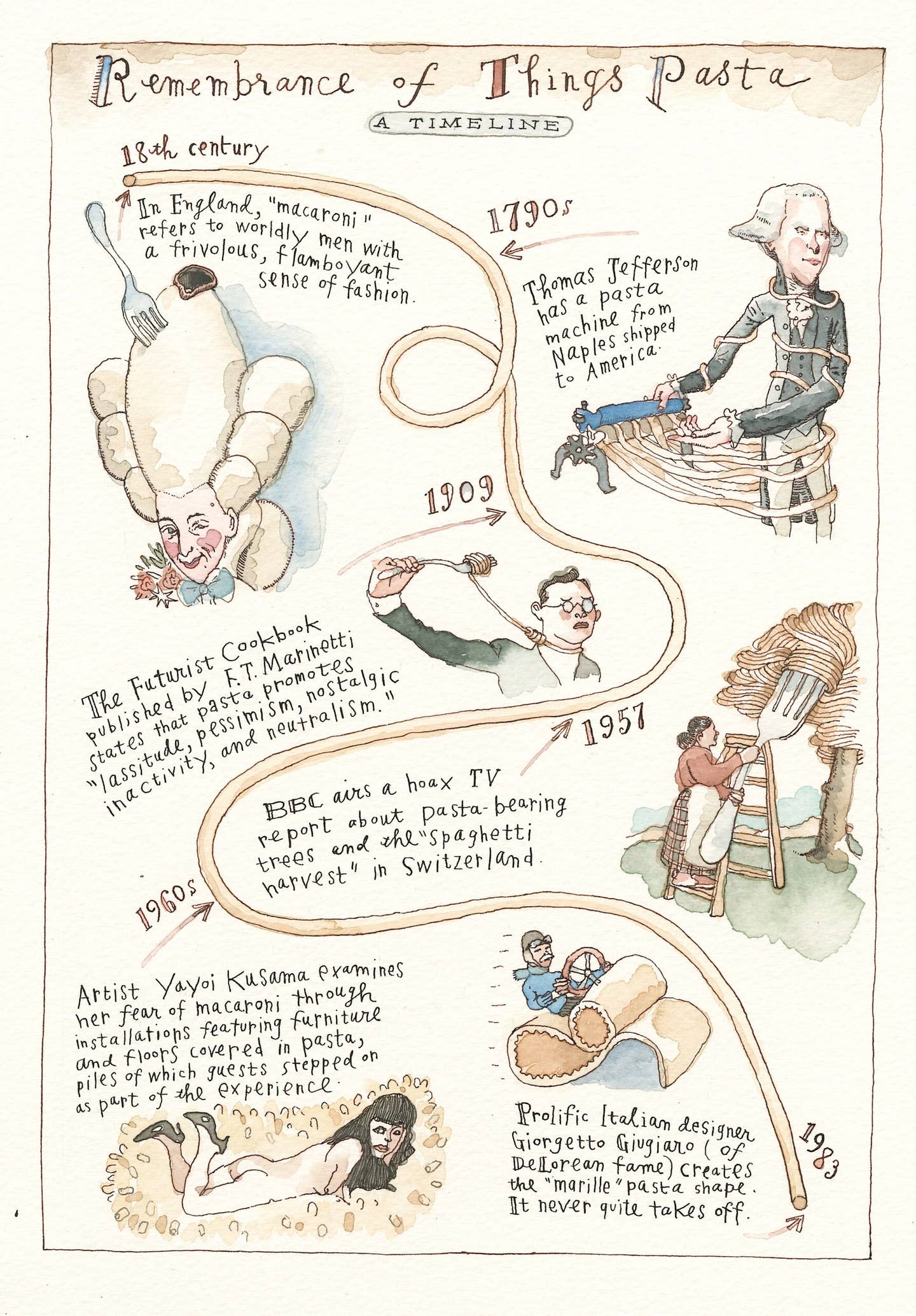 Culture
The Untold History of Pasta
From farfalle phobias to pasta-bearing trees: this is the pasta history you won't find in textbooks
Which pasta factoids do you care more about: Whether Italy or China first lays claim to the noodle, or the day the world met Seinfeld's Fusilli Jerry? (April 27th, 1995, by the way.) This is the pasta history you won't find in textbooks.
Let's go a few steps back. In ancient Roman mythology, it's told that the crippled god Vulcan forged a pasta extruder and made pasta dough in the fires below Mt. Etna. Would have made one hell of an Instagram story.
Macaroni was one of the firsts shapes of pasta introduced to the modern world, but it has also had another meaning: in 18th century England, "Macaroni" referred to a man who "exceeded the ordinary bounds of fashion" in terms of clothes, fastidious eating, and gambling. The macaronis were precursor to the dandies.
In the 19th-century, table manners were still being developed. The Neapolitan style of eating pasta—by the fistful, without fork or spoon—was observed and documented.
And talking about documentation, in 1957 BBC made a fake commercial about the spaghetti harvest in Switzerland. This is believed to be one of the first times the television has been used to stage an April Fools Day hoax. Some viewers failed to see the funny side of the broadcast and criticised the BBC for airing the item on what is supposed to be a serious factual programme.
Kramer hasn't been the only artist exploring with pasta. In 1968 Yayoi Kusama did an exhibit based entirely on her fear of macaroni/pasta and mechanized foods. Some nudity was involved.
There has also been experiments with the different shapes of pasta. In 1983, a prolific Italian car designer Giorgetto Giugiaro designs his version of the perfect pasta. "Marille" was inspired by the automobile door gasket section, and to be displayed in nouvelle cuisine dishes.
To take a closer on "Marille" and other great moments in the history of pasta, see the timeline above. We asked cartoonist and illustrator Barry Blitt (famous for his New Yorker covers) to help us bring the history of pasta to life.