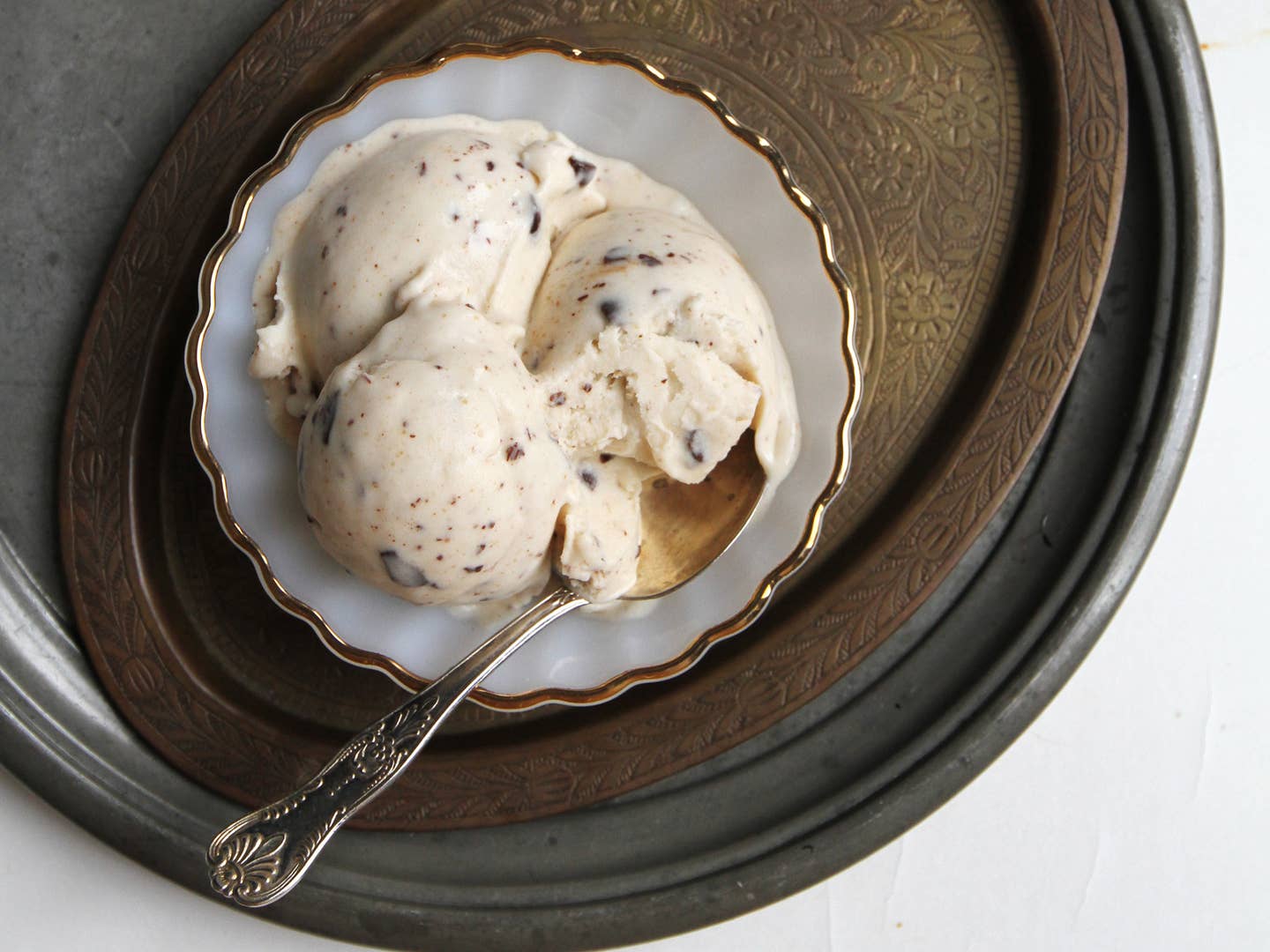 Culture
Consider the Cashew: Vegan Ice Cream with Van Leeuwen
Brooklyn's Van Leeuwen Ice Cream discusses how they make vegan ice cream that's good, period
They may have an ice cream truck in Brooklyn, and they may make vegan ice cream, and they may have trendy flavors like salted caramel and matcha, but there's nothing trite about Van Leeuwen Artisan Ice Cream. Laura O'Neill and brothers Ben Van Leeuwen and Pete Van Leeuwen make some of the city's best ice cream, and they do something that's not easy to do: make good vegan ice cream. It's rich, chewy, and cold (the perfect ice cream trifecta) that's not just "good for vegan ice cream"; it's good, period.
And today, their cookbook, Van Leeuwen Artisan Ice Cream, published by HarperCollins and written with Olga Massov, is out. Though it covers everything from custard-based ice creams to sundae toppings to recipes that use up that big bowl of leftover egg whites you get when making ice cream, we were most excited to learn how they made their vegan ice cream. So, we talked to Ben and Laura to learn about the ingredients that help their ice cream attain that perfect trifecta (richness, coolness, and chewiness) and how we can make vegan ice cream at home, and we got a recipe that many people in the office deemed "the best ice cream they've ever had."
How did you decide to start making vegan ice cream?
Ben Van Leeuwen: We originally had a lot of customers asking us for dairy-free ice cream, and it was something we had wanted to do, so we thought, okay, lets try this. So we spent about a week developing two flavors: chocolate and vanilla. At first we were only using coconut milk, and we thought it was good, but customers were blown away, and we were like, whoa, that's crazy because we can make it so much better. Then we spent a couple months at home in Greenpoint developing a different formula using cashew milk and cocoa butter.
Why cashew milk?
BVL: Cashews are pretty neutral in flavor. Using only coconut milk and coconut oil, like a lot of vegan ice creams do, you don't get as many solids. But cashew milk gives you this amazing chew.
Laura O'Neill: The other nice thing about working with cashews is that you don't have to strain [anything] because you purée the cashews into the milk. With almond milk, you have to strain, which is very labor intensive. With cashew milk, there's no waste.
BVL: And due to the cost and labor of making almond milk, [the people using it] are only using a little bit of milk and a lot of stabilizers, which we didn't want to do.
Was it hard to come up with the right formula?
BVL: Actually, not really. One day I just had a feeling, and I was like, wait, it's cashews, coconut milk, and cocoa butter. I created the first recipe in a spreadsheet with the solids, the sugar, the fat content—and we actually nailed it. We were blown away because we had planned on testing tons of different milks. But of course, we spent the next couple of months tweaking and tweaking at home. Testing in a home kitchen is the best.
What's the biggest challenge in creating vegan ice cream flavors?
BVL: Oftentimes, vegan ice creams only use coconut milk, and they try to get a chewiness through gums and stabilizers, which we don't like to use. We like to get texture and body though creaming and high solids. The tricky part was finding a balance between it being chewy and rich, and it being cold. A lot of vegan ice creams lack that coldness because they have different types of fats than custard ice creams.
Also, when you're making a classic ice cream, that's milk, cream, sugar, and eggs. All ingredients except for sugar are liquid at room temperature. With vegan recipes, you're using cocoa butter and oil, neither of which are liquid at room temperature, so there's a risk that if you're not immersion blending it and the liquids are too cold, the ingredients could solidify. It tastes grainy and icy if the fat doesn't incorporate.
What flavors work best with vegan ice cream?
BVL: With vegan flavors, you're more limited because dairy has a much more neutral flavor. When we tried a vegan vanilla, we were never happy with the flavor. So we focused on flavors that would either work really well with the coconut and cashew flavor, or flavors that would be strong enough to stand up to those flavors, like our espresso.
What advice would you have for people who want to make vegan ice cream?
BVL: I know it's an expensive thing, but you do need a high power blender—something as good as a Vitamix. Also, soaking your cashews is absolutely essential.
LO: And always strive to get the best ingredients wherever you are. If you can't get exactly what we're using, that's not necessarily a bad thing. I mean, think about the passion fruit we get versus the passion fruit in California. Just get what's best in your area.