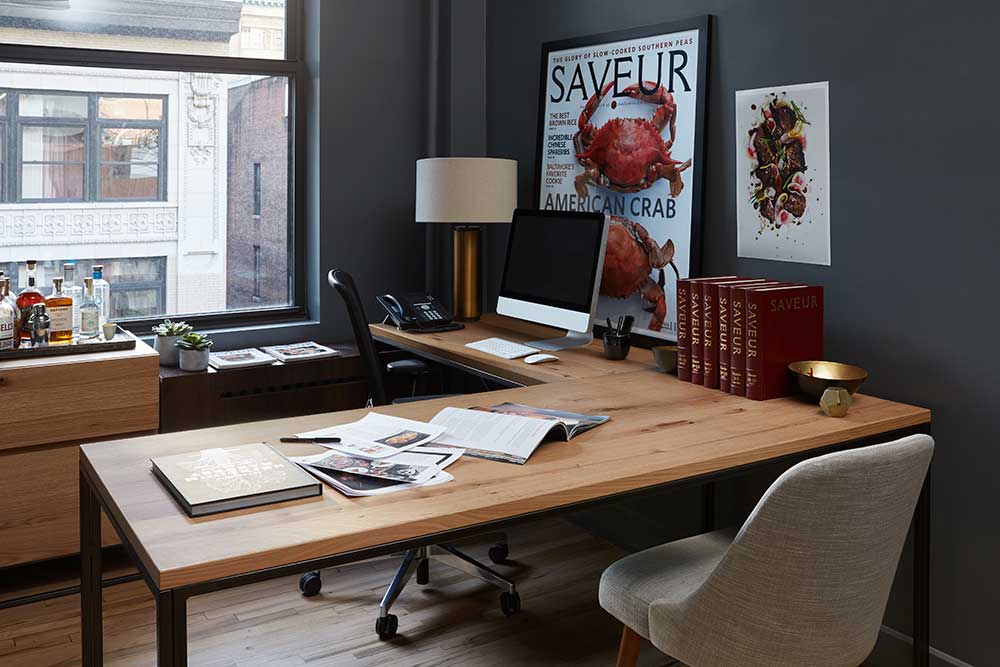 Culture
Take a Tour of Saveur's New Office
We partnered with west elm WORKSPACE for an office makeover, and we're in love
On busy weeks in the magazine business, you spend more time at your office than your bedroom. So one late night earlier this year, we took yet another look at the shabby grey cubicle walls that snaked across our New York City office, and decided enough was enough. It was time for a makeover.
The SAVEUR office isn't just a place to plop a pile of editors. It's a creative lab, a space where collaboration is crucial and the best idea for a new story may emerge from chatter across the room (and departments). What's more, our office is also a fully functional photo/video studio and event space, home to our #saveursuppers and plenty of parties throughout the year for chefs, authors, journalists, and food industry insiders.
In other words, we didn't just want to break down our cubical walls for an open plan workspace. We needed to start from scratch and build a multifunctional office that we'd be proud to invite anyone into. It'd have to be modern yet welcoming, inspire spontaneity while providing space for concentration, and use modular designs to transform from office floor to dance floor in just a couple hours.
Enter west elm WORKSPACE, our partner that collaborated with us on the furniture for our new digs. The business arm of the well-known brand, west elm WORKSPACE specializes in west elm' modern designs that we love, but for heavy-duty office furniture that's functional and especially resilient. Considering all the ways we work—not just behind desks, but at impromptu meetings around tables, laptopping on a side couch, wandering in and out of the kitchen—we wanted furniture that communicated a sense of home while encouraging professional collaboration. The west elm WORKSPACE catalogue features a whole range of design inspirations, but we were drawn right away to the industrial look of their natural-wood and steel desks and shelves, and the textured textiles of their chairs and couches.
We're very pleased with the results. Breaking down our cube walls allowed us take advantage of the near floor-to-ceiling windows on three walls of our top-floor office, and our new furniture's low profile means it's easy to start and join discussions wherever they happen. Our expansive desks feature airy lines but a surprising amount of storage, and nodes in between desks act as multifunctional spaces, breaking up the monotony of an open workspace while adding a sense of continuity.
Want to see more? Take a full tour with the photos below.