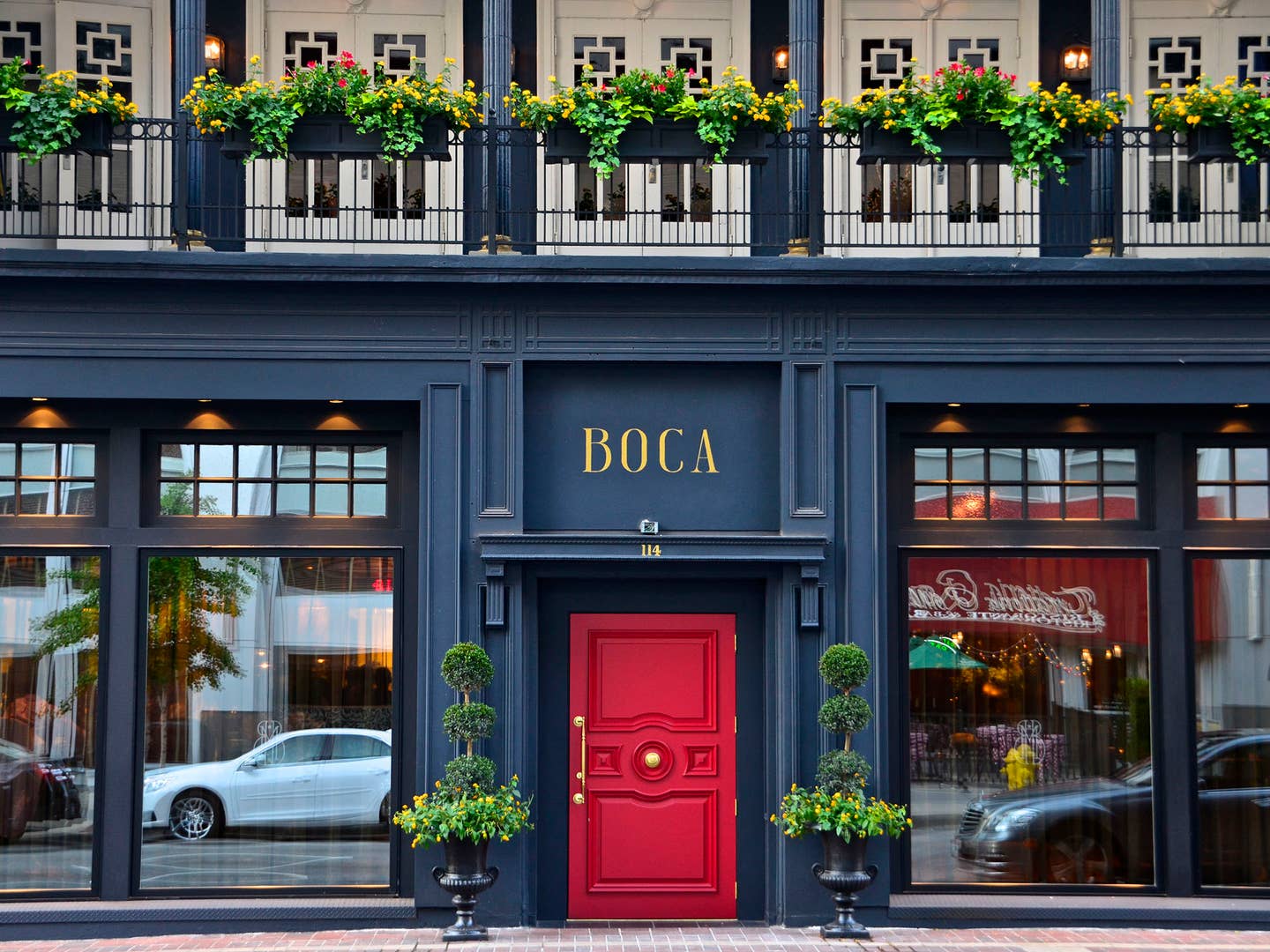 Travel
Back Where I'm From: Cincinnati, Ohio
How the city is recapturing and redefining its dining legacy
Back Where I'm From is an occasional series in which we explore the best food in the less-heralded parts of America.
Cincinnati is the next big food city. I'm just going to say it because I'm hoping I can will it to happen. I'm going to say it because I am from there—because I know it deserves to be. I am tired of other midsize cities like Nashville and Pittsburgh, Louisville, and Asheville (all deserving in their own ways) being called the next big food city when hardly anyone says that about Cincinnati. I am frustrated that so many talented chefs are working their tails off trying to draw attention to this shining city on the hill (really—it's built on seven hills). And I am surprised that no one seems to notice.
Yes, Cincinnati's been celebrated by road-food warriors like Adam Richman and Guy Fieri. They've called it out for its homey mom-and-pop diners and, of course, its chili parlors, where locals twirl forkfuls of pasta coated in chocolate-and-cinnamon-spiked chili, not minding if the dish, called a three-way, splatters all over their shirts (for Cincinnatians, chili stains are a badge of honor). Goetta, our scrapple-like breakfast staple made of sausage and steel-cut oats, has been written about by some of the most esteemed food magazines—this one included—and even Oprah herself once said that our beloved Graeter's has the best ice cream in America.
But what most people don't know about Cincinnati is its legacy of fine dining. In the 1970s it was home to three Mobil Travel Guide five-star restaurants while New York was home to two. Those restaurants, all French, included Pigall's, where you could order black cod with a truffle pinot noir sauce, or rabbit confit with grapes and rice galette. The Gourmet Room had a 30-foot mural by the artist Joan Miró (it now hangs in the Cincinnati Art Museum) wrapped around its dining room. And the Maisonette, an ornate chandeliered French restaurant downtown, still holds the record for the most consecutive years with a five-star Mobil guide rating, at 41.
All still existed when my family moved to Cincinnati from Massachusetts in 1979, and I grew up thinking of the city as the pinnacle of fine dining—home to the kind of restaurants that required my finest clip-on tie and well-polished Stride Rites on the few occasions my parents deigned to let me dine out with them on date night.
Even the more casual spots were places to see and be seen. At a former-police-station-turned-steakhouse called The Precinct (still great) you might run into former Reds catcher Johnny Bench digging into a porterhouse alongside former Bengals quarterback Kenny Anderson. Local celebrities like Jerry Springer and Nick Clooney (father of George) could also be found at Rookwood Pottery—now a phenomenal restaurant simply called The Rookwood, it is housed in a former ceramics factory perched atop scenic Mount Adams where you can devour the best burgers in town while sitting inside actual brick kilns.
It was Cincinnati that turned me into a gourmand and a food snob. So proud was I of its culinary swagger that when I found myself living in New Orleans in 1998, I complained to a friend that the food in Cincinnati was better than it was in the Big Easy. This is the mark of a true Ohioan; we think everything we have is better than yours, though I now count gumbo, roast beef po'boys, and Zapp's potato chips among civilization's proudest achievements.
Beginning in the early aughts, my conviction in Cincinnati's culinary stamina began to wane. Logging onto the Cincinnati Enquirer's website one day in 2005, I read that the Maisonette, a dining destination since 1949, was closing its doors because of dwindling profits and a shift from fine dining to more casual, Brooklyn-esque buttoned-down fare. My confidence was shaken further four years later, when I read that Pigall's, which was helmed by the magnificent French chef Jean-Robert de Cavel, had also closed. In February of that year, National Public Radio aired a story titled "Ohio's Only Four-Star Restaurant To Close." "Maybe it's the times," a heartbroken regular told the NPR reporter. "But it's a shame because it's something that's hard to recapture after it's gone."
But Cincinnati is recapturing something, and while it's a little different—a little less formal—than the opulent dining scene of its past, it's definitely something worth checking out the next time a magazine article lures you to Louisville. Last year, when I returned home as a panelist at the first-annual Cincinnati Food & Wine Classic, I breathed a sigh of relief as I stood inside the rosewood-paneled French Art Deco dining room of The Orchids at Palm Court, a magnificent restaurant located in the historic Hilton Cincinnati Netherland Plaza hotel—the same hotel where my mother used to take me for tea during my Little Lord Fauntleroy youth. At Orchids, I indulged in executive chef Todd Kelly's pork belly and escargot served in a creamy sunchoke velouté—one of the many dishes that have earned Kelly national acclaim.
Afterward, I roamed the streets of Cincinnati's recently revamped Over the Rhine neighborhood, gasping at the beauty of its restored Italianate buildings and tucking into a crispy pan-roasted quail served with spring peas and caramelized fennel at Chicago transplant chef Dan Wright's wondrous Abigail Street. I then pulled a Louis CK–style "bang bang": eating dinner again, immediately after, at Salazar restaurant a block away, where, along with a locally brewed Rhinegeist beer, I wolfed down a slow-cooked pork shank, creamy polenta, beer-braised collard greens, and a black-eyed pea chicharrón. Jose Salazar, the restaurant's owner and executive chef, is an alumnus of New York's Per Se and will open a second, more upscale restaurant in Cincinnati's central business district later this year. Heading back to the city's new 21c Museum Hotel, I discovered that former Pigall's chef Jean-Robert de Cavel was alive and well with his new restaurant Jean-Robert's Table, which offers a sublimely flaky vol-au-vent filled with sweetbreads and lobster, and an exquisitely hammy croque monsieur.
It seemed appropriate that my final stop in Cincinnati would be a restaurant called Boca. After all, it's located at 114 E. 6th St.—the same spot where, ten years ago, the Maisonette closed its doors for good. Walking into its storied dining room, I realized that the restaurant, like the Cincinnati dining scene itself, had risen from the dead. Under the direction of chef David Falk, Boca has received the necessary makeover it needed to regain its relevance. Former Cincinnati Magazine restaurant critic Donna Covrett expertly described it as "an interior with one foot in 19th-century Paris and the other in contemporary Milan," with its massive chandelier, exposed brick, and "blood orange leather."
Sitting down at a blood orange booth, I went traditional, ordering the oysters Rockefeller, along with pommes soufflés served with a béarnaise sauce, before digging into the restaurant's Italian side with an exquisite fresh corn agnolotti with brown butter, truffles, and parmesan. All I can say is this: In one meal, Boca proved itself a worthy successor to Cincinnati's most venerable old restaurant.
At the airport a few days later, I stopped at a Gold Star Chili for one last three-way before heading back to New York. Sitting at a red Formica table, I twirled a forkful of the meat-slathered spaghetti as it splattered onto my white oxford shirt, but I couldn't have cared less. I was just happy to be reacquainted with the unique tastes of my hometown; relieved to find that they were even better than I remembered them, wondering if the rest of the world would ever take notice—if Cincinnati would ever be the next big thing.
Former SAVEUR senior editor Keith Pandolfi's work can be found in The Wall Street Journal, Epicurious, Eater, Cooking Light and other publications. He lives in Brooklyn with his wife and daughter.