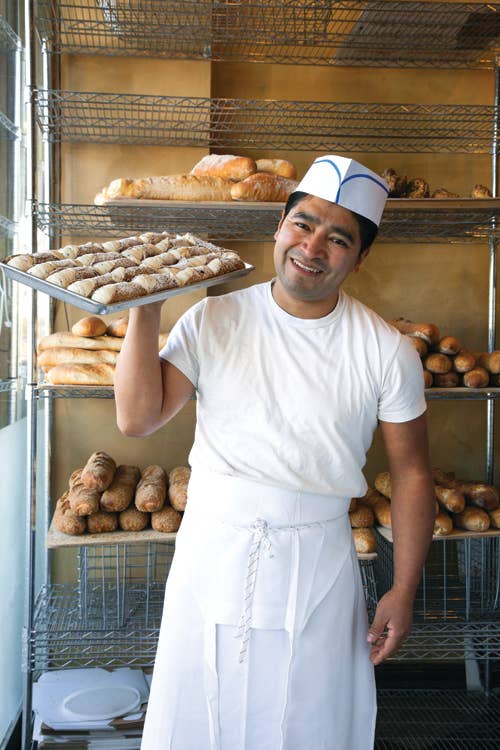 The most unexpectedly exciting part of New York City for culinary discoveries? Staten Island. The 60-square-mile island, surrounded by the New York Harbor, the Atlantic Ocean, and Raritan Bay, isn't accessible by subway, only by car or ferry. Here, in the most bucolic of boroughs, Italian families tend kitchen gardens framed in squash blossoms, Mexican farmers till fields of papalo and epazote, and fishermen set crab pots and reel stripers from the surf. It's a world of wild abundance where you can hike 25 miles along the forested Greenbelt and then sate your hunger with some of the city's most fabled pizza: the thin, slurpy version from Joe & Pat's (1758 Victory Boulevard; 718/981-0887);** Lee's Tavern's** small, crispy-crusted pies (60 Hancock Street; 718/667-9749); or Denino's meatball, onion, and ricotta special_ (524 Port Richmond Avenue; 718/442-9401)_.
Those pizzas are a given here. After all, Richmond County, which encompasses all of Staten Island, boasts the nation's largest percentage of Italian-Americans. Also a given are old-school Italian restaurants like the nonagenarian Basilio Inn_ (6 Galesville Court; 718/447-9292)_. On this charming restaurant's covered back porch overlooking a bocce court surrounded by fig trees and bushy herb plants, we feast on garlicky clam-laden_ linguine alle vongole_ and silky housemade pappardelle in a bright, fresh tomato sauce dotted with goat cheese. For dessert, we like to head over to Royal Crown Bakery (1350 Hylan Boulevard; 718/668-0284) for outstanding cannolis—fresh-fried pastry tubes piped with sweet ricotta laced with chocolate chips. The place shares a patio with its sister spot, Royal Cucina, where we pick up a hero for later: prosciutto, provolone, soppressata, capicola, mortadella, roasted peppers, you name it, on an Italian roll fresh from the bakery's oven.
Beyond Italian, there are all sorts of flavors to be had in what is now New York's most rapidly diversifying borough. In Port Richmond, where the jukeboxes crank out Mexican corridos and boleros, another awesome sandwich stop is Monte Albán Supermarket_ (170 Port Richmond Avenue; 718/650-0036)_. Here, a _torta_like the Cubano—a mayo-dressed _bolillo_roll freighted with head cheese, roast pork, chicken franks, Oaxacan cheese, avocado, lettuce, onion, pickles, jalapeños—makes a meal and a half.
Indeed, no matter the cuisine, it's an island fit for big appetites: At Killmeyer's Old Bavaria Inn_ (4254 Arthur Kill Road; 718/984-1202)_, a revival of a Teutonic tavern first established here in 1850, dirndl-clad fräuleins with New York accents proffer hefty plates of sauerbraten, wursts, and grilled pork steaks. And at Lakruwana _(668 Bay Street; 347/857-6619)_, one of several Sri Lankan restaurants not far from the ferry terminal, the curries—earthy goat; sweet-spicy pork; soupy lentils laced with cumin; hard-cooked eggs in a sauce verdant with pandan and curry leaves—are all-you-can-eat at the Sunday buffet.
For a final snack before heading back across the water, we seek out a hidden gem: cheese börëk. Phyllo dough coiled around a tangy feta, ricotta, and egg filling and baked until brown and crispy outside and stretchy and chewy within, it's an incomparable Balkan treat you'd never imagine could be enjoyed at My Family Pizza_ (340 Victory Boulevard, 718/720-4500)_—unless someone told you that this unassuming slice shop is run by members of the island's Albanian community. Well, cat's out of the bag now. Guess it's time you hopped the ferry.